Music & Clubs
Under the Skin
Jason Webley brings his hypnotic musical powers to Anno Domini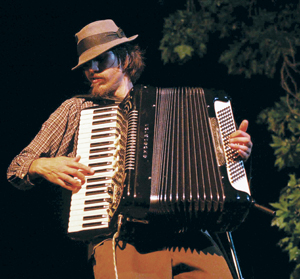 THE FIRST TIME I saw Jason Webley, I was harboring a suspicious lump that was near to being biopsied. As much as I liked the performance space, the $1 cans of Budweiser lacked the octane to distract me from the eruption of chicken feathers all over my hide, and a steadily blanching liver (at first just ghostly, now a whiter shade of lily).
I knew well that both symptoms were side effects of the "King of Diseases," whose quivering subject I was about to become. Webley's hypnotic show freed me of terror, even as "Dance" urged the chronically terrified to get used to their mortality. Soon I witnessed Webley's endrunkening of the audience using no alcohol, during his "Drinking Song" (a dizzying trick his fans have witnessed).
Wearing a battered fedora, pumping a piano accordion and singing in a voice that goes from cracked goatish roar to Cesar Romero menace, Webley is one of the most mesmerizing cabaret artists around. The Seattle-based musician has had a long decade of hard playing, and he has quite a road ahead of him.
One of his first stops will be Sunday's all-ages show at Anno Domini. It'll be, he says, "about half accordion, half guitar and piano." He's still hauling his Excelsior to the stage. He amps this notoriously tricky-to-amplify instrument with internal condenser mics: "I'd never use a MIDI."
Two miles from the Oklahoma border, on his way to a show in Kansas City, Webley talks via cell phone. "I used to really go through accordions fast. I buy them used. I still have a pile of them, either destroyed or in various states of disrepair. I used to have to replace the bellows on the ones I use about annually. I'd rip one apart every year. Either I've gotten older and weaker, or I've learned to be a little nicer."
Webley is looking forward to performing along side his friends from Corpus Callosum (see page 91). "I met them during my first show in San Jose, in September 2001," Webley says. "We were playing at a coffee shop show organized by the band Xiu Xiu. Avery and Dax were playing there, and we kept in touch over the years."
Just before Webley arrives downtown, he's playing a party weekend at the shores of a reservoir in Colusa County. There, Bay Area man-of-many-media Chicken John has organized a contest to build semifloatable boats: instead of Burning Man, a sort of "Drowning Man." Webley will also be playing a three-day stretch at the Oregon Country Fair, and later, he'll take up a European tour stretching from the Atlantic to the Adriatic. Webley has played locally at Cotati Accordian festival and the 21 Grand performance space in Oakland; there, he was one of the founders of Monsters of Accordion, which has now expanded to an annual institution with a roster of dozens of musicians.
Playing music has been Webley's only job since July 1998, when he left his employment as a recording engineer in Seattle. He plays crepuscular opuses, Weimar dirges and eclectic covers. Webley makes a closing time moan out of OutKast's "Hey Ya." Arguably best-loved of his tunes is "Dance While the Sky Crashes Down," written in 1999. It's song laden with what the obscenely chipper would call fin-de-siecle morbidity: "When someone proffers you a pear/ You sink your teeth in unaware/ That just beneath the skin lies pestilence and rot."
Ah, beneath-the-skin mysteries again. Remembering my own first experience at his shows, I decided to ask a stupid question. Had he studied shamanism somewhere?
"I don't know where there's a place to study shamanism." Webley said, "I studied music and theater, and I'm aware of watching the ways groups of people interact. When it comes to ritual and celebratory experiences, our cultures blockades the way we're allowed to interact. I don't want to say I'm doing anything shamanistc or ritualistic. But the fact that I see the lack of that connection in our culture fuels the way I shape my shows."
Jason Webley
Sunday, 7pm; $7
Wednesday, June 8