Music & Clubs
Is White Rap Racist?
MC Lars ignites controversy, rocks his anniversary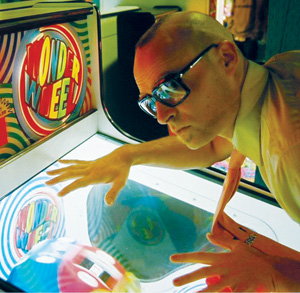 MY STORY on MC Lars in Metro last week got fans in the forum on his website riled up because he called nerdcore "racist," generating page after page of heated remarks on both sides. It definitely struck a nerve. Some fans felt that the laptop rapper, who came up freestyling at the Stanford Coffee House and skewers everything from the local hip-hop scene to the record industry to Hot Topic, was calling all white rap racist. Besides the perception of hypocrisy, since Lars is white himself, there were accusations that he was biting the hand that feeds, since he's often associated with nerdcore and raps with a lot of the scene's major players.
What was most fascinating about this whole little controversy was seeing the power that the mere mention of race in hip-hop still has to ignite an emotional response. It's also interesting that even post-Eminem, rap is far from color blind. Though the media love affair with nerdcore has died down, the genre's top rappers, like MC Frontalot (who drops his new album, Zero Day, in April), are still going strong, so a lot of artists and listeners have a stake in the question of whether these geeked-out raps are racist—which explains why emotions would be running high.
However, I think a lot of Internet posters missed Lars' point. He's always given props to nerdcore for what it does well, and he did so again in the article. So it's never been like he's just hating on white rappers or anything.
What he said is that nerdcore shouldn't be the only way kids experience hip-hop; there has to be a respect for the history of the music and its roots in the African American experience.
Does anyone really disagree with that? Maybe the word "racism" just makes people crazy, but guess what? It was racism when Elvis stole "Hound Dog" and whitewashed Big Mama Thornton out of the picture. Gradually, rock artists learned to be a lot more honest about their music—the Rolling Stones and Eric Clapton especially made it their mission to acknowledge the blues artists who paved the way. Why should we go back to the culture vulture mentality? Which is not to say that all nerdcore artists have that mentality or perpetuate that ignorance, and Lars did acknowledge over the course of the online discussion that he could have qualified his statement more.
Even if you don't agree with Lars on this, you have to acknowledge he puts his money where his mouth is. He devotes a lot of lyrics to recognizing the hip-hop greats, and on his new album, This Gigantic Robot Kills, he even asks the racism question of himself: "But am I a culture thief making hip-hop sound white?" Finally, he decides to just "jump into this mosh pit, pants sagging like 'What!'" But the point is he too struggles with the issue, and spells out those struggles in his music. Again, I'm not saying no other nerdcore rappers ever do this, but the genre could use a lot more of it, that's for sure.
For all his brainy theorizing, Lars does at another level just want to have fun, and his 10th anniversary show at Bottom of the Hill on Sunday was a riot. High-level music culture critique is no match for sing-alongs to Edgar Allan Poe and Shakespeare raps and the frenzied mosh pit that built for the closing "Hot Topic Is Not Punk Rock." Lars was at the top of his game, using the breakdown in "Download This Song" to question the wisdom of writing what would become his only internationally charting hit thus far about how listeners should steal it, and then noting its melodic similarity to Tommy Tutone's "867-5309/Jenny," and leading the audience in a sing-along of that song.
He did a similar thing with the Hamlet rocker "Hey There Ophelia," turning it into the Offspring's "Self Esteem," which the audience responded to with a roar. (Lars no doubt learned this from his much-missed hero Adam Goren of Atom & His Package, who turned songs like "Punk Rock Academy" into Eddie Money's "Take Me Home Tonight," and he's got it down).
The set list was choice for an anniversary show, including not just his best-known songs ("White Kids Aren't Hyphy," "Signing Emo") but also often-overlooked gems ("Space Game," "Straight Outta Stockholm") and newer songs like "We Have Arrived" that sounded even better live. He got emotional on the very personal anti-suicide anthem "Twenty-Three" and whipped the kids into a jump-a-thon with the Jay Z–warping "21 Concepts" and "Do the Bruce Campbell."
Props too to the MCs who backed him up onstage, and all left their own mark: his longtime friend Damondrick Jack (a.k.a. DJ), YT Cracker and K. Flay, who unexpectedly rocked some serious electric guitar chops.
"Ten more years! Ten more years! Ten more years!" the audience chanted as Lars left the stage.
"I'll do it!" Lars responded. "Ten more years! Then I'm going to get my Ph.D. ... in being fresh!"