Music & Clubs
Does Not Compute
The Postelles bring a new wave of offline rock
to this weekend's Left Coast Live festival in San Jose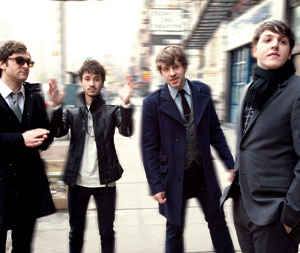 THREE-CHORD, DRIVING rock & roll seems to go in and out of style every few years, but when it comes back, it comes back. So while the Postelles may be one of the hottest indie bands in the country right now, it wasn't too long ago though that these New York natives were playing tiny clubs in their hometown, sticking out like a sore thumb.
"I remember going to shows and every band had a Mac on stage. We didn't do any of that. We didn't really fit in. We actually cared about playing our instruments," says singer/guitarist Daniel Balk.
The hip Brooklyn electronic bands weren't too interested in the Postelles, but the crowds liked it. For them it was something refreshing and new, despite the fact that the band's influences stretch into rock & roll through the ages, from Buddy Holly to Ramones to early post-punk and even to later garage revivalists like the Strokes. Balk has a knack for writing simple, energetic rock songs that are catchy, sunny and seem devoid of any irony or self-awareness. It's just straight-forward feel-good rock, which he contends people are still hungry for.
"We all act like rock & roll has been around for 300 years. It's only been around since the '50s. I don't think it's going anywhere. I think kids love to learn how to play the guitar and write songs. As long as you have three chords, you can write a rock & roll song," Balk says.
Within a year, EMI signed the New York quartet, who quickly released an EP and recorded their debut full-length album. When EMI kept pushing back the LP's release date and providing no reasonable explanation, the Postelles became uneasy.
"It was a confusing time. We would ask questions, like 'What's going on? What are we doing?' They didn't say anything. It went on this way for a year," Balk recalls.
At the same time as all this major-label confusion, the Postelles were touring heavily, playing festivals and generating quite a buzz. There was a lot of anticipation surrounding the release of their debut album but no album to speak of.
They finally got word that EMI was dropping them. The label had fired a lot of their employees, including the people that signed them.
Fortunately, there were plenty of other labels interested in releasing their debut album, both major and indie. The Postelles went with indie label +1 since they were willing to release the album as is. Besides, at that point, being on a major label lost some of its appeal.
"I'm not sure we would go down that route again," Balk says.
The fact that the Postelles can in one breath describe their love for one hit-wonders from the '80s and in another talk about how much they love doo-wop and Motown and even the Strokes, whom they get compared to often, explains exactly what distinguishes them from other rock bands. They are not a retro rock band, they are a modern band with a fan's love of rock and pop past.
"I tend to write catchy songs. I always liked pop and I listen to a lot of '80s pop songs, like those one hit-wonders. I find them really interesting," Balk says.
A lot has changed for the Postelles over a relatively short period of time, and so has the underground scene in New York they came out of. Rock & roll, it seems, is back in style again. As they continue to tour heavily and try to prove they are worth the hype, they've found time between shows to work on a second full-length, which will be a little different than their first. According to Balk, the first album was recorded live and sounds exactly the way they do when they play live in concert. This time, they've not only been taking more time to craft each song, they are also overdubbing pianos, keyboards and percussion. Balk says the new songs are "more mature," but that the songwriting is essentially the same.
"With the new stuff, we're spending a lot more time with the sounds. We're letting it breathe a little more," Balk says.
THE POSTELLES at LEFT COAST LIVE
Saturday: $15/$20
First Street Stage, San Jose