Music & Clubs
Prince at HP Pavilion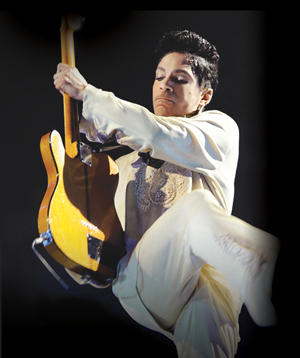 TECHNICALLY, Prince is still on the same tour he was taking from city to city when he came to Oakland in February. But what a difference a couple of months makes. Though it had many of the same flourishes, his shows at HP Pavilion on Thursday and Saturday night had an entirely different feel.
Actually, it's hard to tell if the show feels so fresh because it is constantly evolving, or simply because of Prince's relentlessly unpredictable approach. That approach included deciding that he wanted to celebrate the only weekend he's given himself off on his 15-night stand in L.A. (he's been playing at the Forum since mid-April) by trucking the show up to San Jose for two nights—on one week's notice. He knew fans would show up despite the quick turnaround time, and despite his three-night stand at Oracle recently. And show up they did; both shows were packed by a crowd that went crazy for the hits, which is mostly what he played.
That was perhaps the biggest difference between these performances and the one I saw at Oracle (I went to the second of the three shows there). While that one was almost freeform, with Prince winding through his catalog with several detours into fragments and loose ends—not to mention devoting a chunk of the set to disco covers—these show were more focused, more aggressive and intense. There were still several playful bits, like "Let's Go Crazy" morphing into "Delirious" and back again, and the incredible percussion-only renditions of "When Doves Cry" which then turned into a self-mashup loosely connected by the bassline to "Sign O' of the Times," blending pieces of "Darling Nikki," "Hot Thing," and "I Would Die 4 U" (and, on Saturday, "Forever In My Life" and "The Most Beautiful Girl in the World") before he jumped up on the piano for "If I Was Your Girlfriend" and a second encore of "Kiss."
Otherwise, this more streamlined approach began on Thursday with the opening "1999" and dropped him right into "Little Red Corvette," which is where he turned on his moves. He let the song build super-slow, as he felt out the stage, then exploded into a running, leaping frenzy, returning to twisting himself around the mic, almost as if he were seducing it. For Saturday's show, he restructured the set entirely, opening with an obscure gem from the 1999 album, Dance Music Sex Romance, and "Pop Life." In fact, for the first quarter of the show—until the break that had Sheila E. rising out of the floor for her kick-ass renditions of "Glamorous Life"—he didn't repeat a single song he'd played Thursday.
Besides shared hits like "If I Was Your Girlfriend," "Raspberry Beret," "Cream," "U Got the Look," and, of course, the purple-confetti-drenched "Purple Rain," both nights had their unique surprises—on Thursday, "The Beautiful Ones" (which had him dancing on the piano) and on Saturday, an unbelievable duet of "Nothing Compares 2 U" with one of his backup singers.
Each night, his solos were different, his moves were different, his interaction with the crowd was different. This is why he has a rep as one of the best live acts in rock history, and why he gets put on people's "must see before I die" lists. There's just nothing like a Prince show—not even another Prince show.