Music & Clubs
System of a Down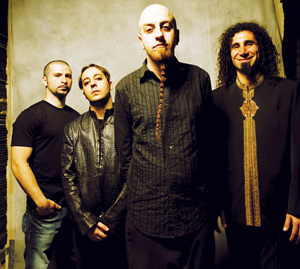 SYSTEM OF A DOWN is one of those bands that raises a lot of questions. Is it metal? Rock? Experimental? Are the guys Armenian? The answer to all these questions is yes. Over five albums, Daron Malakian (guitar, vocals), Serj Tankian (lead vocals, keyboard), Shavo Odadjian (bass, backing vocals) and John Dolmayan (drums) have carved their own little niche in the music scene. They defy convention and basically play what they want to play, regardless of current music trends.
SOAD virtually came out of nowhere in 1998 with a self-titled debut and gained a pretty good following, due to the success with the single "Sugar." However, it was the single "Chop Suey!" from 2001's Toxicity that shot System of a Down into the stratosphere of mainstream success. Two years later, Steal This Album! was released, which upped the band's political stance, especially with its protest against the "war on terrorism." Between 2004 and 2005, Mezmerize and Hypnotize, two parts of a double album, were released six months apart. Unlike previous albums, where the lyrics were written by Tankian and the music was written by Malakian and Tankian, most of the music and lyrics on Mezmerize/Hypnotize were written by Malakian. Malakian also sung lead vocals on some of the tracks, giving the band their most ambitious and best albums to date. In 2006, the bandmembers announced that they would be taking a break. Four years later, they are now reunited, although it's uncertain if they will record new music anytime soon. But SOAD is touring for fans, and by the reaction so far, it seems like it could be a possibility.
Shoreline Amphitheatre
Sunday, May 15, at 7:30pm
$25-$66.