Music & Clubs
Tape Mastah Steph's Hip Hop Homecoming
Shows at Johnny V's, Streetlight Records reunite groundbreaking South Bay underground crew Subcontents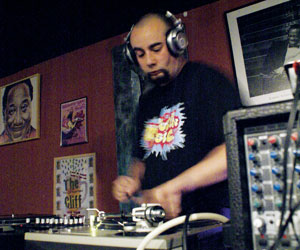 "I'm just not really into the whole mixtape thing," says Tape Mastah Steph. The longtime San Jose beatmaker and producer, who now lives in Dallas and Las Vegas, acknowledges that many hip hop MCs have made their name showcasing their stuff on mixtapes, often pulling music from wherever they can get it. But he says, "A lot of mixtapes are the same old crap, because it's the same beat someone else used."
Steph remembers his days with the underground San Jose hip hop group Subcontents, in the mid-'90s. Even in their early days, Steph slaved over the music on every track he produced.
"We put everything we had into creating a beat," he says. "It was from scratch, bro. It was like 'I'm cooking you up a meal.' It wasn't taking from someone else and calling it your own. Some of these MCs don't even know who they grabbed a beat from."
Though the underground punk and skate scenes in San Jose have finally gotten their due in the last few years, the story of Subcontents (who were, ironically, skaters themselves) has remained largely untold.
"We were one of the originators of that more underground sound in San Jose," says Steph. "I was the main DJ, and I had my hands on some of the production."
His return to San Jose this week, after leaving California in 2004, is unofficially a Subcontents reunion. His return to San Jose this week, after leaving California in 2004, is unofficially a Subcontents reunion. He'll play Johnny V's in San Jose on Tuesday, July 6, and Streetlight Records in San Jose on Wednesday, July 7, providing beats for former Subcontents MCs Dave Dub and Matt Gamin. The Johnny V's show will also feature several MCs from the Dallas scene, making it a meeting of Tape Mastah Steph's past and present.
One MC from the core of Subcontents who won't be there is Persevere, who hadn't been heard from for a while before he resurfaced this year on The Vintage Edition EP with producer Style Misia (another fixture of the '90s San Jose underground hip hop scene, who got his break crafting beats for 50 Cent). Not even Steph can say exactly what happened to the group.
"Subcontents never really broke up. Everybody kind of went their own separate ways," he says. But he still works regularly with Gamin; the duo recently put out the album Spliced Tape Formatt.
"I still like working with him because he's original," says Steph. "He has a hunger. He has respect for the producer, too. That's one thing I adore about Matt Gamin. If we release something, it's got to be correct."
Steph was recording hip hop even before Subcontents. Back in 1988, he earned his nickname making beats on high-bias cassettes with a couple of tape decks and turntables, and a mixer. Some of the more enhanced beats had to be "pause-mixed" five or more times, a long and laborious process. (Incidentally, he earned his other stage name, "Sid Stitches," after a skateboarding faceplant.)
Everything changed in 1991, thanks to Peanut Butter Wolf, aka Chris Manak, another San Jose pause-mixer who was signed to a major label with his partner, Milpitas MC Charizma (Charles Hicks) around the same time. Charizma was tragically killed in 1993, shot during a mugging in East Palo Alto. His death shocked the Bay Area scene, but Wolf recovered to produce Kool Keith's first single and found the Stones Throw label, now home to hip hop luminaries like J Rocc, J Dilla and Madlib.
Back in 1991, Wolf exposed the budding Tape Mastah to a whole new level of mixing technology: the Ensoniq EPS 8-track sequencer-sampler.
"He was making his beats on the EPS, and I was fascinated by it," says Steph. "I was tired of the long hours it took to make one beat. So I went down to Starving Musician in San Jose and I bought my first EPS for $800 bucks."
After working with the group the Bedouin, and then Subcontents, Steph began working solo. Influenced by East Coast rap more than West Coast, a fan of groundbreaking artists like Brand Nubian and Steady B, his beats usually have a laid-back, positive feel, though they can be intense. He doesn't find the Dallas scene much different than the San Jose scene, but he does have great memories of his time here.
"It was a golden era, man," he says. "My best memories are DJing for everyone. I wasn't necessarily creating beats for everyone, but it was hard to find a good DJ. I didn't feel like I knew it all. I felt like I was approaching the game with something to offer. It was all for the art."
TAPE MASTAH STEPH performs on Tuesday, July 6, at 9pm at Johnny V's ($5), and on Wed., July 7, at 7pm at Streetlight Records in San Jose (free) with MATT GAMIN and DAVE DUB.