Music & Clubs
Punkocalypse
While barely managing to hold San Jose punk stalwarts No Use for a Name together,
Tony Sly found folk in a solo career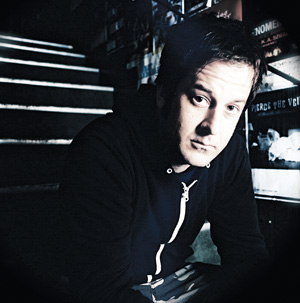 SOMETIMES a famous band's frontman will pursue a solo project because he needs an outlet for a certain type of self-expression that said band can't provide.
But sometimes, it's because he's the last man standing. Chalk longtime No Use for a Name singer and songwriter Tony Sly's new solo career up to the latter.
"People in my band have been dropping off like flies," says Sly.
Indeed, for a while there, it looked like Sly would have no band to go back to. First, in 2009, guitarist Dave Nassie left to join OC metalcore unit Bleeding Through. Then in December, Rory Koff—who had drummed for No Use since it formed in San Jose in 1987—left to pursue his successful snow-removal business in Truckee. Though it was a huge loss for the band, Sly didn't feel it was an appropriate time to make an announcement, since his bassist Matt Riddle was in the hospital with a severe case of pancreatitis.
"For a second there, I was like, 'Wait, what's going on? Am I going to lose the entire band right here?" says Sly.
No Use for a Name, however, has been through more than its share of shake-ups—Sly himself wasn't exactly the original vocalist, though he joined the band in his teens and fronted their third show.
"I consider myself an original member. I mean, I missed two shows. But 24 years later, I'm still doing it," he says.
This was long before their breakthrough album on Fat Wreck Chords, 1995's Leche Con Carne, made No Use for a Name one of the '90s most popular punk bands, so the change went unnoticed; not so when guitarist Chris Shiflett left the group in 1999 to join Foo Fighters.
And in truth, Sly's first solo album, 12 Song Program, was a much-needed outlet for him. He had fooled around with some solo outings before, like the split acoustic album with Lagwagon's Joey Cape in 2004. But with the band far too inactive for his liking, he toured solo, wrote the entire solo record in a month and released it early last year.
"Everybody was kind of doing their own thing. I was just like, 'Eh, well, all right, it's time for me to do my own thing," he says. "Some people want to plow snow, some people want to be in metal bands. I want to do solo stuff."
12 Song Program must have left a lot of No Use fans dazed and confused at first. Mostly acoustic and firmly in the singer/songwriter vein, it sounds nothing like the double-time rhythms and slick layers of punk guitar perfected by the band over the years. And yet, there's something decidedly punk rock about it. Repeat listens reveal that Sly's lyrical and thematic concerns aren't much different from those he's written for No Use (especially the writing he matured into on 2005's Keep Them Confused and 2008's Feel Good Record of the Year). His successful grafting of punk form with campfire sound prompted one fan to ask online: "Why do punkers play folk/country better than cowboys?"
"I think that folk music and punk music have a lot in common," says Sly. "The lyrics have always been about saying what you want to say, and it's always been about the underdog."
He was influenced by some of the latter-day punks who've picked up acoustic guitars, like Jon Snodgrass of Drag the River, Chuck Ragan from Hot Water Music and Avail's Tim Barry, but the biggest influence on Sly's solo writing dates all the way back to his earliest musical experience.
"The first record I remember hearing is Rubber Soul," he remembers, "and that's got all those folkier songs on it, when the Beatles were really heavily influenced by Dylan. I always tried to incorporate that into punk rock music, and I think I did, but I sort of wanted to do it 'for real.'"
It worked out so well that Sly already has a second album's worth of solo material written, which he plans to road-test at his VooDoo Lounge show on Tuesday, and release by June.
Things have turned around for his band, too. Bassist Riddle is recovering; replacement guitarist Chris Rest (formerly of Lagwagon) is hanging in there, and they may have found their new drummer in ex-Mad Caddie Boz Rivera. Suddenly, Sly is also psyched to write a new No Use for a Name record.
"I'm excited," he says of the new lineup. "This is just different. I feel like it can evolve a little bit, which is tough for a band that's been around this long."
But he doesn't want to cross the streams with the band and his solo work.
"No Use for a Name, all of us agree on punk rock," he says. "But not all of us agree on folk music. I have to do that by myself."
Tony Sly
Feb 8 (9pm)