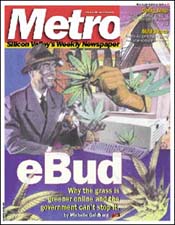 For the Week of
July 22-28, 1999
Cover: Roach Clicks
Will the easy availability of drugs on the Internet make U.S. drug policy obsolete?
News: Mild Bunch
Local members of the Hell's Angels are suing police for trying to classify them as a 'gang' and rob them of their civil liberties.
Saratoga: Residents complaining about hatchet job on median trees.

Sacramento: Cities are given one-year reprieve with new law for animal shelters.

Willow Glen: Police search of mobile home leads to two meth arrests.
Strip Search: Lingerie shop rolls out a dressing room with a view.

Public Eye: Venture capitalist Tim Draper gets snub from attorney general.






Limping Along: Limp Bizkit prospers by keeping it simple--too simple.
Something Special: Cubanismo mixes jazz instrumentation and African and Cuban folk forms.
Cool as Chrissie: Ex-Pretender Chrissie Hynde rocked the Lilith Fair.
Aural Fixation: Mr. Bungle gets accessible at last.
Audiofile: Review of the latest CD by Mel Tormé.



'Gorgeous' Gorge: Teen pageant comedy 'Drop Dead Gorgeous' serves up a buffet of laughs.
International Scope: The Jewish Film Festival encompasses films from Iowa to Shanghai.
Life After 'After Life': Japanese film about a way station between life and death reminds us how important memories can be.



Family Feud: 'Romeo and Juliet' rocks the boat of tribal intolerance at Shakespeare Santa Cruz.



Amore at Giuseppe: Christina Waters finds flavor and finesse at Willow Glen's newest Italian bistro.
Stinking Rose: The sweet scent of garlic announces the arrival of the world's smelliest festival.



Please don't forget to write! Metro welcomes letters. Like any great work of art, they should be originals -- not copies of letters sent elsewhere. Include address and daytime phone (for verification purposes only). Letters may be edited for length and clarity or to correct factual inaccuracies known to us. Postal: Metro Letters, 550 S. First. St., San Jose, CA 95111. Fax: 408/298-0602. . Emailers, please include name, city of residence and phone number. Letters printed will list email address unless otherwise specified. Letters to the editor are not currently published in the online version of this paper.