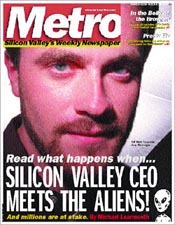 For the Week of
December 10-16, 1998
Cover: The Truth Is in Here
Silicon Valley prodigy Joe Firmage left his post at the helm of USWeb after writing 'The Truth,' a work which tries to prove that the high-tech revolution came from space.
News: Hot Wheels
A group of valley Corvette-lovers are fuming after allegedly being rooked out of their cars by a dealer who says business simply went bad.
San Jose: Just call it the Year of the Rat.

Los Gatos: The house that Julia Morgan may (or may not) have built.

Saratoga: National press takes on the local 'scum vs. swift' debate.
Public Eye: Mayor Hammer parties on.

Down Underbelly: Cybercritic looks for the ludicrous in public art and architecture.






Tap Tap Tap Dogs: It's not easy being a novelist, says Frederick Busch in A Dangerous Profession, his new look at writers' lives and hard times.



They've Got Issues: The Offspring veer to the puritanical and cautionary on new album, Americana.
Audiofile: Reviews of the latest CDs by True to Form, Chris Cain and Tiger Okoshi.



Return of 'The Thief': A new print of The Bicycle Thief confirms the film's status as a cinema classic.
Peasant Power: Good battles evil in Austrian class-based drama The Inheritors.
Norman, Is That You?: Vince Vaughn pollutes the memory of Anthony Perkins in the remake of Psycho.
Clerks: The romantic classic The Shop Around the Corner is the source for You Have Mail.
What a Draag: Animated sci-fi cult favorite Fantastic Planet returns.



The Sin of Kitchen Envy: Thou shalt not covet thy neighbor's Cuisinart.



Les Follies Bourgeois: A rambunctious new production pokes fun at an upwardly mobile San Jose.
Claps for Chaps!: Musical revue returns to The Stage with holiday additives.



Please don't forget to write! Metro welcomes letters. Like any great work of art, they should be originals -- not copies of letters sent elsewhere. Include address and daytime phone (for verification purposes only). Letters may be edited for length and clarity or to correct factual inaccuracies known to us. Postal: Metro Letters, 550 S. First. St., San Jose, CA 95111. Fax: 408/298-0602. . Emailers, please include name, city of residence and phone number. Letters printed will list email address unless otherwise specified. Letters to the editor are not currently published in the online version of this paper.