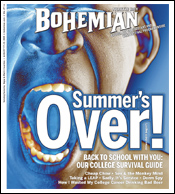 For the Week of
August 17-23, 2005
Cover: Summer's Over! (When did it begin?): Back to school with you: Our college survival guide.
Careers
Cheap Eats
Dorm Spy
Freshman 101
LEAP
Wish List

News: Sallys Score Small:
California tiger salamanders win--kind of.
The Byrne Report: Frontier Folly.
Briefs: Fuzz at the Fair.



Rev: Artists illustrate the American dream through cars.



Critic's Picks: A guide to the week's best arts, theater and music events.



Let's Get Stoopid: SoCal skatepunkers (sort of) mature.
Mystery Mix: A found CD proves that favorite songs are not universal.
Wheezer: Lollapalooza gusts through Windy City.



Crank It Up: What's better than ice cream? Homemade ice cream!
Swirl 'n' Spit: Folie à Deux.



Ring a Ding Ding!: Ron Hawking does Frank 'His Way.'



Please don't forget to write! The North Bay Bohemian welcomes letters commenting on our coverage or other topics of local interest. Please keep all letters at 300 words or less (we reserve the right to edit them for length and style) and sign them (unsigned letters will not be published). A local phone number must be included for verification. Postal: North Bay Bohemian Letters, 216 E Street, Santa Rosa, CA 95404. Fax: 707/527-1288. . Emailers, please include name, city of residence and phone number. Letters printed will list email address unless otherwise specified. Letters to the editor are not currently published in the online version of this paper.