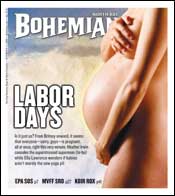 For the Week of
October 5-11, 2005, 2005
Cover Story: Super Mom, Super Stressed :
With more services, more gadgets and more information available to pregnant women than ever before, is too much of a good thing just too much?
News: Fall of the Wild:
How the so-called Recovery Act could actually be the death knell for the EPA.
The Byrne Report: Chasing Arnie.
Briefs: Herbal Medicine.



Babies: The New Yoga: Will they replace lattes, too?
Rev: We shouldn't tires out so easily



Critic's Picks: A guide to the week's best arts, theater and music events.



Streams of White Light into Darkened Corners: The Mill Valley Film Festival shines a spotlight on the extraordinary true stories of unknown and marginalized human beings.



Child's Play: CD box set celebrates neo-psych progeny.
Radio Shuffle: Commercial radio, make way for revolutionary KBIR!
Fresh Obsession: The Val Papadins explore pop-punk's power.



Source and Intention: How love, honor, passion and charity make for a damned fine meal.
Swirl 'n' Spit: Fetzer Vineyards.
News of the Food: Food Fight.
First Bite: Viva Mexicana Tropi-Cal.



Heady Stuff: 'Drake's Drum' is more than scheming pirates, floating queens, beer and pizza.



Please don't forget to write! The North Bay Bohemian welcomes letters commenting on our coverage or other topics of local interest. Please keep all letters at 300 words or less (we reserve the right to edit them for length and style) and sign them (unsigned letters will not be published). A local phone number must be included for verification. Postal: North Bay Bohemian Letters, 216 E Street, Santa Rosa, CA 95404. Fax: 707/527-1288. . Emailers, please include name, city of residence and phone number. Letters printed will list email address unless otherwise specified. Letters to the editor are not currently published in the online version of this paper.