The Best of Silicon Valley 2011
Music & Nightlife | Editors' Picks
Metro's Best of Silicon Valley 2011
Best Place for Local Musicians to Get Tweaked
San Jose Rock Shop
1585 N. Fourth St. #R1, San Jose; 650.279.1793. From instruments to amps, custom modifications to tune-ups, San Jose Rock Shop is dedicated to keeping local bands gig-ready. But its connection to the local scene goes so much deeper—these guys put their heart and soul into it. Last year, they created the South Bay Music Collective, an online forum that allows local bands to connect with gigs, find new players, buy and sell equipment and a lot more.
Hippest New Club
Pagoda Lounge
The Fairmont Hotel, 170 S. Market St., San Jose; 408.998.3937. Once known only as the Fairmont's Asian-themed restaurant, the Pagoda suddenly has cred with the South Bay's hippest clubgoers. That's because, in the hands of Thomas Ramon Aguilar, the "Live at the Pagoda" series has already brought some of the hottest new acts in the electronic music world. The Little Dragon show was arguably last year's No. 1 must-see show, combining the tiny Pagoda's intimate setting with a band breaking internationally thanks to its recent work with Gorillaz.
Best Live Music Venue Comeback
Club Fox
The Fox Theater, 2215 Broadway St., Redwood City; 650.369.7770. With the 83-year-old Fox Theatre once the crown jewel in the plan to reinvent Redwood City, it was a shock to the community when it closed, along with the adjacent Little Fox, in 2009. So when Eric Lochtefeld reopened the Fox last year, with his brother, Charlie, running the rechristened Club Fox, it was a huge save not only for the area's music scene but also for its essential identity.
Best Live Music Venue Comeback (Teen Division)
The Venue
4 New York Ave., Los Gatos; 408.395.5553. Though virtually unknown to anyone over 21, the Venue was a go-to spot for area teens for several years, until its live shows were shut down over some bad blood with parents. Its absence, however, turned out to be a disaster, so promoter Andrew Kutsenda of Pinup Productions was invited back to start up a series again, in a victory for both local youth and live music.
Best Spot for Singer/Songwriters
Caffe Trieste
315 S. First St., San Jose; 408.287.0400. Forever dominated by bar-ready rock bands, the South Bay isn't an easy place for singer/songwriters to leave their mark. They've had to find offbeat places to play over the last few years, like Good Karma, On the Corner Music and Red Rock Coffee Company. But Caffe Trieste has been the safest haven of them all, building some bona fide local breakouts like Benjamin Henderson and Brazilian-born Cado. It has also had some startling international talent, like Mexican singer/songwriter "El Hueso" Mauricio Diaz and Argentina's Cecelia Zabala.
Best Shop for Vinyl
On the Corner Music
530 E. Campbell Ave., Campbell; 408.871.0305. What this one-of-a-kind corner shop has done to beat the odds in a time of supposed music-biz apocalypse is to balance the new wave of vinyl releases with low-cost used essentials, ensuring any kid with a couple of bucks can pick up a playable copy of Rubber Soul and hear it the way it was meant to be heard—scratches and all.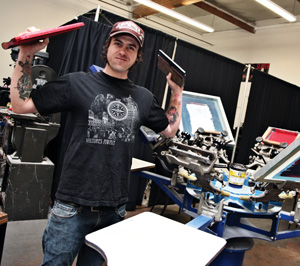 Best Local Music Scene Outfitter
Mr. Tee's
1585 N.4th st unit R1, San Jose, CA, 95112. 408-452-5582 Arena rockers are charging as much as 40 bucks for a T-shirt—and making money doing it. In fact, merch is at the center of the music biz's new economy, part of the live experience that bands at all levels count on to survive. Local bands have long needed a place to get their screenprinting and other merch needs met, and Mr. Tee's has really stepped up. Run by people with ties to the music scene, it's as close to DIY as bands can get without having to go near a textile printer.
Most-Improved Scene Player
The Avalon
777 Lawrence Expwy., Santa Clara; 408.241.0777. Besides managing to dig up absolutely every '80s metal band we assumed was long since gone and bring them to the South Bay, making it a sort of Headbanger's Paradise, the Avalon has also broadened its bookings recently, bringing in more hip-hop, as well as alt-rock names like OK Go and Cake. This is thanks to Man Down Productions' Mike Beard and Jimmy Arceneaux, and the timing couldn't be better. With VooDoo Lounge barely gone and already much missed, the Avalon seems set to fill a great big hole in the local music landscape.
Best Home for South Bay Bands
Side With Us Records
www.sidewithus.com. Over the last couple of years, the South Bay has exploded with a new eclectic sound whose only common thread is dedication to a unique musical vision. And with little fanfare, Leslie Hampton has managed to collect nearly the whole set of them on Side With Us Records. She's put out recordings by the Record Winter, Ugly Winner, Worker Bee, Dirty Pillows and the Albert Square, just to name a few. With her eye for visual design and raves from the musicians who've worked with her, it's no surprise that the Side With Us roster continues to grow.