The Best of Silicon Valley 2017
Introduction | Bites & Sips | Goods & Services | Art & Culture | Nightlife
Best Chinese-American Shredder on the Cusp of a Record Deal
Yvette Young
The child of Chinese immigrants who moved to Silicon Valley from Beijing, Saratoga native Yvette Young had a musically rigorous childhood. Classically trained from a very young age, her parents onced pushed her to continue playing the piano through the pain of a broken pinkie finger. She's still great on 88 keys, but Young's real passion is six strings. She absolutely shreds on guitar and now leads the local instrumental rock trio Covet. When the band last spoke with Metro for a cover story in January, they were about to embark on a nationwide tour and record labels were in hot pursuit to have them sign. Believe it—they've got what it takes.
Best Art Gallery
San Jose Museum of Art
110 S Market St, San Jose
San Jose Institute of Contemporary Art
560 S 1st St, San Jose
Studio Bongiorno
500 Lincoln St, Santa Clara
Best Holiday Celebration
Christmas in the Park
Plaza de Cesar Chavez Park, Downtown San Jose
Fantasy of Lights
333 Blossom Hill Rd, Los Gatos
Oktoberfest, Campbell
Campbell Ave, Campbell
Best Film Festival
Cinequest
cinequest.org
San Jose Short Film Festival
Sjsff.com
Latino Film Festival
www.sflatinofilmfestival.com
Best Small/Quirky Museum
Rosicrucian Museum
1660 Park Ave, San Jose
Computer History Museum
1401 N Shoreline Blvd, Mountain View
San Jose Museum of Quilts and Textiles
520 S 1st St, San Jose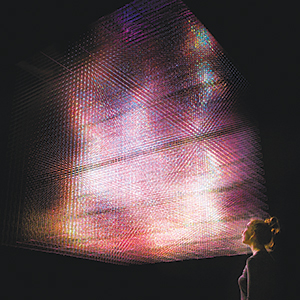 Best Slice Of New York's International Art Scene
PACE Art + Technology
Immigrants from all over the world come to Silicon Valley to tell their story. But now that New York's high-minded Pace Gallery has opened extensions in Palo Alto and Menlo Park, the Peninsula is also drawing some of the best modern artists from around the world. Last summer PACE Art + Technology in Menlo Park showed "Living Digital Space and Future Parks" by the Tokyo-based art collective teamLab. The exhibit imagined what technologically enhanced interactive public spaces might look like in the near future.
Best Dance Company
San Jose Dance Theatre
1756 Junction Ave, San Jose
Los Gatos Ballet
630 University Ave, Los Gatos
Dance Attack
Multiple locations
Best Small Theater Company
Children's Musical Theater San Jose
1401 Parkmoor Ave, San Jose
City Lights
529 S 2nd St, San Jose
California Theatre Center
753 E El Camino Real, Sunnyvale
Best Theater Company
Broadway San Jose
100 W San Fernando St #465, San Jose
San Jose Stage Company
490 S 1st St, San Jose
Children's Musical Theater San Jose
1401 Parkmoor Ave, San Jose
Best Promise Kept
The Weeknd Returns to SAP
Born to Ethiopian immigrants living in Ontario, Canada, Abel Tesfaye would grow up to lead an alt-R&B revolution as The Weeknd. After a crucial plug in 2011 from Drake, a fellow Canadian, The Weeknd's dark and deviant lyrical style and affinity for slow-churning, benzodiazepine-blurred beats caught fire—and the industry took notice. Now the sound that Tesfaye helped pioneer is all over the Top 40. The Weeknd made a stop at SAP Center last year and, apparently, he dug the vibe. "I never been here before," he told the crowd. "But you guys are showing so much love. I don't think I'm gonna skip this city ever." A man of his word, The Weeknd returns to The Tank on April 28.
PENINSULA
Best Local Festival
Los Altos Art & Wine Festival
Los Altos
Mountain View Art & Wine Festival
Mountain View
Palo Alto Festival of the Arts
Palo Alto
WEST VALLEY
Best Local Festival
Music In The Park
Los Gatos
Boogie on the Bayou
Campbell
Oktoberfest
Campbell
CENTRAL VALLEY
Best Local Festival
Santa Clara Art and Wine
Santa Clara
Cherry Blossom Festival
Cupertino
Sunnyvale Art and Wine
Sunnyvale
Best 'Spanglish' to Spark Change
Angel Luna, of Sonido Clash
Growing up in the East Side of San Jose, Angel Luna has channeled his parents' immigrant story into art and advocacy. At 32 years old, the Mexican-American artist uses his musical talents to advocate for immigrants of all origin. Raised for a time in Oaxaca, Luna contributes his "Spanglish" lyrics to touch on Mexican and San Jose traditions with music collective Sonido Clash. Off stage, Luna works with the Transnational Institute for Grassroots Research and Action (TIGRA), an organization dedicated to helping immigrant workers, and Silicon Valley De Bug, a media and activist organization that creates campaigns in support of economic and social justice, housing and immigrant rights. Luna also started his own cultural program, Cultura En Tu Idioma, where he blends contemporary music with roots music. He's even made a documentary about the migra punk scene and Spanish hip hop in San Jose.
Best Multicultural Marketers Fighting the Good Fight
BAMN Squad
Scroll through videos on the BAMN Squad web page and you'll find the turnt clip for San Jose rapper Flammy Marciano's "Mood RN," set at a debaucherous house party in the hills overlooking Silicon Valley. You'll also find sketch comedy bits with socially progressive themes, like "Alt History: Make Thanksgiving Great Again," which documents a satirical Turkey Day dinner ruined by Christopher Columbus and his conquistador entitlement. The local marketing agency, whose acronym name stands for "By Any Media Necessary," is currently working on a music video with Rey Res.
SAN JOSE & SOUTH VALLEY
Best Local Festival
Gilroy Garlic Fest
Gilroy
San Jose Jazz Summer Fest
San Jose
San Jose Obon Festival
San Jose
FREMONT & MILPITAS
Fremont Festival of the Arts
Fremont
Milpitas Backyard Boogie
Milpitas
Celebrate Milpitas
Milpitas
Introduction | Bites & Sips | Goods & Services | Art & Culture | Nightlife