February 22-28, 2006
home | the papers | north bay bohemian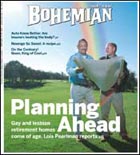 Planning Ahead
Gay and lesbian retirement homes come of age. Lois Pearlman reports.

Getting Dinged
Auto-body shop owners accuse insurers of steering customers wrong.
News Briefs
Floods 'n' FEMA; suspected arson in Healdsburg.
Open Mic
Dick Cheney cover-up?

Car Culture
If we run out of oil, we can always grow more corn. Right?

Breech Birth
Michael Winterbottom wrestles Laurence Sterne's unfilmable 'Tristram Shandy' to a cinematic draw.
Bad Kids
A real-life kid wrangler takes a look at 'Nanny McPhee.'

MORE MOVIE REVIEWS

MOVIE TIMES

Making Peace
Mary Gauthier finds her way to mercy..

MORE NIGHTLIFE

NIGHTLIFE LISTINGS

NIGHTLIFE CALENDAR PICKS

Recipe For Retribution
Sara Bir resolves to spread her chocolate cake recipe across the nation.
Wine Tasting Room of the Week
Quivira Winery in Healdsburg.
News of the Food
Nibble, savor, sip at Artisan Market.

BOOK A RESTAURANT RESERVATION

FIND A RESTAURANT REVIEW

Ibsen Rules
Just in time for the centennial of his death, is Henrik Ibsen becoming cool again?