May 24-30, 2006
home | the papers | north bay bohemian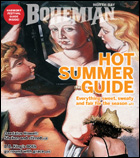 Summer Guide for Sonoma, Marin & Napa Counties
Festival, music and events listings—everything fun to do this summer with thousands of your closest friends.

Passalacqua and Ravitch Agree to Disagree in the Sonoma County DA Race
It's hard to spot the differences between the two contenders in this year's Distric Attorney battle.
News Briefs: Hackers disrupt online voting for Ugliest Dog Contest at the Sonoma-Marin Fair
Have these people nothing else to do? Plus, Healdsburg teens can be arrested for drinking at home and Napa finally gets some bike trail access.

News Column: Peter Byrne recommends Lynn Woolsey for Congress. Period.
Peter tries and fails to find something not to like about Congresswoman Woolsey.
Car Culture: Al Gore's 'An Inconvenient Truth'
Learning to figure your carbon load and worrying about climate change.

Summer Movies: 'Snakes on a Plane,' 'Nacho LIbre' and 'Scoop'
A round-up of summer films you won't want to miss.

MORE MOVIE REVIEWS

SONOMA COUNTY / NAPA COUNTY / MARIN COUNTY MOVIE TIMES

Music Interview: B. B. King
Now in his 80th year, B.B. King talks about a life in music.
Music Profile: Remembering Sublime's Brad Nowell
One small slice of Nowell's life 10 years after his death.

MORE NIGHTLIFE

NIGHTLIFE LISTINGS

NIGHTLIFE CALENDAR PICKS

Restaurant Review: Thai Hut Valley in Cotati
Organic Thai food at reasonable prices.
Wine Column: Gloria Ferrer Champagne Caves
Enjoying the bubbly in Sonoma.
Recipe: Making the Ultimate Potato Salad
Pssst: The key is not to boil the potatoes.
Food Column: American Farmland Trust and Agenda 2007
No blood for food is the new rallying cry.

BOOK A RESTAURANT RESERVATION

FIND A RESTAURANT REVIEW

Summer Arts: Sculpture explodes in Sonoma County
From Windsor to Petaluma, outdoor sculpture is everywhere.
Summer Stage: Outdoor Shakespeare in Sonoma and Marin Counties
All the world's a stage this summer as 'Hamlet' holds sway.

Letters to the Editor: May 24-30, 2006
Meth abuse in Sonoma County; appreciation for the Byrne Report; Sixth Congressional District candidates.