June 20-26, 2007
home | north bay bohemian index | news | north bay | news article
Biophilia:
Kelp! | Climate Control Campaign | Georgia Kelly | Why I Hate Being Green | Eco-Hostelry | Shout-Outs | Green String Farms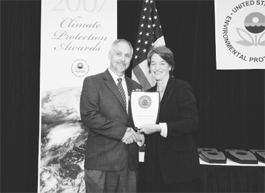 Congenial climate: The Climate Protection Campaign's Dave Erickson got the glad hand from the EPA for his agency's work.
Project Air
EPA honors Graton's Climate Protection Campaign for grassroots efforts
By Patricia Lynn Henley
Standing in a place of honor on a bookshelf in the Climate Protection Campaign (CPC) office in rural Graton, the gracefully curved wood and distinctive metal plaque that is the Environmental Protection Agency's 2007 Climate Protection Award is less than a foot high. But it represents big hopes, big dreams and big accomplishments, and it's all about working on the local level.
"We consider ourselves to be 'systems integrators,'" explains CPC technical director Dave Erickson. "We're able to look across the community and see how the pieces fit together. We're empowered to do that, and the government isn't, necessarily."
When it comes to global warming and climate changes, grassroots efforts come in under most people's radar, Erickson adds.
"People think it's got to be the federal government, it's got to be the state government, it's got to be the government. We're really happy with what we've been able to accomplish working with local businesses."
In Erickson's view, the most important aspect of winning the EPA award, one of five "team" awards given this year, is raising awareness of the effectiveness of community-based solutions.
"It's exposure for the local, grassroots approach, which we think is really one of the most effective tools in the toolbox for combating this global problem. Ultimately, it's all about the planet and taking care of what we think is the most serious problem facing humanity today, because the planet is basically in danger. We are at risk of dangerously interfering in the climate."
Founded in 2001 and based in rural Graton, the CPC has five employees. Created to bring together Sonoma County government, businesses and communities to achieve larger greenhouse-gas-emissions reductions together than could be accomplished individually, this nonprofit organization persuaded all nine of Sonoma County's mayors to sign on to the U.S. Mayors Climate Protection Agreement. It also encouraged all nine cities plus the county itself to enlist in the international Cities for Climate Protection effort. The CPC helped the municipalities gather baseline emissions data and to create a bold goal of cutting emissions 25 percent below 1990 levels by 2015.
The CPC also signed the Sonoma Wine Company as its first partner in its Cool Business Alliance, assisting the company in cutting its emissions by 43 percent while nearly doubling its production. These and other accomplishments made the CPC the smallest organization honored in a program that accepts nominations worldwide. The private awards ceremony was held May 1 in Washington, D.C. Afterward, Erickson spent the remainder of his five-day trip visiting Democratic members of Sen. Barbara Boxer's Environment and Public Works Committee and Congresswoman Nancy Pelosi's Select Committee on Energy Independence and Global Warming.
Lobbying at the federal level was an eye-opener, Erickson says. For many in Washington, D.C., the federal government is seen as the be-all and end-all, the expected source of all possible solutions. The combination of Erickson's lobbying efforts and the EPA award highlighted local efforts tackling climate-protection issues.
It's enlightening, Erickson explains, to realize the potential impact of changes at the community level. "Sonoma County has 193,000 residential housing units and 54 million square feet of commercial space. All of that has to be upgraded in its energy efficiency. The most cost-effective way we've found to reduce greenhouse gases is to reduce energy use by increasing efficiency."
Our hydrocarbon-based economy focused on fossil fuels needs to transition into something non-hydrocarbon-based by defining new economic and organizational forms, Erickson says. "We think groups like ours are best positioned to see how that's going to work. Government is not really in a position to do that."
What's next for the CPC? A community climate-action plan. "It really expresses all this in an action-oriented way that hopefully will allow folks--entrepreneurs, business owners, community groups--to significantly reduce their greenhouse gas emissions, and to do it in a way that makes them money," Erickson asserts.
That's because greater energy efficiency means lower energy costs. And while it may have already become a trite saying the answer is, indeed, to think globally and act locally.
"There can be meaningful, powerful local action that enhances governmental efforts and integrates diverse segments of the economy to work on this project in a coordinated way," Erickson adds. "We are engaged in a global, humanity-wide project to shift where we get our energy from and how we use it in a way that doesn't dangerously impact the atmosphere."
To learn more about what you can do to reduce greenhouse emissions, go to www.climateprotectioncampaign.org.
Send a letter to the editor about this story.