June 20-26, 2007
home | north bay bohemian index | sonoma, napa, marin county restaurants | feature
Biophilia:
Kelp! | Climate Control Campaign | Georgia Kelly | Why I Hate Being Green | Eco-Hostelry | Shout-Outs | Green String Farms
Kelp man: Rising Tide's Larry Knowles inspects the day's crop.
Kelp Cuisine
Our growing interest in health, sustainability and nutrition means a growing interest in sea vegetables
By Alastair Bland
Summer has arrived, and with it early sunrises, long warm days and burgeoning new life along California's rugged North Coast.
These are the conditions that bring several men in wetsuits to the water's edge at dawn. It's 5:30am, the day is just breaking and the tide is low. Each man--OK, one could be a woman, but under the heavy-duty neoprene it's hard to tell--drags a kayak down the beach and launches into the frigid Mendocino waters, and with several quick paddle strokes, shoots outward over the incoming breakers and onto the wide open sea. These kayakers are hunting, and quarry lurks nearby, yet they carry no diving gear, no spears, no fishing lines and no nets. Such weaponry is not needed in their line of business--only a pair of scissors--for their prey is seaweed.
In four hours, the small operation will snip and clip as much as 600 pounds of various kelps and algae from their comfortable beds in the ocean, taking care not to damage the plants beyond their capability to repair themselves. By 11am, the seamen are landsmen once more. They haul their harvest up to their blue pickup truck, deposit it in the back, pile into the cab and drive two miles inland to the headquarters of Rising Tide Sea Vegetables, the largest sea veggie harvester, producer and wholesaler on North America's west coast.
Many cultures have used sea vegetables for centuries as a supplemental source of nutrition and simply a good-tasting thing to eat, but in the United States, interest in consuming kelp and algae has gained steam only in the last few decades. Larry Knowles, owner of Rising Tide, says it began with the macrobiotics movement in the 1960s, a trend toward natural and healthy eating which originated in Japanese culinary traditions. Mainstream dining, however, would not take the product seriously for decades, and in California the seaweed trade has puttered along at walking speed since the early 1980s.
This natural food tastes quite good, like fresh chard and smoked sea salt, and is a versatile supplement to soups, salads and stir-fries, but many people harbor a terribly negative image of seaweed. After all, they usually encounter it on the beach in heaps and piles, rotting in the sun and swarming with flies.
"But we don't harvest seaweed from the beach," says Kate Marianchild, who founded Rising Tide in 1981. "We get it while it's alive in the sea."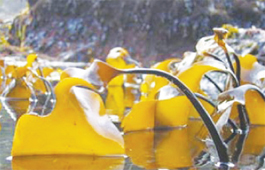 Bean0 of the sea: Kumbo not only leaches radioactivity from the body, it makes beans better, too.
As a very efficient absorber of nutrients and particulates, sea vegetables are generally not harvested from polluted regions, and the waters of Mendocino County are considered to be some of the cleanest on the West Coast. Many kelp beds and seaweed patches there go undisturbed year-round by boaters and shore walkers, and the prevailing north-to-south current of the eastern Pacific Ocean carries all the contaminated muck expelled from the Golden Gate southward toward Los Angeles. In remote regions of Oregon, Washington and British Columbia, there live other small seaweed harvesters, and most of these companies, like the handful in California, gather their veggies without the aid of motorized, fume-spewing transport, and most dry their harvest in the sun.
Marianchild left her company to Knowles last year to devote her time to other endeavors, but she credits herself with helping to open up the market and educate the public about sea vegetables. In the very early days, she would harvest by hand all summer, drying her goods in the sun and packing it in baggies. In the winter months, she hit the road with hundreds of pounds of dried seaweed in her truck. Careful not to tread in the market range of the Boonville-based Mendocino Sea Vegetable Company--then one of the only commercial producers in America, and a tiny one at that--she visited community grocery stores and natural-foods retailers in Oregon and Washington. Most people were not interested, yet she gained a few long-term customers on that pioneering road trip, and with time, business would only get better.
Rich Mineral Stew
Knowles reports that in the 12 years since he joined Rising Tide, the company's seaweed production has increased 10-fold with Americans' growing interest in health and holistic living. In fact, the Whole Foods Market in Berkeley was one of the first large retailers to pick up Rising Tide's products in 1992.
Many sea vegetables grow at tremendous rates--30 centimeters or more per day--and those with an interest in sustainable resources have every reason to incorporate marine algae into their diets. Nutrition is another major selling point, and marine vegetation far surpasses most terrestrial leafy greens in nutritional value. Seaweed contains 15 to 20 times the nutrient densities of land plants due to its nearly perpetual immersion in seawater, which is basically a rich solution of many minerals. Various kelp species deserve special mention for their high densities of sodium alginate, a compound that can protect against radiation poisoning.
"Sodium alginate is responsible for the recovery of a lot of people after Chernobyl," says Marianchild. "It actually removes heavy metals and radioactive isotopes from the digestive system. It's a great thing to have on hand in case of a radioactive disaster."
So you might want to bring your dried kelp stores down to the bomb shelter before we attack Iran. You might also stock the shelter with canned tuna, as sodium alginate can also negate the potentially harmful effects of dietary mercury. Kelp, it seems, is truly a wonder food.
Wine-Weed Pairings
While sea vegetables have long been an oddity eaten by back-to-the-landers celebrating the natural offerings of earth and sea, gourmets are now showing interest, and in California there is perhaps no more effective way to hook seaweed into the diet of high-end America cuisine than through wine-food pairings. That, anyway, is what chef Eric Tucker has done at the acclaimed San Francisco vegetarian restaurant Millennium.
Long a fan of eating sea vegetables, Tucker is gradually working kelp and algae into the regular menu at Millennium, and in early May one weekend he featured a five-dish sea-veggie special. Each concoction was paired with an appropriate wine. For example, he partnered his vegan South American tamale with seaweed and cream sauce with a white Sancerre, which Tucker chose as a good match for the spiciness of the dish and the pungent saltiness of the seaweed. Generally, he has aimed at developing wine-weed matches that complement, rather than contrast, one another.
"Dry white wines with a good mineral character, like Riesling, work well," he says, although big reds may accompany such specimens as sea lettuce, which carries a broad and rounded black truffle essence.
Other local chefs are following a similar path as Tucker, and as America wakes up to the beautiful aromas and flavors of marine algae, John Lewallen, owner of Mendocino Sea Vegetable Company, today based in Philo, reports that in his 28 years in the trade, business has never been so hot.
"The market is in a real boom. I used to have to pump it, but now I can't even get the mailer out to our customers because I'm too busy taking orders."
Knowles, too, is pleased with the direction of things. He's even begun to market one variety of kelp to zoos as far away as Minnesota, where keepers give the long ribbons of algae to the bears as edible playthings. Yet Knowles recognizes that in this fast-food nation he may never get rich off of seaweed.
"I'm now making almost enough to fully support me, and clearly there's a growing understanding of natural health and organics, and seaweed is a part of that.
"But still," he chuckles, "it's not like selling burgers."
Terry Nieves of Ocean Harvest Sea Vegetable Company is spotlighted on Sunday, June 24, at the Marin County farmers market as part of its 'Meet the Producer' series. Terry brings fresh sea veggies to the Civic Center on Thursdays and Sundays, and will speak from 11:30am to 12:30pm that day. Civic Center farmers market, Marin Civic Center, North San Pedro exit off Highway 101, San Rafael. 8am to 1pm. Free. 800.897.3276.
Wading In
DIY kelp harvesting
Those interested in harvesting sea vegetables on their own may do so with nothing but a California fishing license and a very minimum of specialized equipment. The leafy ends of most algae and kelp are quite tender and make for the best eating; snip off the tips and leave the rest of the plant. Remember that state law forbids taking more than 10 wet pounds of seaweed per day per person.
As a general rule of thumb, most seaweeds are safe to eat. One variety, though, which resembles a feather boa, gives off a sulfury aroma, and when sun-dried, baked and eaten, it will fill your mouth with a thick, unpleasant burning paste that turns your teeth green. (Of course I've done it myself, and for days I dared not smile.)
Otherwise, the coast is clear, and all edible seaweeds may be consumed fresh or dried and reconstituted in water, which takes just several minutes. My personal favorite method of preparation is to dry-toast sea veggies in a cast-iron pan. This brings out the fresh-from-the-sea aromas, a flavor that goes well with many Asian spices. Sea vegetables are easily incorporated into soups, stir-fries and salads, and a sesame-soy-miso theme nicely complements the smoky, marine kelp flavor. Consider pairing your seaweed dishes with a Bargetto's 2005 Santa Cruz Mountain Chardonnay, which itself carries a startling yet intriguing backnote of seaweed.
--A.B.
What Is That?
A tiny primer to the most common kelps
Kombu grows in long, tender ribbons, carries high densities of folate, calcium and magnesium. It also holds glutamic acid, a tenderizer, and when added to a pot of beans, will cause them to cook faster and become more digestible.
Nori is indigenous to the North Atlantic Ocean, but retailers carry it worldwide. Used for sushi rolls in Japanese cuisine, Britons call it "laver" and have traditionally mixed it with rolled oats and fried the mash as a breakfast item.
Wakame is a kelp that is described as looking like a cooked piece of spinach lasagne. The center vein should be cut out before using in cooking.
Sea Yer Veggies
Finding sea vegetables well inland
Good Earth Natural Foods 1966 Sir Francis Drake Blvd., Fairfax. 415.454.0123.
Oliver's Market 546 E. Cotati Ave., Cotati. 707.795.9501.
Oliver's Market 560 Montecito Ave., in the Montecito Center, Santa Rosa. 707.537.7123.
Santa Rosa Community Market 1899 Mendocino Ave., Santa Rosa. 707.546.1806.
Whole Foods Market locations throughout Bay Area
To order direct from the source, go to:
Ocean Harvest Sea Vegetable Company 707.937.1923. www.ohsv.net.
Mendocino Sea Vegetable Company 707.895.2996. www.seaweed.net.
Rising Tide Sea Vegetables 707.964.5663. www.loveseaweed.com.
Sure, I'll Eat It
Yummy yummy on my plate
This recipe is adapted from Rising Tide's "famous" dish
Gingered Wakame
1 tbsp. olive or toasted sesame oil
2 tbsp. soy sauce
3 medium cloves garlic, chopped
1 tsp. grated ginger
1 tbsp. local honey
1 c. (2/3 bag) dried wakame
Soak wakame in water for 10 minutes. Cut into 1/4-inch strips. Combine all other ingredients in a wok or frying pan and sauté for 2 minutes. Add wakame and simmer for 20-30 minutes, adding soak water as needed.
Send a letter to the editor about this story.