June 20-26, 2007
home | north bay bohemian index | features | north bay | feature story
Biophilia:
Kelp! | Climate Control Campaign | Georgia Kelly | Why I Hate Being Green | Eco-Hostelry | Shout-Outs | Green String Farms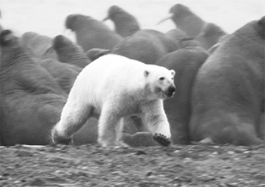 Unbearable: A starving polar bear, unable to find ice upon which to rest, fruitlessly hunts walrus in 'Planet Earth.'
Green Scream
Shouting out to businesses, practices and people that do good
By Gretchen Giles
We begin the giddy loveliness of our annual three-dot thingee with a heartfelt commercial plea for every one of us to view, purchase and memorize Sir David Attenborough's excellent new series, 'Planet Earth.' Produced by the BBC and currently screening on the Discovery Channel, this 11-part series is now on rental shelves and is worth every single penny. A love letter to the planet, PE utilizes the newest photographic technology and is uniquely packaged into such categories as "Fresh Water," "Caves" and "From Pole to Pole," causing the viewer to fall hugely, achingly, in love with our sweet green spot.
Most importantly, Attenborough--whose great career has entirely been involved in drawing attention to the unique biospheres of our universe--does not dwell on the certain dangers that we're currently facing (or, in the United States, not facing). The viewer can just wholly swoon over the beauty of the place and not fret about the demise of the place. (That said, the segment following a polar bear becomes an unbearable and unintentional eulogy to this great animal.) Rather, the last three hours separately focus on global warming, overpopulation and wanton misuse of resources, topics cannily broached by a team of experts.
The environmental movement, it seems, has undergone a revamp in which executive directors and think-tank folks now talk earnestly of the economic impact of letting the earth go to hell. How much, for example, would the lowly plankton cost were we to have to replace it? About $35 trillion, that's how much. Isn't it, they reasonably ask, therefore cheaper to protect it? This type of fiscal smarts may just be what the earth needs as it reaches its own bottom line. . . .
Speaking of TV, we finally have a spot to shout out to KRCB senior producer Valerie A. Landes, who recently won an Emmy award for her excellent Natural Heroes series, an "eco-film fest" for TV. Preparing for its third season, Natural Heroes springs from KRCB's Rohnert Park offices but is distributed on some 60 public television stations nationally and features mini-docs from around the world about good folks who are doing good work for the environment. To learn more about submitting your own film or to watch individual episodes, go to www.naturalheroes.org. . . .
Speaking of Rohnert Park, the former Agilent campus there has lain dormant for several years now, but a new buzz is beginning as Codding Enterprises offers up ambitious plans to build the largest green community in California on the 175-acre site. Seizing on the "new urbanism" concept that mixes pleasure with work, Codding envisions utilizing the existing infrastructure that Agilent created to tweak out Sonoma Mountain Village, a new community of housing, work places, dining and recreation all in a walk- and bike-friendly plan that treads lightly on the earth.
In addition to creative reuse of water, they propose a nonprofit "incubator" focusing on biofuels, and have installed a $7.5 million solar energy system that is reported to be the largest privately owned installation of its kind in Northern California, aimed at providing power to some 2,000 entirely eco-friendly homes and offices that will, if all goes to plan, be erected in some 12 years.
Aiming for a platinum-level LEED certification (see our story on the Gaia Napa Valley hotel), Codding Enterprises may be one of the few developers who retains a chief sustainability officer in the form of one Geof Syphers. We look forward to seeing this development develop. . . .
Speaking of developers, hardhats off to megacontractor Ghilotti Construction Company, which recently converted its 150 heavy equipment vehicle fleet to a biodiesel blend, even though it's more expensive and they simply didn't have to. . . .
Speaking of biodiesel and drinking (OK, we were just thinking about drinking), Green Machine offers a party bus run on biodiesel that allows winetasters the sobriety of a healthy planet while keeping them directly out of the driver's seat. They also offer such reliable jaunts as monthly trips to Harbin Hot Springs. To learn more about sustainable daytime drinking and not driving, go to www.gogreenmachine.biz. . . .
Speaking of getting hammered, our locally owned Friedman's Home Improvement has just introduced "Plan-It Hardware" in its Santa Rosa, Sonoma and Ukiah stores aimed at making it easy for the home-improvement enthusiasts to improve away with far less consequence to the family and the planet. Screening products for their safe and sane qualities, Friedman's now identifies them with special signage and even employs so-called eco-evangelists to helpfully roam the aisles, looking for ways to point out toxins best avoided. . . .
Speaking of cow horns stuffed full of manure, the Wine Emporium in Sebastopol hosts a small convivium on organic and biodynamic viticulture practices at the store on Thursday, June 21, from 6:30pm to 9pm. Presenters include Gaston Leyack of Marimar Estate, Sue Bass of Porter Bass Vineyards and Dan Schwarze of Long Meadow Ranch. Expect a food and winetasting that riffs on the differences between conventionally grown comestibles and those that arise from biodynamic/organic practices. Space is limited, RSVP required. Wine Emporium, 125 N. Main St., Sebastopol. 707.823.5200. . . .
Speaking of 22.6 soda bottles, international niche retailer Lowepro, whose U.S. office is based in Sebastopol, has just launched a new product. Catering to professional photographers and their ongoing need to lug around hefty pounds of insanely expensive equipment, Lowepro produces camera bags and photographic carryalls of all stripes. In an effort to raise awareness of the dire plight of the polar bear (see above and weep), the company has launched a new product, the Primus AW, constructed of 51 percent recycled goods equal to those 22.6 soda bottles. A portion of all Primus AW sales will be donated to Polar Bears International. To learn more, go to www.lowepro.com and www.polarbearsinternational.org. . . .
Speaking of lovely long strings of mozzarella cheese, Stefano's Solar Powered Pizza, with outlets in Mill Valley (11 E. Blithedale; 415.383.9666) and Corte Madera (2225 Corte Madera Ave.; 415.924.9666), is proud to announce that it's pulled off a seemingly impossible feat: producing sun-fueled pizza. The Mill Valley store is now completely solar-powered, dropping Stefano's monthly PG&E bill from $1,000 a month to a lightweight $6.75 a month and gaining itself a "green business" award from the Marin County Board of Supervisors. Congrats, and please pass us a slice of the Greek. . . .
Speaking of good dead grapes, many area wineries have made the switch to solar in recent years. A by-no-means-complete list of huzzahs go to Benziger, Cline, Domaine Carneros, Far Niente, Fetzer, Frog's Leap, Robert Keenan, Paloma, Peju, Quivira, St. Francis, Shafer and V. Sattui, all of which have made or are making the switch. The initial investment is generally recouped in five to seven years, and vintners have the pleasure of watching their energy bills plummet to a cool two figures while knowing that their viticulture is not harming the earth. . . .
Speaking of nosing around other people's homes, green living can easily be an everyday thing, as Daily Acts' founder Trathen Heckman ably proves. Heckman opens his home to the public on Saturday, June 23, from 10am to 3pm for a tour of the permaculture environment and sustainable living model he and his wife have created in their rented home--proving that one doesn't have to own a house to make it rest lightly on the earth and neither does one need limitless piles of dosh. Participants in this Everyday Green Living tour will take bikes to the Heckman's and then cycle over to a community garden. A good time is guaranteed for all. $25. For details, go to www.daily-acts.org. . . .
Hey! Speaking of nosing around other people's homes, did you know that there is now such as thing as an "ecobroker," a real estate agent certified in the ways of the green? Well, meet father and son Bernie and Chris Stephan, who offer a discount on their own costs for those home sellers who upgrade their living quarters to be more eco-attractive. The greenest seller could save $2,500 on closing costs rebated by the Stephan team. Sure, it's a gimmick, but as gimmicks go, this ain't a bad one. Learn more at [email protected]
Send a letter to the editor about this story.