Features & Columns
A Battle for the Soul of Silicon
Valley's Oldest African-American Church
Historic Antioch Baptist Church beset by accusations of theft and power plays.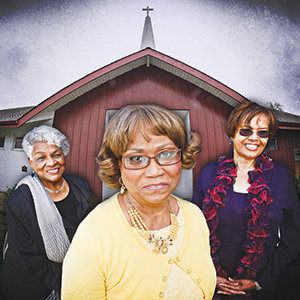 Not 10 minutes into the parley, Queen Ann Cannon storms out of Antioch Baptist Church to the parking lot. Behind her, the sanctuary erupts in yells over a chorus of tense whispers.
'I'm done,' Cannon says, shaking her head. 'I can't take this anymore. I really can't.'
Interim pastor Gregory Lawson appears at the back door with his bodyguard, along with Tony Alexander, who'd been swearing in newly elected trustees at the church business meeting before a 9-1-1 call cut it short.
'I told him, 'You can't do that,'' deacon Barbara Boone apprises a latecomer. 'I told him this was illegal, this was a bootleg installation, but he went on with it anyway.'
A San Jose cop pulls up in a blue-and-white SUV, lights flashing, as two more patrol cars jerk to a stop in the middle of Julian Street. Neighbors in a few next-door cottages step outside to rubberneck.
'Does anybody have a gun?' the first officer asks, taking slow, deliberate steps toward the church's crowded doorway. Someone mentioned a weapon to dispatchers, police later said.
'No,' pastor Lawson replies calmly. 'Nobody has a gun.'
Inside, about 100 people pack the worship hall, which thrums with commotion. Some pace the aisles; others remain seated in the pews. A group in the back sings, 'Hallelujah, hallelujah, he is wonderful.' Calls for order go unheeded. The canticle gives way to shouts about Satan, scripture and a stolen election.
'Revelations 19: God's wrath goes through this place, goes through this place,' Boone intones. 'Revelations 19: God's wrath goes through this place. God's wrath goes through this place.'
From the back, a young woman in a floral dress shoots up from her seat and tells Boone, her childhood school teacher, that she should be ashamed.
'Jeremiah 23: woe to the pastors that are leading us astray,' the woman shouts. 'I grew up in this church, and what I'm seeing now is disgusting and despicable.'
'Oh, you sit down,' Boone replies. 'You sit down. You sit down. We heard you'
'You are holding this congregation hostage,' the woman in the dress continues. 'This is our church.'
No, no, no, Boone continues, the church is in thrall of the devil, beholden to greed, afoul of both God's law and man's.
The volume rises.
Some folks leave.
As the double door swings shut, a man's voice sounds through the microphone: 'This is still the house of the Lord.'
Take Me to Court
From the dawn of organized faith, infighting has divided flocks and spawned sectarian spinoffs. These bouts generally remained private, resolved by religious mediation or denominational tribunals. But churchgoers frustrated by regulatory leniency over religious institutions have increasingly turned to the enforcement power of the secular justice system. Now more than ever, clerical disputes over fraud, property and misconduct to play out in American courts.
These conflicts have raised recondite questions about church-state separation. To what extent should the First Amendment's religious liberty clause exempt faith-based groups from civil law? How, if at all, are lawsuits involving religious groups constitutionally distinct from their secular counterparts?
At San Jose's historic Antioch Baptist Church, a bitter feud over financial oversight has already provoked two restraining orders and litigation over alleged defamation. Now, after the explosive meeting earlier this month, there's talk of another lawsuit. Unlike past cases, which dealt with clashes between members, this new legal volley will target church leaders and no doubt widen a rift in the South Bay's oldest African American congregation.
For the past three years, Deaconess Boone has penned fiery, scripture-laden newsletters accusing church leaders of embezzlement and apostasy. 'Without a doubt, historic Antioch Baptist Church was built ... on solid rock!' she wrote in one such missive. 'Unfortunately, that foundation is slipping and sliding as the church embraces worldly practices and moves further and further away from truly modeling Jesus Christ.'
In 2013, reality TV judge Greg Mathis sent a gold-embossed invitation to Cannon asking if she would take a libel claim against the church bookkeeper, Cowander Gage, to the small screen. She declined, but slipped the letter into a bulging dossier on suspected wrongdoing at her church. 'They wanted to see what these church ladies were fighting about,' says Cannon, who lost the case in small claims court when a judge wrote it off as congregational matter.
In a separate claim, Gage accused Boone's husband, retired teacher and fellow deacon William Boone, of shoving her as part of the ongoing disagreement about the church's financial stewardship. He, in turn, filed an injunction against Gage for accusing him of slander. The pair failed twice to mediate, which may push the case to trial.
More recently, Rev. Lawson's role has become a point of contention. Church members canned him by majority vote in January. But the deacons challenge the legality of that election, saying only the diaconate can hire or fire an interim pastor. Lawson—a treasurer for Alameda County—lost his ministerial salary and saw his name plucked from the church marquee and scrubbed from the weekly programs. The pastor-in-limbo continued leading Sunday services, but with a hired bodyguard in tow.
'There's a sharp divide,' says David Dill, who was baptized into the church as a child and now drives his mother and elderly, ailing father to Sunday services. 'It's disturbing. I'm not going to take one side, but there are basically two factions pitted against each other.'
Trustees control the money, he explains, while deacons appoint the clerics. In 2013, the two boards splintered into opposing blocs that threaten to fracture a venerated religious institution.
The deacons demanded an audit, something they said the church constitution requires and, at the time, was 16 years past due. The church ultimately agreed, shelling out $10,000 for an outside auditor to review the books for that calendar year. To the diaconate, however, the report looked superficial. They accused trustees of withholding records and failing to show a line-item accounting. 'We were met with resistance at every step of the way by the trustees, by the bookkeeper, by the secretary,' says Deaconess Boone, a retired principal of Cupertino Middle School. 'It makes you wonder what is being hidden from us.'
Alexander, a politically well-connected union rep by trade and Antioch Baptist Church moderator until his four-year term expired earlier this month, downplayed the imbroglio as a family spat. 'The church is over 100 years old, they've had squabbles like this before,' says Alexander, whose unflappable composure has helped him as a mediator for the United Food and Commercial Workers, Local 5. 'The church is still here. The squabbles do get taken care of.'
Cannon, 75, whose family joined the church when they moved to the South Bay from Richmond in 1955, says she's less optimistic. She calls the trustees 'the Renegades, with a capital 'R.''
'It's like a cult,' says Cannon, who retired from IBM to become a court-certified mediator and volunteer for the NAACP and Peninsula View TV. 'You have people who've hijacked the church for their own gain.'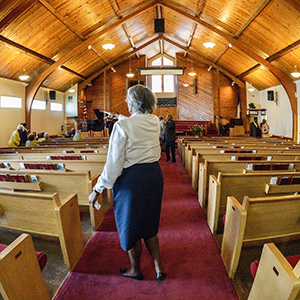 'Beacon of Light'
Antioch Baptist Church, San Jose's first black congregation, initially convened in 1893 as a home prayer group of former slaves, gold miners and other settlers. They later moved from a living room to a frontier-style, false-front wood building on Julian Street. At the time, locals called the neighborhood 'Tar Flats,' a reference to its ambient smell of tar weed and, according to historians, the African American families who lived there.
In the years that followed, Antioch Baptist shepherded its flock through earthquakes, floods, the Great Depression, two world wars and the Civil Rights movement. In 1996, San Jose deemed the church a historic landmark, embedding a memorial plaque into the tan flagstone facade that bears names of the pastor during the church's founding (Cyclades C. Laws in 1893) and its reconstruction (C.W. Washington in 1960).
Juanita Luster, a retired social worker and four-decade church member, points to the congregation's 123-year record of service. For generations, she says, the flock has fed the hungry, sheltered the homeless and sent missionaries abroad. For generations, it has met the needs of its own members, mentored youth and housed the poor. 'This church has been a beacon of light, a beacon of Christian love,' says Luster, a former trustee. 'I will not speak badly of this church. It's like a marriage. We don't need to put all the dirty laundry out there. Doing that is not Christ-like.'
Members on both sides of the fight made a point of expressing how much they care about the congregation. Antioch Baptist is where people raised their children, met lifelong friends and found healing. For more than a century, academic, political and cultural leaders in the South Bay have called this their spiritual home.
The late civil rights activist and author Henry Gage Sr., who served as president of the East Side Union High School District, spent a lifetime in this congregation. As has Ed Clausell, the first black engineering student at the University of Alabama in Huntsville, who worked on the Apollo moon project and BART in the course of a 40-year career in the field. Iola Williams, the first African American to serve on San Jose's City Council, attended Antioch Baptist before moving back to her home state of Texas.
Parishioners agree on one point, at least: Antioch Baptist Church is a cultural gem. Some believe that its future hinges on becoming more transparent, while others believe a truce is required to save it.
No one denies that the church has struggled to stay solvent. Like many nonprofits, donations have been slow to pick up since the economic collapse of the previous decade. IRS records show losses and depreciation going back to at least the mid-aughts. The church, which manages a neighboring six-unit low-income apartment complex, paid off since 1999, has routinely spent about twice as much on upkeep than it collects in rent.
For some members, the 2012 audit raised as many questions as it answered. In 2007, the church loaned $25,000 to a related nonprofit—the Antioch Housing and Economic Development Corporation, whose tax-exempt status has since been revoked—to expand a nearby African American community center. San Jose promised another $75,000, but withdrew once the state shuttered its redevelopment arm in 2011. The project has since stalled and questions lingered about the loan's repayment.
Even if no misconduct comes to light in a forensic audit, some members suggested that an independent review would give a fractious flock some peace of mind. For years now, the infighting has discouraged people from tithing, according to the Boones and other church officials. Expenses are up and revenues down, a trend that predates this festering dispute.
'Religious organizations, by their very nature, don't have a lot of controls in place' says Chris Marquet, founder of security consulting firm Marquet International. 'The people drawn to these groups tend to come for the greater mission, not because they necessarily have the financial expertise.'