Features & Columns
Anjelah Johnson Goes Viral
With Bon Qui Qui
Comedienne Anjelah Johnson's uniquely San Jose-style mashup
of cultural influences created a breakout viral sensation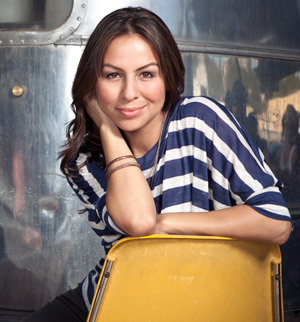 ANJELAH JOHNSON would almost always show up late to Bachrodt Elementary School in San Jose even though her house sat literally about 100 feet away. Blame it on Live With Regis and Kelly, which started at 9am, just 15 minutes before the first bell.
The second bell would send her shuffling across to school, reluctant to take an early bow from family ritual and the hypnotic pull of her favorite talk-show personalities.
"I loved that show because my mom would watch it—she loved it," recalls Johnson with a laugh. "So I would want to see it with her. It made me late every day of my life."
She recognized early on the power of storytelling as entertainment, drawn to talk shows and the hip-hop culture comedy of BET. In conversation, in life, Johnson gravitated toward centerstage in pursuit of the thrill of commanding attention.
Now, the San Jose native is a nationally touring standup comedian, a two-time viral Internet sensation, a MADtv cast member, a writer, an actress—and she is back for two shows this Saturday at the San Jose Center for the Performing Arts.
"It's always good to come home," says Johnson, a gregarious olive-skinned beauty with the physique of a dancer and a name that belies her Mexican-Native American roots. "I have a lot of pride in where I grew up."
The show is part homecoming and part fundraiser. Donations will be accepted for City Team, a national Christian nonprofit that helps the homeless and impoverished find work, addiction treatment and other services to pull them out of a bind.
Since May 14 marks Johnson's 31st birthday, she wants to raise enough money for Cityteam to feed needy children.
"This is my city, so I want to give back," she says. "I try to come home as much as I can to see my family, but to come and do a show in San Jose is always cool because people I went to high school and elementary school with show up and say, 'Hey, I'm really proud of you; I'm really happy about what you're doing.' It feels great, like they get to share in what I'm up to. My Bay Area people are always so proud and excited. I just feel the love."
Born to Perform
When a stranger on a plane asks her what she does for a living, Johnson pauses to consider how talkative she feels. She could claim any number of roles; it's always been that way. Actor. Comic. Writer. Maybe it's more accurate to call her a personality or a triple-threat scene-stealer.
"Overall, I guess just an entertainer," she muses.
At age 8, she became a Pop Warner cheerleader; she then took up soccer, softball and track. She practiced a mix of dance styles, including hip-hop and breakdancing. As a senior at San Jose's Lincoln High School, she enrolled in an acting class. She began to experiment with various accents, which came naturally given her upbringing in a multicultural South Bay.
"My comedy involves a lot of storytelling and characters, so I find a lot of inspiration from people around me and life experiences, including from growing up in San Jose," Johnson says.
Fame could have scouted her in any number of hobbies—and it did to some extent. While studying speech communications at De Anza College in Cupertino, Johnson became a cheerleader for the Oakland Raiders in 2002. The team named her rookie Raiderette of the year and the entire squad of cheerleaders performed in Super Bowl XXXVII.
"I dabbled in a bunch of things," says Johnson, one of five kids. "My whole family is very creative. I grew up around it."
In her early 20s, Johnson was already a pro cheerleader who had mastered what she calls the "perma-smile"—the grin you keep plastered on your face while signing autographs, dancing a routine or posing for photos—and had honed a dynamic stage presence.
But egging on the fans in the Black Hole wasn't her end-all. Divine guidance drew her to Hollywood, she says. To anyone else it would have seemed a whim, but Johnson felt strongly about her move to L.A. Between auditions and acting gigs, she found time for an improv class at her church, Oasis Christian Center.
A comic in the improv troupe encouraged Johnson to ply her character bits at some open mics, try the whole standup thing.
"I kind of just fell into standup," says Johnson. "I went down there to pursue acting and wound up onstage with a microphone."
A Running Start
Chris Storin remembers the first time he met Johnson: it was at some open-mic session in Long Beach. Johnson was only months into her standup career, if it could even be called that at the time, making the rounds at open-mics, and—atypical for a comic so wet-behind-the-ears—absolutely slaying audiences.
"All the comics were good, but the standout of the night, the one that rocked it, was Anjelah," says Storin, an Oakland-based comedian. "She probably doesn't remember. We talked briefly after that show. That was the first time we met."
Unlike a lot of beginning comics who fight to get stage time, Johnson quickly graduated to legitimate comedy clubs. Bookers saw that her character bits were so popular she came with a built-in audience. Her immediate success wounded a few egos.
Stepping on older comics' toes wasn't intentional, she later noted. If anything, she was the type to bring others up with her, says Storin, who got asked to host for her first headliner gig at the San Jose Improv about eight years ago—a sold-out show. Fremont-born comedians Kabir "Kabeezy" Singh and Sammy Obeid regularly open for her, too. There's a Bay Area rotation going.