Feature
Irish Hello
Celebrate St. Patrick's Day with live music, traditional food, green beer and Irish whiskey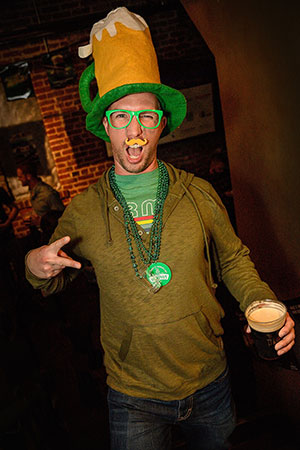 Everyone is Irish on St. Patrick's Day. To mark the occasion, bars and pubs all over the South Bay will be pouring tumblers of Jameson, pints of Guinness and serving up plenty of corned beef and cabbage. Many will get in on the action early with special events this weekend. But for the purposes of this guide, we've focused primarily on the big day itself—March 17. Read on for a rundown of places to enjoy a quiet pint and authentic Irish fare or a raucous night of green-beer-pong and bar bites. Whatever your adventure, may the luck of the Irish be with you!
St. Patty's Pub Crawl 12pm
O'Flaherty's Irish Pub, San Jose
From O'Flaherty's at San Pedro Square, to Katie Blooms in Campbell, and then on to Number 1 Broadway in Los Gatos, this epic pub crawl will feature live bagpipe performances and all-day drink specials. Mention the magic words—"MDM Presents Pub Crawl"—for free entry.
Green Beer Here
9pm
San Jose Bar & Grill
Some turn their noses up at green beer. Others know how to party. Whiskey bombs, verdant suds and $3 well drinks abound at this St. Patty's Day celebration.
CÉad MÍle FÁilte
11am
Rosie McCann's, Santana Row
This Saint Patrick's Day party extends well beyond the 17th. Starting March 10, this Santana Row pub opens its doors to all comers, offering traditional Irish dishes, drink specials, live music and DJs—plus family friendly activities, like face-painting for all the little leprechauns.
Mollycoddle
3pm
Molly Magees, Mountain View
They say one can find at least one Irish pub in any city in the Western hemisphere. On Castro Street in downtown Mountain View, there are two. After filling up on the special Irish menu at St. Stephen's Green, consider paying a visit to Molly Magees, just a few doors down, for dancing, drinks and billiards.
SlÁinte!
11:30am
St. Stephen's Green, Mountain View
In addition to the Guinness and whiskey, St. Stephen's will be serving traditional Irish fare—such as smoked salmon on Irish soda bread, shepherd's pie, lamb stew and corned beef and cabbage, naturally.
Uisce Beatha
11:30am
The Claddagh, Gilroy
This South Bay pub serves traditional Irish fare and has a formidable list of Irish whiskeys. In preparation for St. Patrick's Day, they've added a number of specialty Jameson selections, including Distiller's Safe and the limited edition, Cold Brew—a coffee-whiskey cocktail.
No Fibbin'
11am
Fibbar Magees, Sunnyvale
An excellent place for a pint and pub grub, this Irish tavern welcomes all comers. Wear green gear and enjoy craft beers on tap and drink specials.
Totally, Dude
12pm
Carry Nation's, Los Gatos
Don't be fooled. This bar may take its name from the axe-wielding leader of the temperance movement, but you aren't likely to find any teetotalers here. There's plenty of whiskey, wine and beer on tap, though.
Brothers In Arms
All Day
San Patricios, San Jose
Named in honor of the Saint Patrick's Battalion—a cadre of Irish immigrants, European expats, former slaves and U.S. Army defectors who fought alongside Mexico in the Mexican-American War—this downtown pub has a distinct cross-cultural identity ideal for celebrating all things green, white and orange... or red.
Beer & Honey
6pm
Kelly Brewing Company, Morgan Hill
Downtown Morgan Hill taproom Kelly Brewing Company releases its latest concoction—an Irish red ale on nitro. Traditional Irish fare comes courtesy of Chochi Catering as the Honey Wilders plow through a set of vintage rock and power pop.
Robert Earl Keen
8pm | $44
Felton Music Hall, Felton
Houston-born Americana singer and songwriter Robert Earl Keen counts many country greats as fans. He's been covered by George Strait, The Highwaymen and The Dixie Chicks.
Shamrock Swap
7pm | $20
Taplands Taproom, Santa Clara
Enjoy local brew, light bites and get crafty at this Californian take on St. Patrick's Day. A ticket gets you all the supplies to make your very own succulent garden—dirt, rocks, moss and various succulents—as well as entry into a raffle for a larger prize.
Pot O' Mead
2pm
Rabbit's Foot Meadery, Sunnyvale
Dress in green but leave the food coloring at the door. Rabbit's Foot Meadery celebrates St. Patrick's Day with traditional Irish music, a tasty "honey stout," draft ciders and more.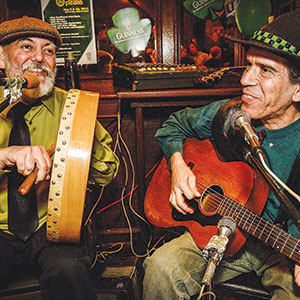 Casey Wickstrom
5pm
Britannia Arms Cupertino
South Bay singer-songwriter Casey Wickstrom joins forces once more with the Irish Rogues—playing traditional Irish drinking songs on guitar, banjo, fiddle and mandolin. Grab a pint and raise a toast.
Saint Patty's Fest
10am
Lilly Macs Pub, Sunnyvale
Corned beef, cabbage, all-day drink specials and live music from the Gaelic Muses—playing sets at 11am, 2pm and 5pm—and The Emphatics, performing at 10pm. The party is all ages until 10pm.
Hootenanny!
6pm
Rootstock Wine Bar, Los Gatos
San Jose acoustic cover trio Hootenanny! kick out the jams—playing the forgotten classics and pop hits of the '60s, '70s and '80s.
Corned Capers
11am
Capers Eat & Drink, Campbell
Loft Bar & Bistro, San Jose
This South Bay eatery gives guests a taste of the motherland with Irish coffee, pints of Guinness and plenty of whiskey to go around—plus corned beef and cabbage, of course. Their downtown San Jose sister restaurant, Loft Bar & Bistro, gets in on the action as well.
The Black Stripes
9pm
The Brit Almaden, San Jose
The South Side's favorite British pub hosts a raucous St. Patrick's Day party, headlined by Hollywood cover band, The Black Stripes—who perform all the indie and alternative hits from the '90s and aughts.
Rhythm Ritual
9pm
The Continental, San Jose
This weekly house music party takes over The Continental Bar, Lounge & Patio every Tuesday night—without exception. That means this SoFA District club will be hopping with house heads and craft cocktails this St. Patrick's Day.
Irish Choice
11:30am
Faultline Brewing Company, Sunnyvale
Celebrate St. Patrick's Day at Faultline with tastings of Bushmills Irish whiskey and traditional style beers.
Aki Kumar
8pm
Poor House Bistro, San Jose
Few in the South Bay have a better blues harp game than Aki Kumar. The veteran bluesman rocks one of his favorite haunts, The Poor House Bistro, this St. Patrick's Day.
The Neighborhood
6pm
Off The Rails Brewing Co., Sunnyvale
Every Tuesday is Neighborhood Night at Off The Rails. This Tuesday, guests will be feeling especially Irish.
Get Lucky
9:30pm | $5
Opal Nightclub, Mountain View
Dancing, drinks specials and drinking games—including beer pong—are on the docket this St. Patrick's Day at Opal Nightclub. A fivespot gets you in the door, where $4 Guinness, $6 Jameson shots and $8 premium cocktails are pouring all night.