Features & Columns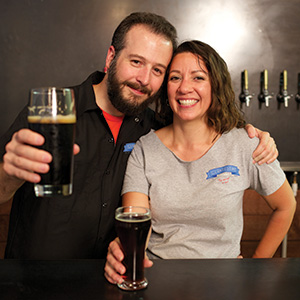 Secret's Out
Clandestine officially opened its taproom on May 30. The soft opening was "a zoo," Kelly says. "It was really busy. We were just slammed the whole time. It was awesome."
The group credits part of the rush to a strong support network of friends, family and coworkers. Turnout was also likely due to early buzz the Clandestine team had built up among their fellow craft brewers. In February, the group debuted an assortment of beers at the Meet the Brewers beer tasting at Hermitage Brewing. The founders say they gained a Facebook following after the event, which continued to build in the months leading up to the taproom opening.
Even after the immediate attention died down following the taproom's first weekend, Clandestine began to see more customers. Mulcahy says between 100 and 150 customers are coming in per night. Besides opening night, July weekends have seen the taproom's biggest crowds yet.
"It's getting to the point now where we are thinking about expanding the taproom a little bit more, getting more space and more tables for people to have more places to sit and congregate," Mulcahy says.
Spying the Future
Expansion is on everyone's mind at Clandestine, but the challenge remains in determining the best path. The brewers plan to institute a growler system by the end of the summer, so that customers can purchase larger quantities of beer to take home. The team hasn't decided the details yet; they aren't sure if people would bring in containers to fill or if they'll sell them pre-made. While selling beer to-go is the next step, no firm start date has been set.
Bottling and canning is something they'd like to do in the long term, but it would require purchasing new equipment and finding room for it in the already tight space. However, Clandestine has already started talks with a few bars in the area about distribution.
"Right now the biggest problem for us to solve is volume," says Christine Kalaveshi. "Can we brew enough in order to sustain the demand in the taproom and wherever else we may be?"
That kind of growth would require more space, which could also help with the crowded taproom. The founders say they might eventually look at adding more locations over just one larger space.
"I'm very confident from being received so well," says Adrian Kalaveshi. "We've only been open for a few months ... We've had nothing but positive feedback, so I see big things for our future."
Clandestine Brewing
1805 Little Orchard St #124, San Jose