Fall Arts 2020
More Than a Book Club
Kimberly Ford has turned Kepler's Literary Seminar into a unique experience
Stand Upload | Sculpting an Identity | More Than a Book Club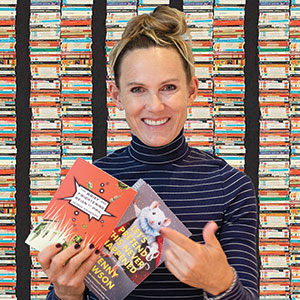 Kimberly Ford believes that a book club is a fine and wonderful thing for those who love to read. But she wants local book lovers to know that what she does is not a book club.
"Originally, I conceived it as a kind of undergraduate seminar where we would have a lot of discussion," says writer and academic Ford, the leader of the popular Kepler's Literary Seminar series. "But it became quickly apparent that people already had several book clubs that they belonged to where there would be a lot of discussion. What they were actually looking for, and were most happy with, was essentially a lecture."
Ford holds a Ph.D. in French and Spanish literature, is a former professor at UC Berkeley, and has taught at the secondary, undergrad and graduate levels. She knows her way around a seminar room. What she's learned is that people who attend her Kepler's series are less interested in dueling opinions on a particular book, and more interested in the skills of becoming a better, more incisive reader. "It turns out people are very hungry for a chance to sit back and listen to an engaging lecture on the novel. It's sort of like taking the best parts of an undergraduate lit course without having to write the papers."
Ford is in the midst of her fifth year leading the series, but the first year as a completely online experience. The fall season features monthly 90-minute seminars focused on one book each (there are two sessions of each seminar to choose from).
This year's syllabus includes:
Oct. 12 and 14: The Brief and Frightening Reign of Phil by George Saunders, a short (130 pages) novella written in 2005 satirizing political division.
Nov. 9 and 11: Let's Pretend This Never Happened by Jenny Lawson, a 2012 memoir from well-known humor blogger in the spirit of David Sedaris.
Nov. 30 and Dec. 2. A Manual for Cleaning Women by Lucia Berlin, a collection of short stories from the perspective of clerical workers, domestics, hospital staffers and other low-glamour professionals.
The series began in 2016 as an in-person event at Kepler's Books in Menlo Park. "We had about 12 people at the beginning," says Ford, "and most of them were my friends."
From there, word of mouth brought an expansion to the series, and it even changed its nature after the presidential election in 2016. "We had been reading a lot of stuff that was incredible prose, and there was lots of emphasis on why Nabokov or Virginia Woolf was so amazing. After the election, there was a real sense of emergency in terms of understanding what just happened. At that point, we read Toni Morrison's Beloved and Zora Neale Hurston."
The pandemic forced the seminar to be an online event, and Ford says the series has benefitted from the new format. The number of participants has grown dramatically since it didn't have to include only those within driving distance of Kepler's.
Tickets for the individual sessions are $48 per person, a price that includes a copy of the book being discussed. For the complete four-event season, the price tag is $160 (which also includes copies of all four books). Proceeds go to pay Ford for her time, and to support the nonprofit Kepler's Literary Foundation. Ford says scholarships are available for students not able to afford the fee.
For more information on the Kepler's Literary Series and to purchase tickets, go to keplers.org/literary-seminars.