Features & Columns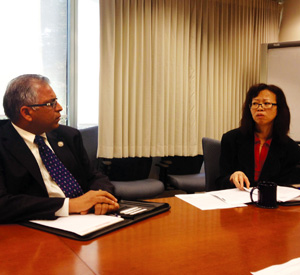 Special Treatment
In response to two investigative reports of Shirakawa last year in Metro, subsequently picked up by other media outlets, the county is estimated to have spent more than a half-million dollars in auditing supervisors and responding to public record requests.
In the county's detailed audit of Shirakawa's personal and staff P-Cards use, released on Dec. 3, 2012, Lui writes that the county was "too dependent on the [financial] controls to be performed by departments. For example, the Controller's Office has not performed any P-Card audit after-the-fact for any Board office after 2010."
What Lui's report does not include is who made the decision to stop auditing the county's 700-plus P-Cards. It also doesn't mention emails she sent to her staff a month earlier that suggest a cover-up was well underway once the problems became public. In two separate emails Lui sent on Nov. 7, 2012, she instructed her staff not to email Shirakawa's office about missing receipts and proof of reimbursements.
The messages do not explain why staff shouldn't use email. But Lui might do well to follow her own advice, considering a litigation hold has been put on all of her emails.
In one email about getting information from Shirakawa's staff aide Kim Rocha, Lui instructs her own staffers Irene Yang and Alan Minato: "Please call (not email) Kim then. Thanks."
Later that day, in an email about reimbursements for Shirakawa charges coming from individuals outside of the county, Lui writes to Yang, Minato, Sharma, senior accountant Jesus Perez and deputy county counsel Susan Swain: "We received another check yesterday that will be deposited today. There's no accompanying memo describing the details. Jesus, please help us locate which payment should this be used to offset when you review the P-card receipts. Or else, ask D2 for the payment to be applied. Please do not email them. Thanks."
So, why would someone not want an email record?
"At the time, because they asking questions—" Lui said, before Sharma interjected. "Let me read this," he instructed.
After reviewing the emails, neither Sharma nor Lui could explain why staff would be told not to use email. The county executive had no explanation as well.
"It's not a policy. I email things all the time," Smith said. "This is the first I've heard of emails that say, 'Don't email anybody.' I guess I'll have to look into it and find out what was going on. Certainly you have a paper trail for almost everything you do. Hearing that from you makes me wonder what was going on."
Stone seems to have no delusions. "We have always felt that some decision was made at a high level to treat George Shirakawa differently than the other seven (elected) officials at the county," he said.
In a report published Sunday by the San Jose Mercury News, other departments under Sharma and Lui's control, such as the Department of Revenue (DOR), also ignored the signals—and gave Shirakawa special treatment. While the county Registrar of Voters failed to notify the Fair Political Practices Commission of Shirakawa's missing campaign disclosure forms—as mandated by law—the DOR knew in August 2011 that Shirakawa had a delinquent bill of more than $1,800 for an old school board campaign.
But in an email thread between DOR officials, Revenue Collections Director Susan Ping Wong writes that she will speak with Sharma before taking any action. From that point, little was done. Sharma reportedly stood by as his debt collectors worked out an agreement for Shirakawa to pay the bill without interest or a collections agency getting involved—a deal no other resident in the county would receive.
Had DOR staff or Sharma directly approached the Registrar of Voters, it's possible the supervisor's embezzlement of county funds and hidden campaign slush fund may have come to light long before he earned re-election by running opposed in last June's primary.
"I think the system, institutionally, wasn't expecting to see the wrong things," Smith said. "Some things slipped through the cracks."
Stone and other county officials aren't so sure, including prosecutor Sinunu-Towery, who knows the details of Shirakawa's betrayal better than anyone.
"I know Jeff Smith said they were all intimidated by [Shirakawa], but I don't believe that's true," Sinunu-Towery says. "They were correcting other people like [former Supervisor] Liz Kniss and others. I don't understand why he got any special treatment or why these audits were so lousy."
Stone often likes to tell reporters about the time in 2007 that internal auditors caught one of his staffers overcharging the county 12 cents on a reimbursement form. When asked how Stone's people couldn't get away with 12 cents but Shirakawa made thousands of dollars of inappropriate charges, Sharma demurs.
"I don't know what Larry Stone is talking about 12 cents, but our staff, they're doing a good job," Sharma said.
"Good job, but nobody's perfect," Lui chimed in.
Sharma then leaned over to her. "You don't have to say that."