Features & Columns
Metro's 2017 Gift Guide: Give Back to Get Back
A holiday give guide to woo every artist, engineer, budding entrepreneur and weed wonk
Gift Guide | North Bay Fire Survivors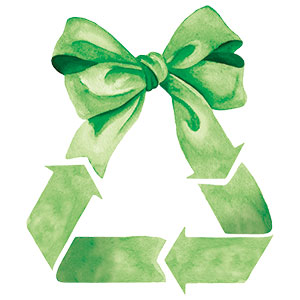 As landfill and recycling centers between the Bay Area and the Amazon River choke on mountains of cardboard boxes covered in blue tape and reach-around arrows, we decided to give Jeff Bezos and his team the holiday off. Instead of taking the easy route of one click commerce and star ratings, our annual Give Guide focuses on the work of local entrepreneurs, artists and all-around good guys. From Silicon Valley streetwear and toy stores for accelerated tots to hemp-infused soap and scarves designed after ancient Japanese bondage techniques, it's time to think local and get a little weird this holiday season.
Adventure Toys and Teachers' Supplies
173 Main St, Los Altos
adventuretoyslosaltos.com
650.941.6043
In an age when it's all too easy to stick a tablet into a tot's hands to buy a little quiet time, it warms our heart to know there are still local toy stores fighting the good fight. Adventure Toys and Teacher's Supplies in downtown Los Altos devotes almost half of its spacious shop to educational playthings for kids of all ages, from the Noggin Stik (a high-tech rattle for infants) to Roominate products (playsets designed by two Stanford grads and aimed at teaching girls engineering and design). Playing with "Emma's Townhouse," one of the Roominate items, involves building a miniature playhouse and then wiring it so lights and fans can be turned on and off. In addition to STEM-oriented toys, there are also board games intended to teach life lessons, such as Anti-Monopoly, which was created by a San Francisco State professor in 1971. Players are caseworkers who must break up an already monopolized board in the interest of ushering in a return to a fairer free market. Or just go with the pogo sticks, dolls and other traditional toys.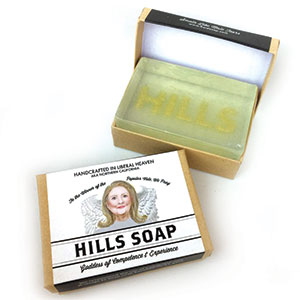 Bar'd Soap
sarajasonmakers.com
Recreational pot becomes legal in California as soon as the clock strikes 2018. So how about commemorating the historic milestone with a topical gift for your favorite cannabis connoisseur: handmade vegan weed soap by Bar'd. The soap is the brainchild of Silicon Valley software engineer Jason Dorie and his graphic design partner, Sara Michener, who met on OkCupid and have been making stuff together ever since. The "federally legalized lather" blends hemp, olive and coconut oils and a hint of freshly cut grass and eucalyptus. It won't get people high, obviously, but in a steaming bubble bath it may enhance an already mind-altered state. Find it online along with a number of other explicitly titled soaps ($7 each), including F*ck Soap, F-Bomb, Fuck Cancer, Happy [email protected] Holidays, The Heavenly F*ck and the Floating F*ck. Also featured is a coffee-scented Poop soap, an aloe-almond Nope soap and a rainbow-hued same-sex marriage-celebrating bar called Equalove!ty. Michener says making the Hills soap, a glittery glycerin homage to "Goddess of Competence and Experience" Hillary Clinton, was their way of processing the tragedy of President Trump's election. "It helps to be able to respond creatively to everything that has been going on and make something a bit sassy or offbeat," she says. "And then there is the added bonus of talking to people at markets or gift fairs and sharing that catharsis." Needless to say, the "Queen Hillary"-labeled bar—which supposedly "smells like male tears" with a hint of almond "to wash off the daily stink of the most horrifying election in U.S. history"—would make a thoughtful, condoling gift for dejected Hillbots. The couple also makes jewelry, signs and other tchotchkes that play off pop culture. Some of Michener's faves include laser-cut wood 8-bit Mario earrings ($12) and a "Nevertheless, She Persisted" necklace ($12).
Bicycle Express
131 E William St, San Jose
bicycleexpress.net
408.998.1618
Since 1982, this humble bike shop on William Street has served downtown locals and San Jose State students. From beach cruisers and road bikes to mountain bombers and fixies, Bicycle Express has it all. Of course, they also have parts and an expert repair shop—but perhaps most important, they appreciate the elegance of the machines in which they trade. Whether a novice or a seasoned cycling veteran, all are welcome to drop by and talk with any of the shop's knowledgeable staff members, who will share their years of experience without judgment. The Bicycle Express team also gives back to the community, routinely offering up free tune-ups at SJSU and during San Jose's annual Viva Calle cycling fest.
Celtic Shoppe
54 E Campbell Ave, Campbell
celticshoppe.com
408.379.7474
Cathy Cavagnaro has the lowdown on Celtic culture and history, which is probably why her shop has continually met the South Bay's Irish needs for 36 years. She keeps the shop fresh by visiting Ireland every year and stocking up on clothes and knickknacks. Most of the Celtic garb is handwoven in Ireland and Scotland, including the vibrant kilts, tweed vests and jackets. In the corner of the shop are shillelaghs (aka walking sticks) made of blackthorn, a native European wood. On the walls hang Belleek china that make for elegant giftware. Traditional heathergem and Claddagh rings are also popular. The former are designed with two hands holding a crowned heart to represent loyalty, love and friendship. Celtic knots surround the shop, and for those unaware of the symbolism, before Christianity arrived in Ireland the three-loop symbol represented the maiden, mother and wise woman. As with many pagan traditions, Christians repurposed the triquetra to represent the father, son and holy spirit.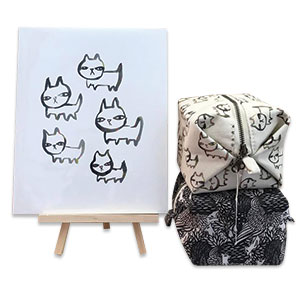 Curio Wolf
curiowolf.com
South Bay design duo Katie Wong and Summer Thornton draw inspiration from nature for their intricate, quirky textiles: leaf skeletons, crystalline minerals, woodland critters, petals and plumes. "I'll just start painting and see what design comes out," says Thornton, who uses watercolor to express her whimsical aesthetic. "Sometimes I have to sort of figure out where it came from, but I think subconsciously it still has to do with the natural world, it still reflects those kinds of patterns." She then turns the hand-painted artwork into prints that get fashioned into Dopp kits ($45), stationery ($4 per card; $16 per set), wallets ($35), coin purses ($15) and pouches ($32). Wong and Thornton—high school pals who founded Curio Wolf in early 2016—also offer an elegantly designed canvas pouch packed with a watercolor set and blank postcards ($50), a "Stargazer" kit ($48) with a comic book illustrated by a local artist and a mini telescope, and—for the kiddos—a pouch with an activity book and colored pencils ($45). Shop online, or peruse the pouches in person from 11am to 6pm on Dec. 16 and 17 at the San Jose Craft Holiday Fair, 435 S. Market St., or anytime during business hours at Petit Galleria in Japantown.
Death Before Dishonor Tattoo
306 S Third St, San Jose
dbdtattoos.com
408.279.3232
Gifting permanent ink for the holidays is a touching gesture, but it should come with a few ground rules. Don't take the recipient blindfolded to the tattoo parlor, don't pick out the tattoo design and don't offer it to someone who's deathly afraid of needles. Instead, get a gift certificate. If the beneficiary is a South Bay local, consider Death Before Dishonor, where tattooer Ben O'Hara specializes in neo-traditional, dynamic and blackwork styles. "Organic textures and patterns are my favorite," says O'Hara, who picked up tattooing as a way to express his art in a social environment and has come to approach the craft as "half-art, half detective work." Each of O'Hara's gift certificates come with a print of one of his drawings sized for wall art.The reason? "Sometimes it's just nice to be able to offer a physical object when getting gifts," he says. To see some of O'Hara's work, check Instagram: @bencadmium.
Elos Skateboards
elosskateboards.com
Elos skateboards were designed with the cityscape in mind. The short, egg-shaped boards lie low to the ground and weigh no more than a laptop, making them stable enough to turn on a dime and compact enough to tuck in a backpack. Instead of grip tape, which wears down clothes and shoe soles, there's a foot anchor for traction. Elos CEO Tom Wang likens the boards to a race car thanks to their wide base and low center of gravity. The San Jose-based entrepreneur launched Elos—short for Effortless Lifestyle of Skateboarding—via Kickstarter in 2016, culminating a decade of prototyping that began with a group of friends who were trying to figure out how to reimagine the skateboard as a mode of urban transportation. The boards ($179) come in a range of colors, from natural maple to sky-blue and maroon, and each features a unique QR code for individualized customer support.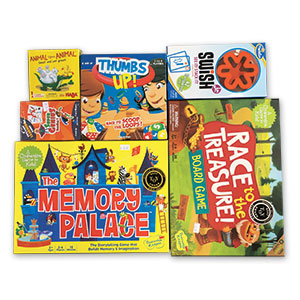 Gray Matters
330 S California Ave, Palo Alto
graymattertoys.com
650.600.8892
Rubik's Cubes are just the beginning at this nerd-tastic toy store. Located just down the street from Facebook's former California Avenue campus, and a short drive from the venture capital firms of Sand Hill Road, Gray Matters aims to foster the entrepreneur inside of every child. Founded by Dr. Richard Abbey of the Abbey Neuropsychology Clinic, the store features a number of cooperative board games. The object isn't to defeat one's opponent, but to work together and complete a challenge. One such game is called The Memory Palace—it works on the same method that Benedict Cumberbatch's 21st-century rendition of Sherlock Holmes deploys to keep his thoughts organized. Gray Matters also has brain-stimulating toys for younger children, like Bunny Peek A Boo, which challenges toddlers to reconstruct scenes printed on cards out of four basic building blocks.
Kathryn Marie
kathrynmarieonline.com
Kathryn Marie subscribes to a jewelry philosophy we can get behind: "You're unique. Your jewelry should be too." Unlike the national chain chop-shops that crank out the same cut and design—and you wonder why the recipient always looks like she's about to cry—every piece from this San Jose-based artist is handmade and just a click away. Best of all, Marie's unique pieces are totally affordable. We especially love her Daisy Studs earrings ($6) and her Skeleton Key Necklace ($22). Marie we'll be appearing at the San Jose Craft Holiday Fair, 435 S. Market St., on Dec. 16-17, or check out her personal website. She also frequently has a booth at the Taylor Street Night Market in Japantown. Online orders over $35 come with free delivery.
Kepler's
1010 El Camino Real, Menlo Park
keplers.com
650.324.4321
This mid-Peninsula bookstore has been helping Bay Area readers, thinkers and political agitators get their minds right since it was founded by peace activist Roy Kepler in 1955. From the beats to the hippies and beyond, Kepler's has always had a connection to the counterculture. Jerry Garcia and Joan Baez frequented the store, and to this day Kepler's hosts events featuring world-renowned authors of fiction and nonfiction. Kepler's customers will find a large selection of books at the store. But most important, shoppers here will have the opportunity to talk to a book buyer instead of a book-buying algorithm. Like record stores, bookstores should not be in-and-out affairs. They are depositories of memory and serve to remind us of our loves, losses, triumphs and tragedies. Take an hour, bask in the smell of print and leave with a meaningful gift—because a book says as much about who you are as it does about how well you know the recipient.
P.M.B.Q.
shop.pmbq.com
Their eyes meet from across the room and the music goes quiet. His heartbeat quickens but he lingers by the hors d'oeuvres to play it cool. A moment later he gives his buddy a nod to say, yes, I will take another drink, but first I have business to attend to. He plucks a napkin from the table to wipe off the artichoke dip that clings to his thumb and forefinger, and he tosses it toward the trash can without looking (he misses) and keeps his eyes locked on the curves projecting from her torso. The moment has arrived and he approaches with the confidence of a much older, wealthier man. He says: "Excuse me, I couldn't help but notice your Big Butt Panda shirt. Where did you get it?" She smiles and says, "You have artichoke dip on your face." Phuong-Mai Bui-Quan is the creator of the Bay Area-based P.M.B.Q., our favorite "Lifestyle Panda Brand," which can be found online and at a pop-up shop at Westfield Valley Fair from Nov. 27 to Dec. 3. Unisex Big Butt Panda tees run around $25.95.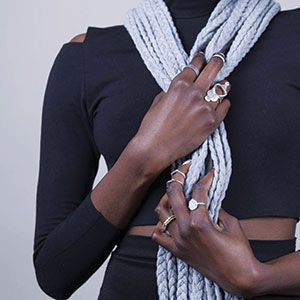 Rachel Riot
shoprachelriot.com
Indie fashion designer Rachel Riot's line of shibari scarves ($65 to $75) take their name after the ancient Japanese art of rope bondage. The handmade accessories—made from about a dozen braided strands of super soft jersey—will take any lucky guy or gal "from grandma's house to the Folsom Street Fair in less than 60 seconds," says Riot, who draws inspiration for her clothing line from heavy metal music and vintage fashion. Find the scarves online, along with a collection of chokers, masks and bolos, or pick one up in person at Petite Galleria in San Jose's Japantown.
Red Cabin Candles
instagram.com/redcabincandles
etsy.com/shop/eclosiontardive
Annalise Smith began dabbling in candle-making after an autoimmune disease forced her to quit her teaching job. "I kind of fell into it because it was something I could do on my own terms," she says. The Gilroy artist spent a year playing with various waxes and scents before it dawned on her that she had found a new calling. Today, the 31-year-old sells her jarred, hand-poured creations ($10 each) under the aegis of Red Cabin Candles, which she named in homage to the forest-encircled home her grandparents built in the 1940s. Smith suggests taking a whiff of her holiday candles, which include scents such as Santa's Cookies. Her latest creation, of which she's particularly proud, is a candle she calls The Great Outdoors. Other perennial favorites include Storm Watch, Cactus Flower and Watermelon Lemonade. Red Cabin Candles can be found at The Arsenal in San Jose's Japantown or at the Gilroy Gardens. For locals who buy through the Etsy shop, Smith says, she will deliver the candles in person.
Rocket Fizz
220 E Campbell Ave, Campbell
rocketfizz.com
408.370.1510
Candy, soda and rockets make for the ultimate kid magnet. This franchise is known for its massive inventory. They probably have every candy bar in existence, and their wall-to-wall choices of store-brand sodas vary in flavor and style. The vision of original owners Rob Powells and Ryan Morgan holds true in this particular location. The shop captures whatever semblance is left of post-WWII America. Nostalgia Gift Baskets ($32) are great for memory lane strollers. Weighing in at 5 pounds, they include whirly pops, theater box Double Bubble gum, candy cigarettes and more.
Simply Smashing!
241-B E Campbell Ave, Campbell
simplysmashingstyle.com
408.379.1925
For 15 years, owner Deb Rohzen has stocked her eclectic boutique with a locally handmade selection of nifty jewelry, distinctive apparel and adornments. Nothing here can be found or purchased online. Each item looks and feels uniquely its own. This shop caters to women with an unapologetic freedom of style, and the vibrant trinkets add flair to any outfit. Rohzen displays art in the front window to support local artists for a two-month installation. The mantra on the store's counter is to give tidbits of love away and brighten someone's day.
Therapy
347 E Campbell Ave, Campbell
408.866.8999
A boutique this quirky is hard to pin down. Let's start with Therapy's feminist round table of Frida Kahlo handbags and copies of Chimamanda Ngozi Adichie's Dear Ijeawele, Or a Feminist Manifesto in Fifteen Suggestions. Another table has notebooks with titles that read "I Regret Nothing" and "Do One Thing Every Day That Centers You." Their retro collection is a slice of late 1960s Haight-Ashbury, while nearby are neatly boxed and ready-to-gift holiday-scented candles. The thrift shop is also known for providing clothes and gift bags to local causes. On Small Business Saturday (Nov. 25), Therapy will donate 10 percent of proceeds to Second Harvest Food Bank and the American Foundation for Suicide Prevention.
The School of Visual Philosophy
425 Auzerais Ave, San Jose.
408.816.7510
schoolofvisualphilosophy.com
Holiday gifts don't necessarily need to change lives, but The School of Visual Philosophy—launched in 2013 by Yori and Dana Seeger—has lofty ambitions for students and the people who encounter their art. Rather than simply purchasing out-the-door artwork, consider the gift of experience by signing up a friend or loved one for the monthly Creative Night Out ($20) class, which is BYOB and held the third Thursday of each month. Or look at the Ladies Night Out ($20) event the first Thursday of every month, where women can get together for conversation, wine and a crash course in art making. The school's main goal is to help create works that engage the community and inspire people to think differently. Other gifts could include a $50 annual membership or perhaps renting that struggling artist pal studio space for a month ($200). If that sounds too complicated, just swing by the school for its Holiday Tool and Antique Sale running Tuesday through Saturday, 2-7pm, until Dec. 29.
Trichome Factory
trichomefactory.com
San Jose has a well-deserved rep for top-of-the-line streetwear, and Trichome Factory—named after the follicles found on a budding plant—is a clean label worth considering for the unabashed stoner in your life. It's hard to go wrong with any of their vibrant Coca-Cola-inspired OG Kush hoodies, or perhaps a Death Row Records tank top featuring the silhouetted click of Pac, Snoop, Dre and Suge. Trichome's full line can be found online while the San Jose-based lifestyle brand also has a pop-up shop going until Nov. 26 at Westfield Valley Fair.
West Valley Music
262 Castro St, Mountain View
westvalleymusic.com
650.961.1566
When it comes to buying sheet music from a neighborhood store, West Valley Music in downtown Mountain View doesn't leave customers wanting. Though cozy, the shop punches well above its weight by giving developing players everything they need to know along with plenty of obscure titles. "Online, you can look at the first couple pages," says Diana Tucker, the store's owner, but searching for materials on the web isn't the same as thumbing through a physical catalog. At the store, shoppers are able to plug in to the uniquely human recommendation algorithm that is the human brain. Tucker fondly recalls spending entire afternoons on the hunt for a new piece to tackle. "It would just spark ideas—you'd think of this and you'd go look for that." In addition to its hefty library, West Valley also boasts a large selection of band instruments, from reeds and strings to woodwinds; there is a small warren of private lesson rooms in the back, a repair shop, and all of the staff are experienced musicians.
Wooden Horse
796 Blossom Hill Rd, Los Gatos
woodenhorsetoys.com
888.356.8821
There's no better kid zone than this 3,000-square-foot toy sanctuary. Christmas calls for oversize cotton-stuffed animals, big yellow tractors and alphabet trains with wooden tracks. This two-story shop features an alluring pink room full of dolls and ponies as well as an arsenal of automobiles and build-it gadgets. Their extensive selection offers toys for ages toddlers to preteens. Owner Kevin Mukai was handed the keys to the wooden palace in 2006 and continues to honor the "Toys for Growing" philosophy and trademark that has graced the marquee since 1971. The store donates to mothers in nursery schools and local schools in Los Gatos. As they hope to keep up with modern trends, Mukai has embraced learning in science, technology engineering and math that carries over to most schools' curricula. But don't forget—they're just kids. Consider the excellent selection of puzzles and games that cater to children's artistic side.