Features & Columns
Gifting, IRL
This holiday season, be present while shopping for presents
Gift of Experience | Local Treasures | Gifting, IRL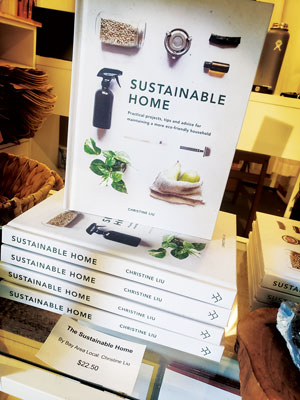 Here, in the tech world's epicenter, it's tempting to shop for the holidays the way we do most everything these days, with our laptops and smartphones. Spending money in cyberspace carries a social toll, however. Local producers and stores—the very establishments that give communities character and uniqueness and sponsor numerous local activities—have been declining in the face of changing consumer habits and asymmetrical competition.
Many of the coolest gifts can be found on display at local venues and buying locally lets your giftees know you went the distance to actually go out and buy them something. It's a personal statement and an economic contribution to the local economy. Why not make a difference and support the hard-working people around you?
The social experience of getting out into the decorated, lit up shops and streets is part of the holiday experience, and can't be recreated by tapping on a screen or keyboard. Enjoy the serendipitous conversations and discoveries. Explore the valley's downtowns and boulevards.
We encourage you to comparison shop with your hands, rather than in the comments section. Read on for some ideas.
Gift of Green
The Source Zero
60 N San Pedro St, San Jose
thesourcezero.com
Achieving zero waste is all about shrinking your carbon footprint by limiting the garbage you produce and even curbing the number of recyclables that end up in the bin. While it may seem counterintuitive to buy your zero-waste-striving loved ones even more products, there are plenty of reusable essentials that make it easier for them to achieve their sustainability goals.
To that end, The Source Zero's got you covered.
Founded by Ashley Merz and based out of the MOMENT micro-retail strip across from San Jose's San Pedro Square, the zero-waste boutique offers all kinds of sustainable items, from cotton produce totes and eco-friendly paper doggy poop-scoop bags to reusable glass containers and the soaps, lotions and deodorants with which to refill them.
Stainless steel straws go for anywhere from $3 to $10 and come in a rainbow of colors, including silver, copper, purple and an iridescent green. Wax-cloth food wraps-—reusable stand-ins for single-use plastic and foil—feature all kinds of adorable patterns and sell for $10 to $20 for sets of three.
There's a vast array of toiletries that sell by the ounce: almond and aloe facial moisturizer by Copper Moon Apothecary, rose-geranium-witch hazel toner by Verdant and lavender soap by Dunnock and Hinny, to name just a few. There are also reusable "unpaper" cloths by Juniper Seed Mercantile, felt dryer balls, sticks of laundry detergent and bamboo toothbrushes. What's not sold in bulk comes in paper packaging, such as Primal Well's CDB roll-on pain-relief oil ($25 a vial) or lip balm ($7-$10).
Of course, no zero-waste starter kit gift basket would be complete without a copy of Sustainable Home: Practical Projects, Tips and Advice for Maintaining an Eco-Friendly Household by Bay Area author Christine Liu, which goes for $22.50 at The Source Zero.
Grandma's Secret
Bee's Little Shop
beeslittleshop.com
Belem Rios began making plant-based beauty products for friends, family and co-workers and got enough positive feedback to create the roving boutique that is Bee's Little Shop. Rios says she draws inspiration for her skincare line from her abuelita Aurora, who used to make face creams and shampoo from plants in her hometown of Michoacan, Mexico. Visit her Etsy shop to find reasonably priced rose hand cream ($18), calming face oil ($25) and rose bath salts ($9 for three vials).
On The Map
The Traveling Calligrapher
60 N San Pedro St, San Jose
travelingcalligrapher.com
Queeny Lu drew her first typographic map as a parting gift before a breakup. The hand-drawn ode to San Francisco she gave to her ex in 2014 marked the beginning of a hobby that would blossom into her own art business. Lu quit her event management job in June 2017 to run The Traveling Calligrapher full time, selling prints, stationery and commissioned creations out of her MOMENT micro-retail space on San Jose's San Pedro Street while offering workshops for people interested in learning the art of calligraphy for themselves.
Peace Of Mind
Emergency Preparedness Packs
American Red Cross
redcross.org
The PG&E power outages that rolled through the South Bay last month reminded us about the importance of emergency preparedness—whether for another blackout or the next Big One. You may have already stocked up on survival gear, but why not pay it forward this holiday season by gifting an emergency preparedness pack to your friends and loved ones? The American Red Cross sells three-day emergency packages from $64.14 for a starter kit to $286.18 for a three-day haul for a family of four.
Still Truckin
Classic Loot
208 Jackson St, San Jose
classicloot.com
One of the newest additions to San Jose's Japantown, Classic Loot combines the new and the thrifted in a funky boutique at Sixth and Jackson. Frequenters of Silicon Valley street fairs may recall that this brick and mortar shop started off as a rolling boutique—like a food truck for hip accessories. Rifle through the racks to find a rare vintage tee or peruse the eclectic array of baubles and bangles in the "Holla for a $1" bin.
Find Your Sign
Capricorn Honey
etsy.com/capricornhoney
A regular collaborator with San Jose Made, Nicole Dang has been crafting her dainty gold-filled and sterling silver jewelry for the past seven holiday seasons through her online boutique Capricorn Honey. Currently featured in her Etsy shop are adorable gold cat studs ($80), a Frenchie dog necklace ($48) and elegant zodiac constellation rings ($25.50).
Dinner & A Movie
Pruneyard Cinemas
1875 S Bascom Ave, Campbell
pruneyardcinemas.com
Cinephiles looking for an uber-luxurious setting to kick their feet up and watch a movie need look no further than the Pruneyard Shopping Center. Campbell's Camera 7 underwent a major facelift last year, transforming into the newly branded Pruneyard Cinemas. The theater's new digs include reclining chairs, tray tables and a call button to ring servers. A surcharge is tacked on for any in-seat order, but movie-goers can stop by the adjoining Cedar Room before the film for a cocktail or craft beer. The theater also offers a selection of small bites such as carne asada nachos ($16) and fried pickle chips ($9). Traditionalists looking for popcorn can also snag a small bucket—made with real butter—for $5. Gift cards for the "dine-in" movie experience start at $25.
Hands On
Automobuild
100 N. Santa Cruz Ave, Los Gatos
automobuild.com
John and Kirsten Dryden opened their Los Gatos-based toy shop to help expose kids to engineering and hands-on play through "cars, design and creativity." The auto-centric store offers popular building brands like LEGO, Mobilo and Magna-Tiles. Parents of budding artists can also find a variety of toys to help get their hands dirty with finger paints, sticky mosaics and tie-dye kits.
Do It Yourself
CraftBox
21 W Main St, Los Gatos
craftbox.net
Whether you're a professional DIY-er, craft in your spare time or opt for drawing stick figures, CraftBox caters to all artistic levels. The shop is nestled in the heart of downtown Los Gatos and was started by two friends, Abby and Dahye, who share an affinity for crafting. Patrons can choose from 30 different projects, and the session price ($40) includes instructions, materials and assistance from the CraftBox team. Novices looking to get a taste of the DIY world can elect to try simpler projects such as painted wooden coasters, mosaic art or dream catchers. Skilled artisans searching for a challenge can knot a macrame or make a paracord dog collar for their favorite pooch.
Master Maker
KCI Makerspace
12345 El Monte Road, Los Altos Hills
krauseinnovationcenter.org/makerspace
For the serious maker on your list, a membership to the the KCI Makerspace might be in order. The Makerspace's $125 monthly fee ($150 for the first month) gives community members access to, and training on, an impressive array of cutting-edge machines—3D printers, laser cutters, plotter printers, circuit makers and more. There's even a certification program for those interested in opening their own Makerspace.
Toys With Heart
The Wooden Horse
796 Blossom Hill Rd, Los Gatos
woodenhorsetoys.com
While e-commerce has put many a big box retailer out of business, a handful of mom and pop toy shops still thrive in Silicon Valley. The Wooden Horse has been around since 1971, and its staff are trained in the different phases of child development to assist customers in finding the perfect gift from tot to tween. The store offers a wide variety of playthings, such as Shrinky Dinks, wooden train tracks, jumbo coloring books and physics lab kits.
Totally Bad Ax
badaxethrowing.com
axeventures-axethrowing.com
Considering all the orange hunting beanies, flannel shirts and bushy beards millennials are sporting these days, it shouldn't be that surprising to learn that hip city dwellers are now spending their hard-earned pay for a chance to chuck hunks of wood and sharpened metal at targets. Consider treating your favorite, burnt-out young professional to an ax-throwing session. While Silicon Valley denizens may have gotten a taste for the new trend at the Winchester Mystery House this past Halloween—or at the NorCal Ren Faire at Casa de Fruita—there are currently no South Bay locations specializing in this most lumberjack-ish of pastimes. Fortunately, Bad Axe Throwing in Daly City and AxeVentures of Berkeley aren't too far a drive.
Easy Baked
ardentcannabis.com
Making edibles from scratch used to be a hands-on chore that would leave the entire house smelling like weed butter. With the Nova decarboxylator by Ardent Cannabis, producing consistent kief or infused oil at home is as easy as blending up a smoothie. Drop in the buds, press the button and let the machine do the rest. A great gift for the tech-savvy cannabis user on your list, Ardent sells their flagship device plus infusion kits and other accessories on their website.
Mob-B-Que
carlinobrothers.com
Sam Carlino, proprietor of Sam's Bar-B-Que in San Jose, used to think that his grandfather died of pneumonia—that is, until a mysterious old man at the flea market told him it was actually lead poisoning that did his grandad in. Turns out the Carlinos have quite a colorful history. The restaurateur's ancestors controlled a sprawling bootlegging empire in Southern Colorado before Pete Carlino, Sam's grandfather, met his untimely end. It's all laid out in the Campbell native's new book, Colorado's Carlino Brothers: A Bootlegging Empire.
Haute Hemp
Well by Caliva
1180 San Carlos Ave, San Carlos
wellbycaliva.com
California cannabis culture has come a long way. For the CBD-curious on your shopping list, consider Well by Caliva—an offshoot of the San Jose-headquartered recreational marijuana merchant—which recently opened a boutique storefront in downtown San Carlos. Unlike the Caliva dispensary near CEFCU Stadium, Well only sells hemp-derived CBD products, like bath bombs, lotion and other supplements. Because all of Well's products are produced from hemp, there is no need to show identification or sign any kind of waiver before entering. Drop in and chat with one of the salespeople to learn more.
Well Furnished
New/Found
998 The Alameda, San Jose
newfoundmarket.com
A recent addition to The Alameda—on the corner of Atlas Avenue—features a curated selection of mid-century modern furniture and decor. From stools and chairs to tables and glassware, this is an ideal place to shop for those who appreciate the clean, minimalist lines of the atomic age.