Features & Columns
Bonfire of the Absurdities
'The Big Disruption' lovingly, gleefully skewers Silicon Valley culture
Bonfire of the Absurdities | The Big Disruption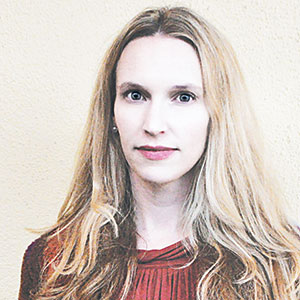 Jessica Powell doesn't remember how she ended up with her mobile number's area code, but she does recall a crew of Googlers standing in the wireless carrier's store, agonizing over the digits, debating the merits of 415, which "means you're young and hip and probably live in San Francisco" vs. 650, which suggests a person might be older—but also "more established."
The scene would have fit neatly into Powell's new book, The Big Disruption—about the fictional Silicon Valley tech behemoth Anahata and its employees, including sales bros, coder bros, executive bros and a handful of perpetually disrespected, overlooked and objectified women.
Powell insists that she wrote her book in 2012, before she climbed Google's ranks to become a vice president of communications for the search giant. Back then she was just working for a sharing economy startup, which she would describe at conferences as a tool that was "helping people make meaningful connections in the real world."
"The founder I was working for—a guy who owned a hundred shirts in the same color and quoted Steve Jobs on a daily basis—asked me whether we should hand out dildos as company swag or consider converting our social media platform into an anonymous sex club," Powell writes in the book's afterward.
"We even whiteboarded it."
Her coworkers on the Big Tech public relations team "were some of the smartest, most passionate people I've ever worked with... . They ran marathons on the weekend to raise money for clean water for Africa. They also spent the weekday complaining on company message boards about the brand of water stocked in the micro-kitchens."
She took leave because "I got tired of defending at parties the endless use of 'scale' as an excuse for being unable to solve problems in a human way. The faux earnestness, the self righteousness. All those cheery product ads set to ukulele music."
The Big Disruption is a biting, farcical but not unfair satire of Silicon Valley and its absurd aphorisms, illogical mantras and self-important mission statements.
Like Mike Judge's hit HBO sitcom, Silicon Valley, Powell's book takes place here, in the South Bay, name-checking Palo Alto, El Camino Real and numerous other landmarks that locals will recognize. And as in Silicon Valley, while the names of many of the companies have been changed, they're easy enough to decode.
The book begins with a metaphorical prologue about the fictional Palo Alto Sea Park, which cannibalizes itself overnight in a tidal wave of blood and salt water. As the sharks are loosed from their tanks, they first feed on the nearby dolphins, then on the lesser marine mammals, smaller fish and birds. The lone survivor, a one-eyed sea lion, makes it through all the carnage by sheer luck. He is celebrated by the community, named Fred and eventually made Anahata's mascot.
As we learn more about the company's founder, Bobby Bonilla, it becomes clear that while cult leaders may bring the Kool-Aid to the party, they get plenty of help from those pulled into their orbit. In The Big Disruption, both Bobby's inner circle and many lower level Anahatis eat up his preposterous, overly simplistic maxims, lavish him with praise and chalk up his scatterbrained behavior to the eccentricities of a genius.
"We love the Horatio Alger, rags to riches story," Powell says, speaking generally. "We love the origin story, the capitalist romance: 'You can start this company from nothing and build it up.' That feels super American. It feels meritocratic, even if it's not."
GLOBAL PERSPECTIVE
Powell says she grew skeptical of the narrative that she and the rest of the tech industry's communications army spun before the American press trained its sights on tech excess. That's because she began her communications work for Google in London and continued throughout Europe.
"I don't know if this book would have been written if I had lived in the Valley," she says of her time overseas, noting that she was "constantly being challenged" to explain and justify Google's newly released technology. Years before U.S. legislators began focusing on what big tech firms were doing with Americans' data, European governments were hard at work crafting laws to limit the power of Facebook, Google, Twitter and others.
"You were constantly having to think about what you were defending and if it made sense," Powell says of her role at the time, noting that Europeans reacted very differently than Americans to Google Street View. "You really had to think through the implications of all of that."
The more she thought about it and the longer she thought about it, she came to see the tech industry through its critics' eyes—despite her insider's perspective.
As a communications VP, she says she encouraged restraint when it came to overused catchphrases and acronyms, lest press releases and internal communications become meaningless tangles of tech lingo. At its worst, she says, "you feel like you can almost play some mix-and-match game"—5G, CRM, blockchain, clouds.
Indeed this is the strategy deployed by one of The Big Disruption's central characters, Arsyen Aimo—an exiled prince from the made-up country of Pyrrhia. Raised in opulence, Arsyen has few marketable skills upon his resettlement in California, so he takes to janitorial work. However, his insistence on billing himself as a "sanitation engineer," combined with previous work experience cleaning at Anahata's chief rival Galt, lands him an interview for a product manager role. His royal sense of entitlement, tendency to repeat questions as statements and plenty of bluster get him hired. Once he makes it past his first week of provisional employment, all he really needs to do is spout nonsense about roadmaps, clouds, alignment and B2B strategy. In one particularly inspired moment he spits out, "It's like... software as a service for internet of things."
As a woman of letters, the incessant churning of new buzzwords was annoying to Powell. But when she saw her colleagues believing the PR-speak, she had reason for concern.
"I think that is what's a bit jarring about the Valley," she says. "The companies make these grand statements about what they're doing—essentially improving humanity—and on the other hand, they are doing these things that are quite questionable."
NEW NARRATIVE
Powell hasn't turned her back on tech. After all, her book was published by Medium—the blogging platform started by Twitter co-founder Evan Williams in 2012.
Powell approached Medium last year with her manuscript. The book had been rejected as too niche by traditional publishing houses. In under three months Medium had it online and earning favorable reviews. Lauren Smiley of The Guardian praises Powell for "wielding Bonfire of the Vanities levels of absurdity and social observation to chronicle this particular Northern Californian strain of masters of the universe."
As word spread of Medium's experiment and the positive press kept rolling in, the company decided they would heed readers' requests for a physical release. Six months after the release of the e-book, Medium turned to a third-party printing service to produce a physical copy. It's a different approach, says Siobhan O'Connor, Medium's VP of editorial. But it's been working.
It's not the only thing Medium did differently. As a technology-enabled platform, the San Francisco-based online publisher also experiments with what could be journalism's future—namely dispensing with the advertorial model in favor of subscriptions.
Medium recently purchased San Francisco lifestyle blog The Bold Italic, which already used the Medium platform to publish.
INNOVATIVE CORE
Powell currently runs a startup that builds a music collaboration tool. It reflects her passion for music—and also for the very industry that she lampoons in The Big Disruption.
Talking about her decision to write and publish the book, Powell says she had some things to get off her chest. However, she adds, "I wanted to do something that was appreciative of what is unique about Silicon Valley."
The author says she's never been anywhere else in the world that works the same way, with such a passion for innovation and entrepreneurship.
Particularly, she is grateful for the leaps that her former employer and other tech companies have made in putting the world's information at everyone's fingertips.
"Search is transformative," she says, recalling how she had to physically travel to Spain in order to visit a single library to get a citation from a book for her college thesis. There are only two known copies of the book in the world. But now, information like that can be accessed online.
And then there's the matter of The Big Disruption and her experiences with the traditional publishing world and the team at Medium.
After publishers in New York initially doubted whether her book would have a sufficiently broad audience, they again balked at publishing the book—even after its online success.
"They were like, 'Come back to us when you do your next book,'" she says. "Meanwhile. you have this fast moving digital company that's like, 'We don't know how to do this,' and they're like, 'Let's try it!' I do think that's something kind of special out here."