Features & Columns
Memories From Mountain View
Hiding in Plain Sight | Excerpt: Dear America: Notes of an Undocumented Citizen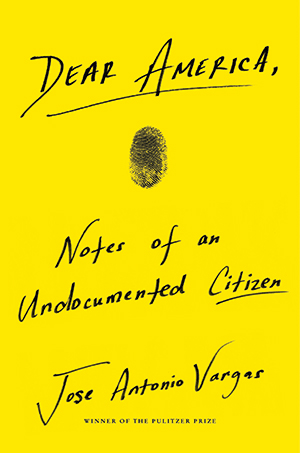 The moment I realized that writing for newspapers meant having a "byline"—"by Jose Antonio Vargas," my name in print, on a piece of paper, visible and tangible—I was hooked. There are no writers in my family—not on my mother's side, not on my father's side. In the Philippines, we're a family of farmers, nurses, cooks, accountants, construction workers, U.S. Navy veterans. I got into journalism because of a high school teacher.
"You ask too many annoying questions," Mrs. Dewar told me.
A self-described hippie with a smoky voice, Mrs. Dewar taught English composition to high school sophomores like me. Mrs. Dewar was also the longtime adviser to the Oracle, the [Mountain View High School] student newspaper. A forty-something educator who'd had early aspirations of being a journalist, she informed me of a free, two-week journalism camp for "minority" journalists at San Francisco State University, her alma mater. When I asked her what a journalist does, she quipped, "It's for annoying people like you who love to ask questions."
First, it was a sign of rebellion and independence from my family, a way of rejecting Lolo's strategy of working under-the-table jobs until I marry a woman and get my papers.
Second, and more importantly, writing was a form of existing, existing through the people I interviewed and the words I wrote as I struggled with where my physical being was supposed to be. Writing was also a way of belonging, a way of contributing to society while doing a public-service-oriented job that's the antithesis of the stereotype that "illegals" are here to take, take, take. I didn't realize it then, but the more stories I reported on, the more people I interviewed, the more I realized that writing was the freest thing I could do, unencumbered by borders and legal documents and largely dependent on my skills and talent. Reporting, interviewing, and writing felt like the safest, surest place in my everyday reality. If I was not considered an American because I didn't have the right papers, then practicing journalism—writing in English, interviewing Americans, making sense of the people and places around me—was my way of writing myself into America. In the beginning, writing was only a way of passing as an American. I never expected it to be an identity. Above all else, I write to exist, to make myself visible.
Instantly, journalism became not just a passion but the driving force in my life. Everything, and everyone, took a backseat to my work. Getting good grades at school took a backseat to my being a reporter. If it didn't have anything to do with furthering my career in journalism, I didn't do it. The myopia energized me, giving me the chutzpah … to advocate for myself. After returning from the "minority" summer camp of mostly Latino and black high school students, I cold-called the Mountain View Voice, my local weekly community newspaper, and talked my way into an unpaid internship. I was desperate to get this internship. For a few weeks, all the job entailed was answering the phones and buying coffee for the top editor, an overworked man named Rufus Jeffris. But when a fire erupted three blocks from where I lived and there were no other reporters to cover it, the editor sent me. My first-ever front-page story was about a fire on Farley Street, where I grew up.
"Blackened scraps of clothing carefully piled on a corner of the front lawn were the only items that Mitch and Linda Radisich were able to salvage from their home at 1151 Farley Street after a fire gutted the residence on June 16," read the "lede" (the opening sentence) of the news story, which took up a third of the entire front page. I was proud of that lede, especially of the verbs "salvage" and "gutted." News writing, especially breaking news writing, I learned early on, depended on verbs. It was all about action.
"Anong ginagawa mo?" ("What are you doing?") Lolo exclaimed when he saw my byline on the front page of the Voice. "Bakit nasa diyaryo ang pangalan mo?" ("Why is your name in the newspaper?")
The angrier Lolo became, the more independent I felt. I didn't need his approval. Even if I did, he couldn't give it. Lolo had to ask me what "blackened" meant.
"Masyado ka nang nagiging sosyal," Lolo said. "You're getting fancy now."
Fancy or not, I made a concerted effort to stay as busy as possible. The busier my schedule was, the more activities I committed to, the less time I had to spend at home. Being at home reminded me of my limitations. Being at school opened up possibilities. In addition to writing for both the Voice and Oracle, I sang in choir, competed in speech and debate tournaments, acted and directed in plays and musicals, and was elected by the student government to represent their interests to the school board. I was so omnipresent at school that teachers, administrators, and parents of my classmates took notice. I neglected to tell Lolo and Lola about parent-teacher nights and open houses at school. I went alone and represented myself. It was easier that way.
"Don't you ever go home?" Pat Hyland, the school principal, asked me one night after speech and debate practice. Because I was probably the busiest student at school who did not drive, classmates and school staff gave me rides, including Pat. Short-haired and quick-witted, Pat was the earliest member of a big-hearted community of strangers who, over time, would occupy essential roles in my life. Whenever she drove me home, we stopped and got some lattes at Starbucks on El Camino Real.
El Camino Real is the artery that runs through the Peninsula, south of San Francisco, dividing communities by race and class and separating adequate schools from great ones. Residents on its east side were generally on the lower end of the economic ring, mostly service workers and laborers. Folks on the west side, particularly the western parts of Mountain View and its neighboring towns, Los Altos and Los Altos Hills, were considerably more affluent, white collar professionals and technology entrepreneurs who cashed in early and felt comfortable buying their kids convertible BMWs and Mercedes-Benzes.
The parents of well-to-do students were generous to many students from working class families like mine, paying for field trips, no questions asked. To this day, I don't know just how much Sandie and Art Whipple, whose daughter, Ashley, I sang and acted with, spent to ensure that I got to go on this and that trip. Fees for speech competitions would be covered, with no trace of who paid for what. Karen Keefer, my speech and debate coach, usually covered what I couldn't pay for. For the most part, you couldn't find anyone to thank because they didn't need or want thanking. If it sounds too benevolent to believe, just too good to be true, perhaps it was. Nevertheless, I was a product of this community. Sometimes I wonder what would have happened to me if I had not attended a relatively wealthy school in a community of privilege.Shortly after we met, Pat introduced me to Rich Fischer, her boss, the school district's superintendent. Though he was the highest-ranking official at the school, he wore his authority lightly. He was friendly and accessible, regularly roaming the school grounds interacting with both students and teachers.
"Don't call me Mr. Fischer," he said during our first meeting. "It's Rich." I was more comfortable with teachers and administrators than I was with my classmates. Part of it was because I was forced to grow up fast and had adult-size ambitions that seemed bigger than getting good grades and getting into a good college. I had to take care of myself. Another part of it was because whenever I was with adults outside my family, I was the center of their attention. They engaged me in ways that my grandparents did not and could not.
I was elected as the student representative on the school board, which meant I ended up spending more time wit Rich. After he and his wife, Sheri, and their granddaughter, Alexis, attended a performance of Lend Me a Tenor, in which I played a bellhop, they took an interest in me. Rich's longtime assistant, Mary Moore, scheduled biweekly lunches where we could catch up. The lunches led to dinners, and I got to know both Rich and Mary, whose relationship was less like boss and secretary than brother and sister. They were like a family unit, and they treated me like family. Over the years, Mary has written me more greeting cards—birthday cards, holiday cards, hope-you-feel-better cards–than anyone else I've ever met. Mary introduced me to her daughter, Daisy, and her son, C.J., both of whom are around my age. Because I was forced to grow up quickly, I befriended many adults, including Judy Hannemann and Susan Sweeley, who served on the school board.
"There is always one moment in childhood," Graham Greene once wrote, "when the door opens and lets the future in." As the years passed, Pat, Rich, Sheri, Alexis, Mary, Daisy, C.J., Susan, and Judy, among others, are the people who would find windows and try to open them when doors were shut. They did it because they could afford to; more importantly, they did it because they wanted to.
From DEAR AMERICA by Jose Antonio Vargas Copyright © 2018 by Undocumented LLC. Reprinted by permission of Dey Street Books, an imprint of HarperCollins Publishers.