Features & Columns
A Metro Investigation: Orange Sauce
We chased down the masters of Orange Sauce to get to the bottom
of the addiction that has swept the South Bay.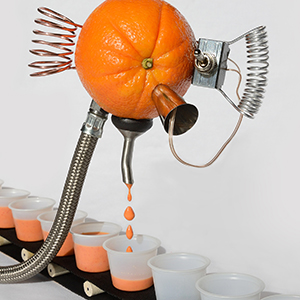 Of all the culinary secrets hidden behind Bay Area kitchen doors, none is guarded more closely than that of the legendary Orange Sauce. The peculiar condiment has become a South Bay obsession for many who throw down on a burrito, taco, quesadilla—I could keep going but let's assume we both know other variations of Mexican cuisine that feature tortillas, meat, cheese, beans, etc. I set out to uncover the mysteries of Orange Sauce, the method in which it is made and how it spread like, well, sauce across Silicon Valley's casual dining scene. Unlike the traditional fare found in taquerias across the country, Orange Sauce started as a purely provincial offering. But if one travels beyond San Jose's city limits, to say SoCal or even San Francisco, most restaurants will wonder why a customer just asked for fruit paste. In order to understand how Orange Sauce became synonymous with South Bay roots, I went to the source.
Victory
Orange Sauce began in an old Victorian house near the corner of East San Carlos and Fourth streets in downtown San Jose, near San Jose State. The year was 1998 and Marcelino Barrita and his family were barely making ends meet. Total receipts for his fledgling restaurant's first day in business totaled just $25, and the family often slept on the floor upstairs rather than head home after long days.
Working alongside his sons and daughters and friends, Marcelino needed a niche, so he began to experiment with a traditional Mexican chili paste, spicy and concentrated, not too far from Sriracha. It wasn't until about three months into the taste tests that he found a sauce that would have broad appeal, but he would need a test study. As luck would have it, a perfect convention was taking place right around the corner at the San Jose Convention Center: Narcotics Anonymous.
"We started serving a sauce that was very, very thick," says Nicandro Barrita, Marcelino's son and now the 39-year-old owner of the La Victoria taquerias. "It's a sauce I guess is typical in Mexico, but it's so thick that you have to use a spoon to put it on your food. My dad took that recipe and modified it, added a few things, gave it that creaminess and tangy flavor. He gave it the viscosity to put in a squeeze bottle, which makes it a hundred times easier to eat."
It also didn't take long for the restaurant to become hundreds of times more profitable—but not before taking a few losses. The restaurant stopped putting its orange sauce bottles out on tables after it found that all that remained most nights were the traditional red and green bottles. In 1998, a five-gallon bucket would have lasted the restaurant an entire week.
"Today, we're using 20 buckets, so 100 gallons a day," Nicandro says. "On the weekends, of course, it goes up a little bit." That's a long ways removed from the restaurant's humble beginnings, when the family gave the original restaurant's landlord a deposit check without having any money in the bank. "We had to scramble," Nicandro says, laughing with a wince as he remembers eating $1 Wienerschnitzel sandwiches every day to survive. "All the tables and the chairs were on a payment plan. We signed a purchase agreement where we would give them $500 every month."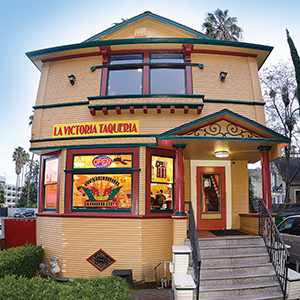 La Victoria, now simply called La Vic's in the local lexicon, has expanded to seven restaurants, all in San Jose except for one location in Hayward, and employs roughly 110 employees. A late-night destination with lines out the door, depending on the location, it may be the only local taqueria chain that employs security guards on the weekends to keep crowds from getting rowdy. Similar to the Orange Sauce, all food served comes from a family recipe, but nothing requires as much protection as the condiment that made La Vic's a household name.
Nicandro and his brother, Marcos, are the only people who make Orange Sauce each day, and they transport it themselves to the restaurants every morning. Considering the value of such knowledge, one wonders if it would be wise for them to never be seen in public together. Instead of using the same one-gallon blenders when they started, La Vic's now deploys three $20,000-a-pop mixers to make 15 gallons at a time. In total, it's about a three-hour process, Nicandro says. But while the process has changed, the recipe has not.
For years, customers have speculated online and in person what La Vic's Orange Sauce consists of, perhaps some concoction of ingredients which may or may not include mayonnaise, chorizo grease and even peanuts.
"Everybody picked up on [the chorizo grease rumor] and it hasn't gone away, but that's not true," Nicandro says, insisting the recipe is 100-percent vegan. "There's no dairy products, meat products, there's no mayonnaise. It might be (heavy in calories), but the ingredients we use are 100 percent natural, the best you can find."
The few ingredients he is willing to divulge are dry chili peppers, garlic and salt. There's simply too much to lose, especially when large corporations have courted the family chain.
"We've been approached by Safeway," Nicandro says. "They wanted to do [the sauce] locally, but we said no. That's something we want to do ourselves."
The sauce maintains reasonably well, which Nacandro credits to lack of perishables in the ingredients. It's best to refrigerate the sauce to keep for 30-45 days, but it can sit out for a day or two without fear of spoiling.
The fear of seeing the secret recipe fall into wrong hands, or even being surpassed by competitors, also seems to be of little concern. But that's not to say others haven't noticed La Vic's success. As few as seven other San Jose restaurants have their own spinoff of Orange Sauce, from the East Side taco trucks of Los Tres Reyes to the mayonnaise aioli-style of Café Rosalena.
"I guess you could say we feel proud to see that other people are trying to copy us," Nicandro says, "but they won't be able to say it's La Vic's orange sauce. People know we did it first. It's like us trying to make Heinz ketchup..."