Features & Columns
Silicon Valley Comic Con Beams
into Silicon Valley
Comic Con returns with Sci-fi celebs, alien whisperers and a special Star Trek anniversary
Intro | Star Trek | Buzz Aldrin | The Flash | Cool Geeks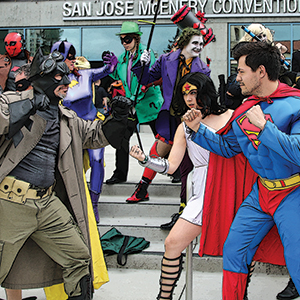 When Steve Wozniak was working to launch last year's inaugural Silicon Valley Comic Con, the Apple co-founder and his partners considered San Francisco's Moscone Center. Ultimately, they decided against it.
"No," Wozniak says, recalling his final answer. "We want to hold it in San Jose, because San Jose is more representative—over the last 50-60 years—of Silicon Valley."
Born in San Jose, The Woz' roots run deep in the South Bay. He and his family live in Los Gatos, though he says he might move back to San Jose's Willow Glen someday. His early philanthropy to the city's performing arts groups was acknowledged in naming downtown's Woz Way after him. In an address given to the City Council on Tuesday—after a Silicon Valley Comic Con flag was ceremoniously raised outside the rotunda—Wozniak said he was proud to see San Jose develop as a cultural destination with great restaurants, nightlife and a Stanley Cup contender.
This year, as Comic Con pays special tribute to the 30th anniversary of Star Trek: The Next Generation, The Woz has brought together a delegation of real-life scientists to complement comic book imagineers and sci-fi celebs on hand.
"Scientists have been responsible for so many important things in our life," Wozniak says, gesturing to the Apple device strapped to his wrist. Silicon Valley makers are responsible for "things that were once science fiction, in comics, like Dick Tracy watches a reality. He adds, "And now we have smartphones that seem to be able to do more than any of the superheroes."
We've broken down some of the biggest names and more under-the-radar personalities at this year's Silicon Valley Comic Con. —Nick Veronin