Features & Columns
The San Jose Earthquakes:
A Seismic Soccer Legacy
The Untold Story of San Jose's Greatest Pro Sports Team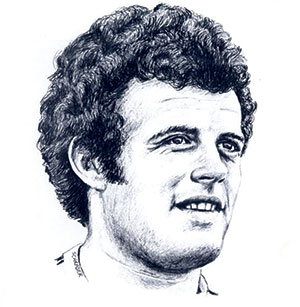 In November of 2013, former San Jose Earthquakes legend Paul Child was inducted into the San Jose Sports Hall of Fame. I wrote a column because I've lived the history of that team and all its incarnations, since near the very beginning.
"When I left England, I felt at the bottom of the barrel," Child told me at that time. "But then I get the opportunity to play against all those guys I'd grown up watching. It's like being in a slump, but then you get out of that hole and you never quit. That's what this is all about, it's to tell the younger athletes that are coming along that you just don't quit. You keep on going, and you'll have your ups and downs, but at the end, if you just keep on trying as hard as you can, you'll come out smelling like roses."
Those words struck a chord with me. Never quit. Don't give up.
You see, for years I'd always wanted to write a book about the history of the San Jose Earthquakes club, including all its births, deaths and reincarnations, right up until the current day. Unfortunately, in November of 2013, the larger story wasn't yet complete. The timing wasn't right. However, Child's words about his Hall of Fame induction stuck with me. Never quit. Don't give up.
Those words dovetailed with many things. "Never Say Die" is the tagline of the current San Jose Earthquakes, primarily since their record-setting 2012 campaign, in which the team won numerous matches in the waning minutes of regulation or stoppage time. Even better, as 2014 came around, Lars Frederiksen of Rancid, who also grew up with the Quakes, wrote the team's new theme song, "Never Say Die," for his side band, the Old Firm Casuals. They performed it at the Quakes 40th anniversary party on Jan. 30, 2014—a day before my birthday, which was also Lunar New Year. The entire "never give up" attitude remained in my unconscious.
When Child and his former teammates returned in May of 2014, to celebrate the 40th anniversary of the first Earthquakes game, they inspired me to revisit the book idea. Honestly, I felt like I was in stoppage time with a minute left, and it was now or never. I was not going to let the idea die. With the new stadium opening a year later, in 2015, the story would be perfect. Forty years of history right up until now. As one era ends, another one begins.
And try this one on for size: Throughout all of soccer's ups and downs for the last 40 years, the struggle of this sport to be accepted nationally as a real sport is a microcosm of San Jose's larger struggle to be accepted as a real city. It's borderline-mystical.
A few agents had already shot down the idea, but luckily, a 30-page proposal was good enough for The History Press and they responded the very next day. As a result, a book contract arrived in my mailbox less than three weeks after I emailed the initial proposal.
Writing The San Jose Earthquakes: A Seismic Soccer Legacy was the funnest thing I ever did. It was not work for a second. The process unfolded in organic fashion. Many events that transpired throughout 2014 allowed the end of the book to essentially write itself. In fact, I'm not even sure where most of it came from. If anything, it emerged from a place that I have no command over. Put it that way.
Earlier in 2014, since my birthday was on Lunar New Year, the old ladies in SF's Chinatown told me it meant an auspicious year was headed my way. I thought nothing of it until I finished the book at the beginning of November, realizing that I was a very grateful person. I got to see George Best at the end of his career and see him score the best goal of his life at Spartan Stadium—one year before Landon Donovan was born—and then 20 years later, from the press box, I got to watch Landon start his American career on the same field. And I lived to write a book about it. I'm glad I never gave up.
Read excerpts from The San Jose Earthquakes: A Seismic Soccer Legacy