Features & Columns
Urban Renewal
The 2013 edition of the San Jose Jazz Summer Fest
took full advantage of San Jose's compact downtown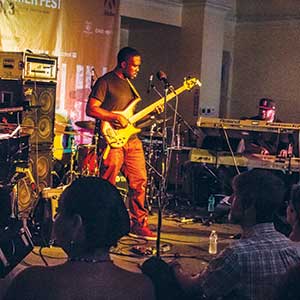 Last weekend, the San Jose Jazz Summer Fest exploded on Downtown stages, in restaurants and third spaces and theaters. With dramatically more integration into the surrounding urban landscape than ever before, the 2013 incarnation of the festival evolved into a new era of sorts.
Brand new restaurants like Cafe Stritch and Blackbird Tavern presented world-class, mind-blowing experiences for intimate audiences. Outdoor patios at places like Gordon Biersch and Mezcal were jammed to capacity all day long. The anti-man-about-town honed his jazz chops, infiltrated numerous festival microcosms and took away a multiplicity of experiences. He encountered professors, punks and politicians, all of whom were jazz fans. What used to be essentially a suburban commuter festival—a jazz version of the Castroville Artichoke Festival or the Morgan Hill Mushroom Mardi Gras—now finally feels like a city event.
For example, Cafe Stritch, even though it wasn't an official stage, successfully blossomed into a legitimate Bohemian jazz hangout, an authentic neo-beatnik tribal joint like you'd see in New York, Berlin or Hong Kong—not an upscale supper club for yuppie dinner-jazz fusion-ites, but an accessible space with awesome dirt-cheap food, where music professors share the bar with 20-somethings in torn-up shirts, all discussing charts and basslines. That's not hyperbole. That's exactly what happened. In fact, I fantasized about being the local wannabe-Jimmy Breslin journalist with no money, crashed out on the couch upstairs, spending rent money on tomato soup and plugging in his dead phone just to Instagram low-res shots of the legendary Steve Turre, whose band psychically channeled Rahsaan Roland Kirk for three straight evenings. That is not hyperbole either. That's pretty close to what happened.
Speaking of the urban experience, one could easily have journeyed his way from Gordon Biersch, down First Street to Blackbird Tavern, and then to Stritch, maybe segueing into the Fairmont between it all, and then call that the festival. Said route would be just one of many, but it provided enough juice for the experience. Over on the other side of the festival, a person could now migrate from the sweaty salsa dancing area down by the Caravan Lounge and straight into the main stage area without having to dump out one's beer first. According to several folks I spoke with, that was a tremendous improvement from the Roscoe P. Coltrane system last year.
Even the VIP area soaked in the local flavor. Upon entry to the bank lobby, one could immediately smell the shrimp barbecue from Poor House Bistro. It was like being backstage at the Blues Festival all over again. To be honest, so much unfolded that it was hard to keep track of it all. Here's a slice of the roll call, for those who didn't show up:
The Blackbird Tavern stage was in a side room at the restaurant, and even though the room often quickly filled to its capacity of 100 before anyone else had a chance to enjoy themselves, some heroic sounds unfolded within that tiny space over the weekend. The Max Roach band, in particular, was a great way to spend an hour on Friday.
The Fairmont lobby bar was off the hook. Friday night, Edgardo Cambon and Latido played salsa to a jam-packed madhouse, an elbow-to-elbow audience standing and/or dancing right up to within a few inches of the band. In fact, one couldn't even see the band. But everyone seemed to be dancing. The anti-man-about-town was dancing on the inside, in his own way. The next night, Tony Lindsay of Santana fame led a funk outfit that tore the place apart. Even more people jammed the dance floor, the hallways and the lobby. The hotel could have changed its name from Fairmont to Funkmont.
On the Hammond B3, Dr. Lonnie Smith likewise flattened the San Jose Repertory Theatre on Saturday, eliciting every possible emotion from that instrument. His band explored all dynamics from quintuple pianissimo to quintuple fortissimo, and back again, over and through the woods, up and around the bend of free improv before bringing it all back home via "My Favorite Things" in mind-blowing fashion.
On a final high note, many high school bands performed all day on the patio between Mezcal and Billy Berk's. That, my reader, means there is hope. All hail the urban!