Features & Columns
Jack London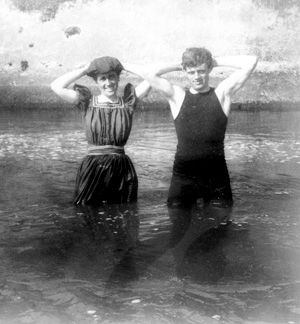 In a 1903 letter written from Alviso—the bustling port of San Jose in the late-19th and early-20th centuries— London acknowledged to Marshall Bond that "Buck was based upon your dog at Dawson. And of course Judge Miller's place was Judge Bond's—even to the cement swimming tank & the artesian well. And don't you remember that your father was attending a meeting of the Fruitgrowers [sic] Association the night I visited you, and Louis was organizing an athletic club—all of which events figured with Buck."
In his bestselling book, London included intimate details of the valley's terrain and geography. When Buck was stolen from the "Miller" ranch, London referenced "the little flag railway station known as College Park," a small train stop that, to this day, is located in the College Park neighborhood, just off the Alameda near Bellarmine Preparatory School.
The Call of the Wild was not a regional one-off. London's short story and play of the same name, "A Wicked Woman," is set entirely in Santa Clara. In addition to The Call of the Wild, portions of at least a dozen of his novels, works of journalism, short-story collections and essays—most prominently in White Fang and The Valley of the Moon—are set in, or make reference to, locations in the Santa Clara Valley. Any assertion that London was unfamiliar with San Jose and its environs is thoroughly absurd.
Born in San Francisco in 1876, John Griffith "Jack" London had been raised throughout the Bay Area, living at various locales in the East Bay—Oakland, Emeryville, Livermore—and as far south as present-day Moss Beach in San Mateo County, then finally back to Oakland, where he attended grammar school and sold newspapers from street corners to help his family make ends meet.
London's childhood poverty may have been somewhat exaggerated by the author in later years, but the young London was forced to work various jobs in canneries, jute mills and laundries. He cleaned saloons and shoveled coal, worked as a ship hand and became an oyster pirate on San Francisco Bay, regularly sailing as far south as Alviso from his adolescence well into his adulthood.
In what has been a largely unchronicled adventure of London's to the Santa Clara Valley sometime during his early teen years, circa 1890, London visited San Jose with his close childhood friend and schoolmate Frank Atherton. Atherton had recently moved here from Oakland with his family and would later yet move to Los Gatos, where London would also visit him and serve as best man in his wedding.
In what was a biographical manuscript never published during his lifetime (it was later included in a 1997 edition of the Jack London Journal, edited by Mark E. Zamen), Atherton recounted his childhood memories of his friend "Johnny." Certainly not all of the anecdotes and conversations compiled by Atherton can be taken verbatim, but his manuscript provides the most thorough firsthand account of London's childhood ever written.
In one particular chapter titled "Jack Visits Me in San Jose—An Exciting Invasion of Chinatown," Atherton, who eventually became a beloved music teacher in the Bay Area (he died in 1953), recounts a journey that he and his young friend made into the Chinese quarters of downtown San Jose during what appears to have been the Lunar New Year celebrations.
In the aftermath of an 1887 vigilante arson attack, San Jose's main Chinatown had been destroyed and scattered, later reforming into two Chinese neighborhoods, one near Fifth and Taylor streets, and another near the Woolen Mills Factory, also located on Taylor Street east of Guadalupe Creek. There were also Chinese truck farmers tending vegetable gardens throughout the region.
Both London and Atherton possessed the racialized animus directed at Chinese immigrants living in California common during the period (London's racism towards Asians and Africans has been widely debated and discussed), and their foray—and the language that Atherton used in the retelling—certainly reflected those ugly prejudices and the "othering" of Asian Americans during this shameful era in California history.
"The outstanding episode during Johnny's visit was an adventurous invasion of San Jose's Chinatown," Atherton recalled, with London leading the charge in "boldly" disrupting "celebrations" of "their profusely decorated joss houses."
At first the two teenagers were satisfied with merely procuring candy and nuts as their loot. Later, however, London pursued a more substantive trophy of his invasion, at one point absconding with an "item" that must have been "very sacred to them."
They continued their antics from joss house to joss house until they were finally driven from the community by angry Chinese celebrants with "huge knives." Still not to be outdone, they raided a Chinese truck farm for strawberries and gorged themselves on them, until, they werre chased by a Chinese farmer possessed of a "big knife."
Afterward, according to Atherton, they talked about "real adventures" in distant lands, apparently foreshadowing London's later journeys to the South Pacific. But the rest of London's 10-day visit to San Jose was "uneventful" and London soon returned to Oakland to work in a cannery.