Features & Columns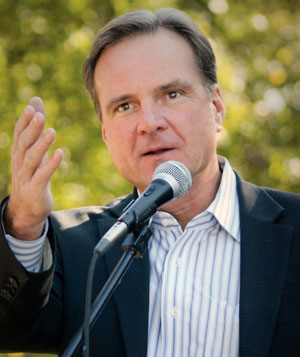 The Mediator
Cortese ducked phone calls for more than a month before agreeing to an interview and couldn't accommodate an in-person meeting, a rarity for a local elected office holder.
Now, he's finally on the phone. The deadline for candidates to file for this summer's Santa Clara County Board of Supervisors race is 10 minutes away, and by the time we hang up, he will learn he has an unopposed road to re-election.
It's an enviable position to be in, and clearly a weight off the 55-year-old's shoulders. Cortese has time to figure out what comes next in his political career, which to date has mirrored the path his father took. Dom Cortese, the patriarch, eventually went on to serve eight terms in the California State Assembly. Despite signs that he will be the labor-anointed candidate for mayor in 2014, Cortese's insists he isn't so sure.
"I literally don't know. I have strong interest to do that job. Maybe a couple years ago ... ," he says, his voice trailing off. "I just really haven't revisited it any kind of way. I could just as easily say no as yes."
But Cortese does revisit the matter during our conversation, and the plodding baritone in his voice softens as he speaks about what went wrong in his bid to become San Jose's mayor five years ago. Clearly, the defeat still stings a little.
"Campaigns are always hard, win or lose," he says. "The campaigning itself is satisfying, but you're putting yourself out there and there's a lot of discomfort that comes along as well. Losing is never really fun.
"I have a poll sitting in front of me saying I was the frontrunner," he sighs.
Here, for the first time, Cortese has just tilted his hand. He swears he never brings up the topic of running for mayor in San Jose; others do. But who keeps a souvenir from the only defeat he has ever known in his political career, within an arm's reach of his county office desk, unless it serves as much as a reminder as a motivator.
"Sometimes when you're a frontrunner, you take a lot of spin and a lot of flack from people that are for somebody else," Cortese says. "It's very important to listen to that kind of feedback and take it seriously, and at the same time, continue to be yourself."
But pinning Cortese down on a position can be tough.
"I think he sees himself as a mediator, but most generally he mediated in favor of labor issues," says Pat Dando, who served on the council with Cortese for four years before working with Liccardo during her tenure as the San Jose/Silicon Valley Chamber of Commerce's CEO. "One thing with Liccardo," Dando observes, "is he seems to tackle a problem and try to find a solution and gets on with it. And he does that through a lot of community outreach and working with the particular group that has an interest in the policy.
"On the other hand, Cortese, he can study an issue to death—which has its value, but you also get to the point where you've got to get to a decision and move on. And rather than alienate, Cortese might try to mediate to the point where no one is happy with the decision."
"I've cast thousands of votes since I've been on the City Council; there alone close to 16,000 votes, and I never abstained," Cortese says. "If somebody wants to say I couldn't decide or something like that, I think they should point to the record."
But when asked about his proudest accomplishments on the council, Cortese stammers before pointing to his "Just Cause Eviction" ordinance, which successfully offered a compromise to battling apartment tenants and landlords but hardly inspires voters.
The end of Gonzales' tenure as mayor stalled progress on other issues, Cortese says, not mentioning that he penned the letter asking the DA to investigate the mayor, which led to Gonzales' indictment.
At the county Board of supervisors, where he served as board president last year, Cortese offers fewer accomplishments of his work, aside from a work plan for School-Linked Services and some development work on a hospital site.
According to several people who worked with Cortese during his time on the San Jose City Council and now at the Board of Supervisors, Cortese the man and Cortese the politician are intractably linked.
As one colleague, who asked not to be named, puts it, "Cortese's shortcoming is what you see on the dais is what you see off. That's his liability—those relationships, he doesn't have a lot deeper. Superficial might not be the word, but that's the relationship he has with a lot of folks."
It's an assessment repeated several times over by a sample of Cortese's current and former colleagues. Cortese's reputation is that of a political middleman, a mediator. He observes, calculates risk and, as a recent article in the Mercury News suggested, muddles his way through the gray area—not always a successful strategy.
A prime example of Cortese getting lost in the fog came in his 2006 mayoral interviews. "When Cortese ran against Chuck Reed and others for mayor six years ago, I think he lacked the support of both the chamber and organized labor," says Carl Guardino, CEO of the Silicon Valley Leadership Group and a friend of both Liccardo and Cortese.
"He tried to split the difference so much between the two in his oral and written interviews [with labor and the chamber] that the concern was he was trying to please both so much that he lost them both."
Cortese says he may be guilty at times of pushing too often for compromise, but he argues that the mayoral deck was stacked against him from the start, with the South Bay Labor Council backing ex-employee Cindy Chavez and the chamber backing Michael Mulcahy and then Reed.
"If I went back and did it again, there's nothing I could have done even if I wanted to," he says. "There was nothing I could have done to pry the labor support from Cindy. The chamber endorsement—that was a three-way race. They decided to go off in their own direction."
Cortese's base in that race consisted of friends and family, cops and firefighters, bail bondsmen and construction and development companies—which altogether helped him to a fourth-place finish and just 16 percent of the vote.
A year later, according to campaign disclosure forms, Cortese's alliances increased with a surge of labor support as he ran for a county supervisor seat.
Unions for big agriculture, nurses, plumbers, painters, engineers, machinists, probation officers, Teamsters as well as AFSCME and AFL-CIO, among others, all threw $1,000 maximum contributions Cortese's way, helping him coast to a seat on the board.
Cortese also had support from business leaders, but a larger chunk came from organized labor. Cortese was committed to not letting history repeat itself.