Features & Columns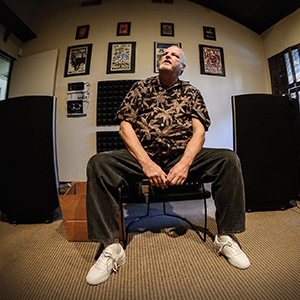 Fortunate Son
The son of an aeronautical engineer, Hartsell grew up tinkering with anything mechanical or electrical that he could get his hands on, and he loved it.
"It was a simpler world," he says of the '60s and '70s. "With a little bit of skill you could work on any car and get it running." He learned this first hand, helping his dad with projects around the house and with the projects he devised for himself—the first of which came in the form of a mini bike.
When Hartsell was in his pre-teen years, he and his father struck a deal. If he kept his grades up, he'd get a moped.
"So, I got straight-A's—no big deal" he says with an air of nonchalant confidence, as if it were a foregone conclusion that he would obviously get those straight-A's, since he had set his mind to getting them. Talking with Hartsell, you get the sense that he is quite convinced of his ability to figure things out, whether others believe he is capable or not.
When the report card came in, his father held up his end of the bargain, buying the young Hartsell a pint-sized motorbike, and the 10-year-old promptly lost all interest in his studies. He spent that spring tearing around his neighborhood and fiddling with his new toy. When his grades came in again, his father had one look at his son's poor marks and took the scooter away, telling him he wouldn't get it back until he righted his academic ship.
However, in the span of time between his poor report card and the next, improved one, Hartsell had found a new passion: music and audio equipment. While he was without his minibike, Hartsell stayed busy, listening to his little AM radio and futzing with the NuTone intercom system installed in his family's Virginia home—once swapping out the speaker in his sister's room with the blown one in his to avoid getting in trouble.
"I just got hooked," he says recalling the beginning of his lifelong love affair with music and hi-fi equipment. "When my grades finally came back, my dad asked me if I had learned anything, and I said, 'Yeah. I want a stereo.'"
Passion To Profession
In the years and decades that followed, Hartsell immersed himself in music. Looking back, he says he couldn't have picked a better time to be a music fan.
He didn't have video games or the Internet to distract him, the movies weren't what they are today, plus they cost money, but the radio was free. "It used to be you could hear everything on the radio," Hartsell says. "We had people playing whatever the hell they wanted. You could hear Thelonious Monk next to Mott the Hoople. You don't have that anymore."
The little money he had as a kid, he often spent on records, which he would swap with his friends. He began to develop a taste for both rock & roll and jazz.
After high school, Hartsell went off to college, eventually earning a degree in architecture. All the while his love of music remained and his record collection continued to grow.
Upon graduating in 1980, Hartsell worked as an architect for a number of firms—building both commercial and residential properties. By the late '80s he had struck out on his own, working as an architectural consultant and contractor, and writing for music and audio equipment magazines on a freelance basis.
For about four or five years in the early '90s he wrote for Tracking Angle, The Listener, The Absolute Sound, Audio Adventure, and served as music editor for Positive Feedback. The music writing began as a "hobby—to get free records," he says. But by 1991, he had quit working as an architect completely.
He and his wife, Katherine, had two young children—a son and a daughter—and moved to San Jose from Southern California in 1991 when Katherine signed on at Sun Microsystems. Hartsell says that they decided he could continue to write his record and equipment reviews at home while keeping an eye on the youngsters.
"There wasn't time for us to have two kids and work two full-time jobs," he explains.
However, it wasn't long after the couple had decided Hartsell should stay at home that a new plan was hatched.
By '91, the record collection Hartsell had begun in the late '60s had ballooned into the tens of thousands. It was only growing faster now that he was writing music reviews, not to mention that when he started writing reviews for hi-fi equipment, the Hartsell house became a harbor for expensive speakers, amplifiers and turntables, which the audio companies would send him and then neglect to pick up. For an audiophile like Hartsell it should have been a dream scenario, but he says it was more of a hassle, as his wife chastised him for first filling up their home with thousands upon thousands of records and then hoarding equipment that he wasn't even using.
It was around this time that Hartsell went to a "record show"—a swap meet for record collectors—with a friend. He took out several hundred records with the intent of making some money and making his wife happy. And he did make money. But...
"I bought a lot more shit than I sold and I still left with a profit," Hartsell says. "And it became really apparent to me that you could make a living from collecting records."
When he returned from the record show with more records than he had left with and a wad of cash in his hand, his wife made a suggestion: "'Why don't you just open a store and get this crap out of my house?'"