January 10-16, 2007
home | the papers | metro silicon valley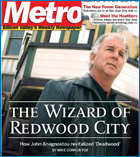 Downtown Redwood City makeover
When John Anagnostou bought the Fox Theatre in Redwood City in 1998, he was driven to improve not only his new club but the downtown around it. Now his dream is paying off for one of the sleepiest towns around.

Pete Furman
Chuck Reed's chief of staff is part of a new wave of powerful outsiders at City Hall.
The Fly: 01.10.07
Exclusive photos of Mayor Chuck Reed's Jan. 9 inauguration.

Silicon Alleys: The Heathers
This all-female drinking club is infiltrating the San Jose dives.
Technology News: Future thought
Annalee Newitz wonders if a love for science fiction is inherited.
Sports news: Stars on Ice
Though the Sharks have started the year with an amazing 9-4 win over the Red Wings, they're about to get kicked off the ice by the Stars on Ice tour.

Movie review: 'Pan's Labyrinth'
Guillermo del Toro's latest film blends fantasy and Spanish fascism.
Movie review: 'Freedom Writers'
All the good deeds can't wipe away its dreary clichés.
Movie review: 'Perfume: The Story of a Murderer'
'Run Lola Run' director Tom Tykwer's latest film smells of trying to please a built-in cult audience.
Film festival preview: Ernst Lubitsch retrospective
The Lubitsch Touch unveils the master director's best works at a Pacific Film Archive retrospective in Berkeley.
Movie review: Cinequest's downloadable movies
The San Jose film festival unveils a new way to buy and download indie movies.
Cult Leader: 'The Proposition'
This grimy Aussie western was the best cult film of 2006.
Interview: Alfonso Cuarón
Richard von Busack talks to the Mexican director about filming the surprise hit 'Children of Men.'
This week's revivals
Cary on spying: 'North by Northwest' at the California.
Yvonne De Carlo in 'Criss Cross'
Obit writers keep overlooking the recently deceased 'Munsters' star's best role: as the femme fatale in the 1949 noir classic 'Criss Cross.'

MORE MOVIE REVIEWS

MOVIE TIMES

The New Trust
Former Velvet Teen bassist Josh Staples reveals the dark secret that spawned the New Trust.
Anonymous 4
Medievalist vocal quartet shifts to Americana for Stanford Lively Arts concert.
Justin Timberlake
D**k in a tank.
Musicbox
Our critics pick this week's rockingest shows: The Gryphon Trio, the Chelsea Smiles and the Longboards.

MORE MUSIC AND NIGHTLIFE

MUSIC AND CLUBS LISTINGS

MUSIC AND NIGHTLIFE CALENDAR PICKS

Restaurant Review: The Pastaria & Market
Simple, fresh and light, the Los Gatos eatery is focused on great Italian dishes.
Live Feed
An ex-East Coaster revels in California's year-round produce.
5 Things to Love: New restaurants worth trying in '07
All of a sudden a lot of new restaurants are popping up.

BOOK A RESTAURANT RESERVATION

FIND A RESTAURANT REVIEW

Stage review: Margaret Wingrove
The dance company celebrated 25 years with a concert of eight dance pieces about relationships.
Book review: 'The River of Lost Footsteps: Histories of Burma'
Book authored by Thant Myint-U.
Book review: 'Great American Billboards: 100 Years of History by the Side of the Road'
Book authored by Fred E. Basten.

Letters to the Editor
January 10-16, 2007.