January 17-23, 2007
home | the papers | metro silicon valley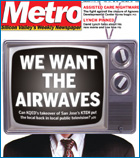 KTEH
How can San Jose's public television station stay relevant in the age of YouTube? Community leaders say it needs to look in its own backyard.

Donald Santiago
His family warned that if he was taken out of San Jose's Agnews Center, he'd be in danger. A year later, he was dead.
The Fly: 01.17.07
After the thrill of election victories, San Jose's leaders will have to face an inconvenient truth: they're more white and more male than the city's government has been in a decade.

Silicon Alleys: Adrienne Barbeau
The South Bay-raised star of the original version of 'The Fog' thrilled genre geeks (and former 'Maude' viewers) with her appearance at Fangoria's Weekend of Horrors.
Technology News: The Stop the Online Exploitation of Our Children Act
Annalee Newitz gives four reasons to oppose this legislation.

David Lynch's 'Inland Empire'
The 'Twin Peaks' creator is back with a new movie, a new book and a new line of coffee that would give Agent Cooper a day-long orgasm.
David Lynch Q&A
Richard von Busack's full interview with the director of 'Mulholland Dr.' and its long-awaited follow-up, 'Inland Empire.'
Movie review: 'Letters From Iwo Jima'
Clint Eastwood looks at the battle for Iwo Jima from the Japanese side.
Movie review: 'The Good German'
The biggest screen disappointment of last year.
TV review: 'Jane Eyre'
BBC revisits the ultimate English romance.
Cult Leader: Watching older movies like 'Double Indemnity' and 'The Mark of Zorro'
Why stoners should dig Douglas Fairbanks.
This week's revivals
Loverly day: 'My Fair Lady' at the California.

MORE MOVIE REVIEWS

MOVIE TIMES

Sandor Salgo
The noted conductor of San Jose Symphony and Carmel Bach Festival passed away.
New Music Works
Former Kronos Quartet cellist Joan Jeanrenaud joins their latest concert.
Cave Productions
One of the last remaining all-ages venues in San Jose, the Cave makes a comeback.
San Jose Chamber Orchestra
Oboist Jessica Pearlman excited the audience with a performance of Pasculli's variations on Verdi.
Musicbox
Our critics pick this week's highlights: Perpetual Motion Roadshow, Peninsula Symphony and Symphony Silicon Valley.

MORE MUSIC AND NIGHTLIFE

MUSIC AND CLUBS LISTINGS

MUSIC AND NIGHTLIFE CALENDAR PICKS

Restaurant review: ABC Seafood, Ding Sheng Restaurant and Nyonya Bistro
Milpitas' Ulferts Center will change your mind about mall food.
Live Feed
The price of love: $10,000.
5 Things to Love: Aphrodisiacs
While scientists question the ability of food to loosen the libido, why not conduct some Valentine's Day experiments of your own with the five aphrodisiacs we've chosen?

BOOK A RESTAURANT RESERVATION

FIND A RESTAURANT REVIEW

Stage review: 'Humble Boy'
A family tries to fight through grief.
Book review: 'Dada'
Book authored by Rudolf Kuenzli.
Book review: 'The Dada Reader'
Book edited by Dawn Ades.

Letters to the Editor
January 17-23, 2007.