January 31-February 6, 2007
home | metro silicon valley index | columns | live feed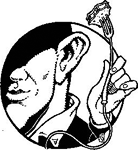 Live Feed
Where's the Good Thai Food?
By Stett Holbrook
SO I GUESS I was right. Silicon Valley Thai restaurants are a pretty boring lot and haven't evolved since they came on the scene 20 years ago. They all serve versions of the same menu—red, green and yellow curries, coconut milk- chicken soup, pad thai, pad prik king and fried bananas. There are scores of Thai restaurants but their food is numbingly uniform.
At least that's the impression I got after appealing to Metro readers in a Dec. 20 column asking for help in discovering regional and seasonal Thai cuisine that breaks from the norm. The only response I got was from reader Donald Wright who wrote me to recommend San Jose's Thai Village on Cottle Road.
Donald says Thai Village's menu is more interesting than the majority of Thai restaurants and touts the restaurant's "rama chicken," chicken and broccoli "slathered in a scrumptious peanut-butter sauce. To die for."
But that's it. Maybe because my column ran five days before Christmas Thai food wasn't foremost in your mind. But I know there are more good and different Thai restaurants out there. The truth is I don't want to be right about how boring Thai restaurants are. Set me straight. Help me find the good ones.
Pinot Paradise
The almighty Wine Spectator called the Santa Cruz Mountains "the most underrated wine appellation in world." A large part of the strength of this winegrowing region comes down to one grape: pinot noir. The cool nights, mild days and well-drained soils that typify the Santa Cruz Mountains help coax great wines out of the notoriously fastidious pinot noir grape.
There's no better place to taste the wealth of pinot noir produced in our back yard than Pinot Paradise, an annual event put on by the Santa Cruz Mountains Winegrowers Association. Now in its third year, it has become one of the Bay Area's top wine events. This year the wine festival will be held March 18 at Villa Ragusa, a banquet facility in downtown Campbell. (Previously it was held at Testarossa Vineyards in Los Gatos and the Mountain Winery in Saratoga.) The event will sell out, so go to www.scmwa.com for ticket information.
New Winery Uncorks
Speaking of Campbell and wine, the city is now home to Stroth-Hall Cellars, a small, by-appointment-only winery that's focusing on vineyard-designated syrah. Winemaker Paul Stroth, who works as a wine buyer for Whole Foods, has teamed up with partners Sequoia Hall and Mindy Pelz-Hall to show off the full potential of an underappreciated varietal. The winery's grapes come from vineyards in the Santa Cruz Mountains, the Russian River Valley, Napa Valley and El Dorado County.
The winery has no staff. Neighbors pitch in at crush time and local wineries lease out their facilities to help make the vino. The winery is open by appointment on Sundays. Restaurants such as Chez TJ, Forbes Mill, Lavande and Manresa and local wine bars Grapevines and Good Tastes all carry the wines, which retail for $20-$30. Check out http://strothhallcellars.com for more info.
Send a letter to the editor about this story.