March 14-20, 2007
home | the papers | metro silicon valley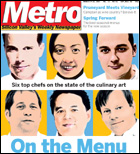 On the Menu Spring 2007:
Top chefs | Cult wine | Local produce

Flipped Out
A seal flees through the streets of Sunnyvale, while a record number are having to be rescued along the coast. What's up with Bay Area pups?
The Fly: 03.14.07
A Pierluigi by any other name.

Silicon Alleys
It doesn't matter what you build downtown, the Caravan will always be there. It will never die.
Technology news
From Blogomultisphere to Podthrusting, Annalee Newitz psychs out the cyber trends.
Sports news: Silicon Valley Bar Pool League
Be careful if you walk into the Blue Bonnet this Sunday—you don't want to start swinging your cue stick like kung fu Tom Cruise unless you can really play.

Movie review: 'Avenue Montaigne'
Poetry and prose mingle on the avenue.
Movie review: '300'
Beware of Greeks wearing shifts.
Movie review: 'Premonition'
Sandra Bullock stares down into the spine-chilling abyss of fear, indicated by a signpost reading 'Your Career.'
Cult Leader: 'Manos, the Hands of Fate'
MST3K's Kevin Murphy relives his 'Manos' ordeal.
This week's revivals
The 'Bitter Tea' experience: 'The Bitter Tea of General Yen' at the Stanford.

MORE MOVIE REVIEWS

MOVIE TIMES

Rod Stewart and Eric Clapton
They're old and in San Jose.
Musicbox
Our critics pick this week's highlights: St. Patrick's Day events and classical concerts.

MORE MUSIC AND NIGHTLIFE

MUSIC AND CLUBS LISTINGS

MUSIC AND NIGHTLIFE CALENDAR PICKS

Restaurant review: Pluto's Fresh Food
Santana Row's fresh new eatery is all about choices.
Live Feed
Some gouda advice.
5 Things to Love
Specialty markets.

BOOK A RESTAURANT RESERVATION

FIND A RESTAURANT REVIEW

Books: 'The New Adventures of Jesus'
Fantagraphics brings back Frank Stack's seminal underground comic.
Visual arts: Il Lee
He creates magic with simple ballpoint pens.
Stage: 'Trying'
A young secretary wrestles with a great man's memories.
Book review: 'Art and Photography'
Book edited by David Campany.
Book review: 'Riding the Iron Rooster: By Train Through China'
Book authored by Paul Theroux.
Book review: 'The Curtain: An Essay in Seven Parts'
Book authored by Milan Kundera; translated from the French by Linda Asher.

Letters to the Editor
March 14-20, 2007.