March 22-28, 2006
home | the papers | metro silicon valley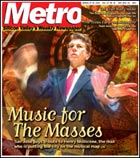 Henry Mollicone
San Jose pays tribute to the area composer who is putting the city on the musical map.

The Blog of War
SJSU becomes the first university to embrace blogging in a literary series when Salam Pax arrives March 23. Meet the Baghdad Blogger.
The Fly
Did frontrunner DA candidate Karyn Sinunu flip-flop during last week's district attorney debate at City Hall?

Silicon Alleys
Someone needs to do for San Jose what Naguib Mahfouz did for Cairo, what Kafka did for Prague or what James Joyce did for Dublin.
Technology News: Root Vaults
Firefox plug-in will record your entire clickstream, including Google searches and things you've bought online.
Car Culture: Hydrogen Power
Hydrogen can be made by electrolysis: splitting water. And the energy for this process could come from wind or solar power.

Movie Review: 'Thank You for Smoking'
Aaron Eckhart shills for big tobacco in sharp satire.
Movie Review: 'Summer Storm'
Conclusive proof that teens have an easier time in Germany.
Movie Review: 'Tsotsi'
The city of the future is a nightmare in Oscar-winning South African film.

MORE MOVIE REVIEWS

MOVIE TIMES

SXSW 2006
At annual conference, the key to longevity in the music business is to do what you love and love what you do.
Alone Together
Rock reflects the singular in the collective.
Concert Review: Symphony Silicon Valley Features Mozart
Symphony and conductor George Cleve gave Opera San José's best voices a workout in Mozart program.

MORE NIGHTLIFE

NIGHTLIFE LISTINGS

NIGHTLIFE CALENDAR PICKS

House of Soul Food
Santa Clara restaurant is the South Bay's best Southern cooking.
5 Things to Love
Wine-loving Restaurants.
Live Feed
New restaurants debut in Palo Alto, Los Gatos, Campbell and East Palo Alto.

BOOK A RESTAURANT RESERVATION

FIND A RESTAURANT REVIEW

'Election' Author Tom Perrotta Wins Readers
Novelist comes to Montalvo literary series bearing his 'Little Children' and other bestsellers.
Stage Review: 'Electricidad'
Teatro Visión presents a bit of classic Greece in San Jose.
Book Reviews: 03.22.06
The First Lady of Hollywood: A Biography of Samantha Barbas, by Richard Morgan; Death in the Haymarket: A Story of Chicago, the First Labor Movement and the Bombing That Divided Gilded Age America by James Green.