March 28-April 3, 2007
home | metro silicon valley index | music & nightlife | preview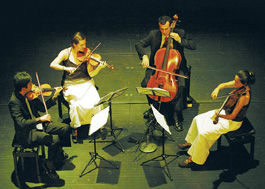 Stringed Vibration: The Jupiter String Quartet appears at Stanford Lively Arts.
Music Picks
Classical Beat | South Bay Guitar Society Solo & Ensemble Festival | Los Aterciopelados
Symphony Silicon Valley Guiseppe Verdi's great operatic innovation was to emphasize drama over (or at least equal to) singing. Something of the same instinct makes his Requiem so emotionally powerful, with passages of extraordinary fury rising from deceptive quietude (especially in the Dies Irae movement). For this program, Symphony Silicon Valley calls upon the vocal resources of the 100-member Symphony Silicon Valley Chorale, directed by Elena Sharkova of SJSU. The guest conductor for the weekend is William Boughton. The soloists are soprano Lori Decter, mezzo Gigi Mitchell Velasco, tenor Christopher Bengochea and bass Kirk Eichelberger. Thursday at 7:30pm, Saturday at 8pm and Sunday at 2:30pm; California Theatre, 245 S. First St., San Jose; $36-$72; 408.286.2600.
Jupiter String Quartet One of the better young string foursomes appears for the first time at Stanford Lively Arts. Violinists Nelson Lee and Meg Freivogel, viola star Liz Freivogel and cellist Daniel McDonough will show off their considerable skills on Beethoven's Grosse Fugue, Britten's Quartet no. 1 and Haydn's Quartet in D Major. Sunday at 2:30pm; Dinkelspiel Auditorium, Stanford; $17-$38; 650.725.ARTS.
San Jose Wind Symphony From Eric Whitacre's "Ghost Train" to James Fulton's "The Aviator March," San Jose Wind Symphony salutes "Planes, Trains and Automobiles!' in its weekend concerts. The program also includes the "Eagle Squadron March" and "Internal Combustion (A Celebration of the American Automobile)"—now there's a catchy title. On Friday, there is be a display of classic Chevrolets at 6pm; on Saturday, the Santa Clara Valley Model T Ford Club rolls out some of its four-wheeled favorites. Saturday at 7pm; Milpitas High School Theater, 1285 Escuela Pkwy., Milpitas; Sunday at 3pm; McAfee Center, Saratoga High School, 20300 Herriman Ave., Saratoga; $10-$17; 408.927.7597.
Areon Chamber Music Competition Young musician vie for chamber-music bragging rights all day Saturday, then the winners perform on Sunday. Seating is first-come, first-served and somewhat limited, so plan accordingly. Saturday at 10am-4pm and Sunday at 2pm; SecondStage, Center for the Performing Arts, 500 Castro St., Mountain View; free on Saturday, $12/$15 on Sunday; 650.903.6000.
Messiah Sing It Yourself Generally, Handel's Messiah lures audiences to try out their vocal chords around the holidays, but there is really no limit on the appeal of this great baroque choral work. West Valley Presbyterian has been doing a spring sing-along for 16 years. Sunday at 7pm and Saturday at 7:30pm; West Valley Presbyterian Church, 6191 Bollinger Road, Cupertino; for free tickets, send a self-addressed stamped envelope to the church, or see www.wvpc.org/messiah.
Peninsula Symphony Family Concert For April Fools' Day, the Peninsula Symphony corrals some very unusual instruments—toy pianos, fire trucks and vacuum cleaners for starters—to enliven its family concert. P.D.Q. Bach will be represented by his immortal Fanfare for the Common Cold. Charles Ives' The Gong on the Hook and Ladder calls upon a real truck for full effect, and everyone is invited to pick up a kazoo for Canonical American Songbook 5 by Harbison. Sunday at 3pm; Bayside Performing Arts Center, 2025 Kehoe Ave., San Mateo; $5/$10; 650.941.5291.
El Camino Youth Symphony Barely taking a breather from last weekend's performance by the Senior Symphony Orchestra over the weekend at Flint, El Camino's Sinfonetta Orchestra takes center stage Saturday for a Concerto Festival. The composers on deck are Beethoven, Mozart, Kabalevsky and Rodgers and Hammerstein. Pianist Daniel Hsu, bassoonist Roshan Sukumar, violist Christine Concepcion, violinist Natalie Ng and members of the South Bay Community Orchestra will take turns in the spotlight. Saturday at 8pm; Cubberley Theatre, 4000 Middlefield Road, Palo Alto; $5/$10; 650.327.2611.
Robert Greenberg Like a good sports analyst, music historian Robert Greenberg breaks down some Beethoven piano sonatas (Tempest, Waldstein, Appassionata and Farewell) and shows how they work. Sunday at 2pm; Carriage House Theatre, Montalvo Arts Center, 15400 Montalvo Road, Saratoga; $25; 408.961.5858.
Michael S. Gant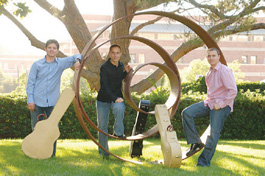 Schooled: Triada will teach you a thing or three about the guitar.
The SJSU School of Music and Dance and the City of San Jose have teamed up with the South Bay Guitar Society to present an entire weekend full of performances and workshops at the SJSU Music and Dance building. For more information, visit www.sbgs.org.
Friday, March 30
TRIADA: Tune in to KKUP 91.5 for an interview with and performance by Triada, a guitar trio from Bulgaria, or catch them live at the SJSU. The performance begins with jazz from Peter Curtis and John Shifflett at 7pm and continues with Triada at 8pm. Tickets are $15-$20.
Saturday, March 31
700 YEARS OF THE GUITAR: Eric Symons, a composer who specializes in the Spanish tradition of guitar, and Corey Whitehead, a flamenco and classical guitar teacher and assistant professor of music at Cal State U. Fresno, will be discussing the origins of guitar and demonstrating techniques from the classical period onward. Rm. 150, 10:30am-noon.
MODES FOR IMPROVISING AND COMPOSING SJSU: instructor Rick Vandivier studied at the Berklee School of Music and has been performing in the Bay Area for 25 years. Learn about his approach to using modes for improvisation and composition. Rm. 211, 11am-noon.
BASIC GUITAR CONSTRUCTION: Luthiers Josh Howell and David Forsyth Schooler will discuss techniques of making both classical and steel string guitars. Rm. 211, 1:30-2:30pm.
MODERN CLASSICAL GUITAR IN GREECE, TURKEY, INDIA, IRAN AND ISRAEL: Babak Falsafi will talk about contemporary Middle Eastern guitarist composers from both academic and personal perspectives. Rm. 250, 1:30-2:30pm.
GUITAR MASTER CLASS: With Berta Rojas. Tickets are $5.
MAKING A LIVING IN GUITAR: Daniel Roest, artistic director of South Bay Guitar Society, discusses marketing strategies, contracts, myths, gear and more. Rm. 211, 3-4pm.
LEARN TO PLAY GUITAR: Jerry Snyder, president and artistic director of the South Bay Guitar Society, demonstrates finger-style and pick-style guitar playing. Rm. 250, 3-4pm.
Sunday, April 1
MUSIC OF ANDREW YORK: Ben Zussman discusses and performs solo guitar works by Andrew York. Rm. 211, 12:30-1:30pm.
UNACCOMPANIED JAZZ GUITAR; ITS RELATIONSHIP TO CLASSICAL: Peter Curtis analyzes four accompanied jazz guitarists: Joe Pass, Lenny Breau, Gene Bertoncini and Martin Taylor. Rm. 250, 1:45-2:45pm.
GUITAR MASTERCLASS: With Carlo Barbossa-Lima. Tickets are $5.
CELTIC GUITAR: Grammy-winning guitarist William Coulter examines the role of the guitar in traditional Irish and other Celtic music, and also discusses and demonstrates his involvement with it. Rm. 211, 3-4pm.
Mike Connor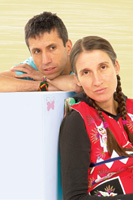 From Bogota to Barcelona: Columbia's Los Aterciopelados perform at the Barcelona in Sunnyvale.
Oye: the new sound of Los Aterciopelados
"THE VELVETY ONES" is how the name of Los Aterciopelados, the renowned Spanish-language rock band from Colombia, loosely translates into English. Since they began in Bogatá, Colombia in 1990, the group, co-led by singer/songwriters Andrea Echeverri and Hector Buitrago, has grown into one of the most popular Latin alternative rock bands in the world. As captivating live as they are on record, the group has defined a sound with a stylish fusion of hippie-conscious lyrics and Latino folk and rock. At the heart of this band is the relationship between Echeverri and Buitrago. The two met in the late 1980s when Buitrago was playing in a punk band and Echeverri was singing with Delia y Los Aminoacidos. "Our relationship is complex because we used to be boyfriend and girlfriend when we started making music together," says Buitrago in Spanish from his home in Bogotá. "Then we broke up and went through some tough times. We separated and stopped making music together. Slowly the wounds healed and what has surfaced is this great friendship. We know, love and respect each other and understand that what we do as a creative team is something special."
Their latest album, titled Oye (Listen), was released in 2006 on the U.S.-based Nacional Records label, and is now hailed as one of their best albums and a sonic throwback to their early days. It is also the group's first studio recording in five years; Echeverri and Buitrago took a hiatus, during which time both made solo albums, and Echeverri became a mom. Oye marks the return of Aterciopelados. "The reception this album has received is super," says Buitrago. "It was a reunion for us after not working together for a while. Andrea and I finished songs we had not touched in years and personally it was very satisfying and emotional to do another Aterciopelados album."
Now considered pioneers, the group released their debut album in 1993. Con El Corazon En Las Manos (With Heart in Hand) launched Los Aterciopelados and they began gigging around Colombia. Dorado followed and sparked a buzz abroad. It all came at a time when Colombia was getting involved in a U.S.-sponsored drug war and the South American nation was in shambles. "When we started, it was a difficult time to make music," says Buitrago. "Very few bands had records, if you did you couldn't get them played on the radio, and there were very few places to play. Forget about trying to get out of the country. But things started happening and we became one of the first rock bands to have success outside of Colombia."
Los Aterciopelados were seen as the new sound of Colombia at a time when a wave of bands from Mexico and Latin America, such as Fabulosos Cadillacs, Cafe Tacuba, Maldita Vecindad, Caifanes and others, were popularizing roc en español. "Some our biggest joys have been with the people that we have collaborated with on our records. It began on our second album, Dorado, when we worked with producer Federico Lopez. He helped us get known around Colombia and helped us make an album that could compete in our market as well as outside the country." As they advanced, they collaborated with producers like former Roxy Music guitarist Phil Manzarera, who produced their 1997 album, La Pipa de la Paz, and Andres Levin, who worked with them on the 1998 release, Caribe Atómico. In 2000, they blew up with Goza Poderoso and won a 2001 Latin Grammy for Best Rock Duo/Group. The album surfed near the top of Billboard's Top Latin Albums chart.
Tomorrow night Los Aterciopelados play Club Monaco's Barcelona in Sunnyvale. Their set will consist of the band's greatest hits and new material from Oye. With stops in New York, Los Angeles and Sunnyvale, they will unveil a new band on this U.S. tour that includes guitarist Camilo Velasquez, drummer Mauricio Montenegro and percussionist Urian Sermento. "We're showcasing a new sound this year," says Buitrago. "We now have a real drummer. Having worked with electronic beats for so long, this band, like the album, is more organic and definitely rocks! For now all we want to do is continue playing and traveling. We have found our niche as an independent band playing Latin alternative rock and just want to continue making music that is good and interesting."
Jesse 'Chuy' Varela
Los Aterciopelados perform on Friday (March 30) at 9pm at Barcelona, 767 N. Mathilda, Sunnyvale. Tickets are $25. (408.998.TIXS)
Send a letter to the editor about this story.