March 29-April 4, 2006
home | the papers | metro silicon valley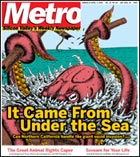 It Came From Under the Sea
Can Northern California handle the giant squid invasion?

Animal Rights Protester
The strange but true story of conspiracy with city officials and a secret plan against circus protesters at HP Pavilion in San Jose.
The Fly
The Fly looks at the tiff over the Measure A sales-tax initiative in Santa Clara County; plus William Den Singleton and the San Jose Mercury News; garbage contracts and mayors's races in San Francisco and San Jose; and update on California textbooks and teaching Hindu history.

Silicon Alleys: Soccer Show
San Jose State University and King Library in San Jose host 'Planet Football,' an exhibit of photos about soccer.
Technology News: MoodGrapher Online
Annalee Newitz asks if measuring computer users' mood merely reveals how much buzz has been generated by advertising campaigns.
Car Culture: Oil and Security
Novella Carpenter reports on David Goldwyn and his ideas for new energy policies.

Movie Review: 'Duck Season'
Mexican feature tells the incredible story of a Sunday when nothing happened.

MORE MOVIE REVIEWS

MOVIE TIMES

Music Review: I Am Ghost
Punk group from Santa Cruz delivers more than mascara.
Music News: More From SXSW
Music editor Todd Inoue reveals even more about 2006 SXSW indie music conference.

MORE NIGHTLIFE

NIGHTLIFE LISTINGS

NIGHTLIFE CALENDAR PICKS

Restaurant Review: La Pizzeria in Campbell
The real pizza can be found at La Pizzeria, thin crusts and all.
Food News: Live Feed
Coffee Bug in San Jose serves java and matchmaking; plus Citrus Restaurant at Santana Row; and Campbell's Rock Bottom Restaurant and Brewery.
Food News: 5 Things to Love
5 Things surveys Spring Crops.

BOOK A RESTAURANT RESERVATION

FIND A RESTAURANT REVIEW

Museum Review: Edvard Munch
A show of Edvard Munch prints at Cantor Arts Center at Stanford opens a window into the Norwegian artist's troubled soul.
Museum Review: '¡Arte Caliente!'
Vivid colors and forceful figures dominate show of Chicano Art at San Jose Museum of Art.
Live Theater: 'The Intelligent Design of Jenny Chow'
A recluse genius designs a robot to show the world in San Jose Rep's productions.
Live Theater: 'The Nerd'
A review of 'The Nerd' at City Lights Theater Company in San Jose.
Book Reviews: 03.29.06
The Judgment of Paris: The Revolutionary Decade That Gave the World Impressionism, by Ross King; Little Money Street: In Search of Gypsies and Their Music in the South of France by Fernanda Eberstadt; Written Lives: Essays by Javier Marias.