April 11-17, 2007
home | metro silicon valley index | music & nightlife | preview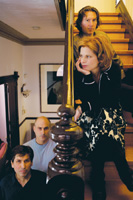 Family ties: On the eve of their Santa Cruz appearance, the Cowboy Junkies examine the ties that bind.
Music Picks
Cowboy Junkies | San Jose Taiko | Security | Classical moves
IT'S BEEN nearly two decades since the Cowboy Junkies invented an entire genre of stately and understated country-pop, and laid much of the groundwork for what would come to be known as alt-country with The Trinity Sessions.
That 1988 release (which included the band's seminal cover of the Velvet Underground's "Sweet Jane") displayed a confident and assured band that seemed to have created a new strain of what was then called "college rock" out of whole cloth.
The band returned last fall to the Toronto church in which they recorded The Trinity Sessions over the course of a day to perform the album in its entirety with some of their most famous acolytes, including Ryan Adams and Natalie Merchant.
But while it might be tempting for a band to spend their 20th year merely flogging past successes in a bid to stave off the inevitable aging process, the Cowboy Junkies have simply noted the milestone and chosen to move on.
Rather than remain rooted in the past, the band has chosen to confront their age and issues of family and mortality directly on their new album, At the End of Paths Taken, which is slated to be released just a few days after their Santa Cruz appearance.
The creative trifecta of the Cowboy Junkies remains the three-sibling team of guitarist and songwriter Michael Timmins, singer Margo Timmins and drummer Peter Timmins.
It seems appropriate, then, that as the band stares down its third decade, their newest songs examine the influence that one generation has on the next, and what it means to face the realities of mortality.
It's a topic that Michael finds himself keenly aware of. "The album is about generations dealing with each other," he explains. "I've got three young children and two aging parents, and I've gotten to the age where a lot of my friends' parents are passing away."
Still, Timmins avoids bringing the relationships among the siblings and band mates to the songwriting table on the new album, instead focusing on the generational line of influence. In fact, he views the subject matter to be rather distinct from the relationships he shares with his band mates.
"The songs aren't really about brothers and sister," he emphasizes. "It helps that I'm bringing these songs to my brother and sister—we're all similar ages and have the same parents—but these songs are really dealing specifically with the relationships of parents and their children."
As the band's primary songwriter, Michael penned all of the tracks on At the End of Paths Taken. But unlike the process behind previous releases, in which he presented the songs in their entirety to his vocalist sister Margo, with this album he shook up the process and provided lyrics prior to her hearing the entire song, to draw the significance and implications of those words in sharper relief.
"I gave her the lyrics without the melodies, so she could get to know the songs through the lyrics first," he explains. "Usually when doing a record you would give the singer the demo, but I just gave her the lyrics. The melodies can skew what the songs are about and I wanted her to spend time with the lyrics before she heard the melodies."
The result is a set of brutally observant material, a rumination on familial relationships and mortality augmented by sweeping string arrangements charted by the composer Henry Kucharzyk.
Those accustomed to the Cowboy Junkies' contemplative songbook might be jarred initially by the new songs, which manage to remain inward-looking while coming off a bit rougher around the edges than the band's previous material.
For his part, Timmins downplays the sonic and lyrical changes, and while they are doubtlessly subtle, the band's new songs cut just a bit closer and deeper than past works.
Perhaps nowhere is this candor more apparent than on the album-closing "My Only Guarantee," which takes a rather bleak perspective on the impact a parent has on a child. Margo Timmins, with her breathy and allusive voice, intones, "my only guarantee—I will fuck you up."
It's not a comforting perspective, but it's an honest and fearless one that exemplifies the band's unsentimental glimpse into middle age.
Paul Davis
The Cowboy Junkies perform on Saturday (April 14) at 8pm at the Rio Theatre, 1205 Soquel Ave, Santa Cruz. Advance tickets are $30 and are available at Streetlight Records. For more information, call 831.423.8209.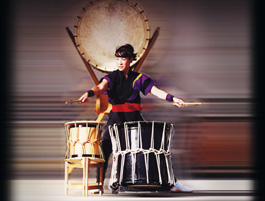 Rock you like a hurricane: Get pounded at 'Rhythm Spirit 2007.'
WITH PAINED EXPRESSIONS and gesticulations, a rock band pretends to do the work of their amps and speakers, when the truth is that, positioned just so, a skilled guitarist can rock you like a hurricane from the comfort of a plush recliner.
Taiko drummers need more room to play. It's not unusual to see them warming up in sweat suits like professional athletes, stretching out and drinking vitamin water, prepping their bodies and minds for some unusually strenuous musicianship. Onstage, they beat gigantic drums by throwing their whole bodies behind each blow. The space around them chugs with huge, propulsive rhythms; their bodies heave and sweat.
San Jose Taiko executive director Roy Hirabayashi calls it "dancing with a drum," a succinct description of a nuanced and lively artform. "There's a misconception that Japanese music is very slow and quiet and sedate and basically very boring," says Hirabayashi. "We try to break stereotypes of what people presume they're going to see. We're coming from an Asian American perspective, so with the rhythm patterns, you'll hear some samba, some rock, some Afro-Cuban rhythm patterns going on tonight, all kinds of stuff."
In SJ Taiko's upcoming performance at the Campbell Heritage Theatre, there are plenty of moments when the drummers teeter on the edge of an all-out frenzy. Their kinetic energy is powerful, contagious, even intoxicating, but they prepare themselves in advance with a sort of grounding ritual. At a recent rehearsal, the drummers joined hands in a circle and focused on their impending performance. "Feed off the energy," said Franco Imperial, co-artistic director of the concert, "but don't let it carry you away."
It starts with a rumbling of bass, followed closely by a gathering thunder of drums galloping into the foreground in threes, then receding back into the distance as the bass skews and flares in a weird magnetic hum. The tenor drums drop in and accelerate into a shock of exploding cymbals crashing like thunderclaps. Layers of throbbing rhythms are pierced by sudden shouts of the drummers.
"It's a different kind of loud," says Hirabayashi, distinguishing between Taiko drumming and, say, a rock concert. "It's loud but you can really feel it, the vibrations create this thing that hits your whole body."
Not that they're about beating your body into submission; on the contrary, the emotional range of SJ Taiko's original songs is surprisingly vast. Now one of the country's most active international touring groups, SJ Taiko is known for their eclectic style—using Brazilian, African, Latin and jazz rhythms—but also for the flagrant joy they project from the stage.
"We have fun just being able to play together—that goes beyond teamwork, beyond any kind of band or ensemble playing," says Hirabayashi. "There's lot of coordination that goes on between players, and it's just joy of playing together and being able to feed off each other during the performance. Most songs we play have some type of improvising going on, sort of like a jazz format. That's another integral part of our musical style."
The performances are also highly visual, incorporating costumes, dance and a constantly revolving cast of drums and drummers exploring a varied array of configurations and emotions.
Started in 1973 by third-generation Japanese-Americans, SJ Taiko began as a youth activity at a Buddhist church, but soon blossomed into a community-based organization, school and performance group. Hirabayashi says that in Japan, the concept of playing an ensemble of only taiko drums started in the early '50s, so to call what they do "traditional" is a bit of a stretch. SJ Taiko incorporates elements of Japanese folk culture, but their approach is decidedly Japanese-American.
"None of us had any background in how the taiko was used in Japan traditionally," says Hirabayashi. "We were influenced by the music we grew up listening to: rock & roll, jazz, whatever. So when you look at our music, it has an influence of world musical context to it, rooted with the Japanese taiko drum as our primary instrument."
Mike Connor
San Jose Taiko performs on Friday (April 13) at 8pm and Saturday (April 14) at 2pm and 8pm at the Campbell Heritage Theatre, 1 W. Campbell Ave., Campbell. Tickets are $20-$25. (408.866.2700)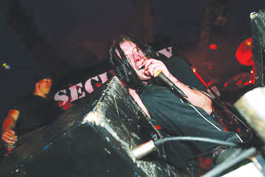 Back in the heap: Security rejoins the Bay Area rock heap on Friday the 13th—an auspicious date for black metal bands.
ONE OF THE sickest metal outfits on the scene today and definitely in my Top 5 as far as local San Jo bands go, the ass-kicking rock lords of Security rip it up at the Blank tonight with four other hard-rock/metal-noise pushers lending opening support. Security frontman Adam Bannister looms larger than life with menacing vocals and a dynamic and captivating stage presence. This is their first show in San Jose since the tragic passing of guitarist Ryan Fuller nearly two years ago. Replacing Fuller on guitar is Lenn Conover; Dave Craig (bass) and Dave Gary (drums) are still manning the rhythm section. Together, they'll work to launch the band's full-bore metal sound—think an amalgamation of Pantera, Sevendust and Helmet with a little more speed and anger—back to the top of the Bay Area rock heap. An angry black metal band playing on Friday the 13th—that's headbanger serendipity for you. Weapons, Mudface, Modern Ruinz and OTTO open.
Ryan Osterbeck
Security plays on Friday (April 13) at 9pm at the Blank Club, 44 S. Almaden Ave, San Jose. Tickets are $8. (408.292.5265)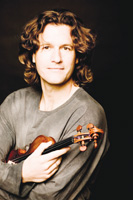 Guest turn: Violinist Geoff Nuttall of the St. Lawrence String Quartet joins the New Century Chamber Orchestra for its concert on Friday.
New Century Chamber Orchestra The St. Lawrence String Quartet has graciously agreed to loan member Geoff Nuttall to lead the New Century Chamber Orchestra for a guest turn as concertmaster. The 17-member string ensemble will perform a serious chronological stretch of pieces, from Bach's Concerto for Two Violins and Strings (with Nuttall and fellow St. Lawrence member Barry Shiffman) to Schoenberg's Verklärte Nacht and Arvo Pärt's Tabula Rasa for String Orchestra, Two Violins and Prepared Piano. Friday at 8pm; St. Mark's Episcopal Church, 600 Colorado Ave., Palo Alto; $28-$42; 415.392.4400.
Palo Alto Philharmonic For its Spring Concert, the Palo Alto Philharmonic, under the baton of Thomas Shoebotham, pays tribute to the president—JFK, not W, please—with John Biggs' Passcaglia for Orchestra, composed in memory of the Camelot years. Onboard for the evening, David Felberg solos on Tchaikovsky's Violin Concerto. The program climaxes with Beethoven's Symphony no. 7. Saturday at 8pm; Cubberley Theatre, 4000 Middlefield Rd., Palo Alto; $7-$16; www.paphil.org.
John Perry The guest artist for the Young Pianist's Beethoven Competition will show off his pianistic skills on a program of Billy Joel numbers—just kidding. Perry has appropriately scheduled Beethoven and nothing but Beethoven for his recital: Sonata no. 18 in E-Flat Major, the Appassionata, Opus 57 and the Sonata no. 31 in A-flat Major. For those who can't get enough of the composer, Dr. William Meredith will deliver a pre-concert lecture on Ludwig, starting one hour before the music. Saturday at 8pm; Concert Hall, Music Building, San Jose State University; $10-$25; 408.808.2058.
Peninsula Pops Fans of big-band music should welcome the Peninsula Pops "Stomp'n & Swing'n" concert. Conductor Kim Venass leads the group through familiar favorites from Duke Ellington, Glenn Miller and Harry James. Saturday at 7:30pm and Sunday at 3pm; Spangenberg Theater, 780 Arastradero Rd., Palo Alto; $10-$20; 650.856.8432.
Opera Preview Opera San José begins its production of Madama Butterfly on April 21, and to get everyone in the mood, singers from the company will offer a preview, with some helpful background information on Puccini from expert Larry Hancock. Tuesday at noon; San Jose Museum of Art, 110 S. Market St., San Jose; 408.269.2479.
Michael S. Gant
Send a letter to the editor about this story.