April 18-24, 2007
home | metro silicon valley index | music & nightlife | preview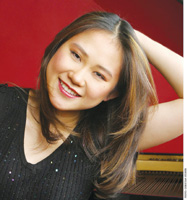 Photograph by Christian Steiner
Key figure: Prodigy Yuja Wang performs Beethoven's Piano Concert0 no. 2 with the San Francisco Symphony at Flint Center on Thursday.
Music Picks
Classical moves | The Huxtables and Audrye Sessions | Jade of Days
Kanako Inagawa Classical pianist Inagawa has played for the emperor and empress of Japan, so a family audience at the Community School of Music and Arts should be a breeze. Inagawa appears as part of the Music@7, Faculty and Friends Series with a program that includes some Japanese traditional pieces arranged for piano. Thursday at 7pm; Flint Center, Tateuchi Hall, 230 San Antonio Circle, Mountain View; free; 650.917.6800, ext. 314.
St. Lawrence String Quartet The quartet invite their musical buddies to share the stage with them at this Stanford Lively Arts concert. Along for the ride are flutist Tara Helen O'Connor, violinist Daniel Phillips and cellist Andrés Diaz. The composers represented range from Mozart and Tchaikovsky to Shostakovich. Sunday at 2:30pm; Dinkelspiel Auditorium, Stanford University; $20-$44; 650.725.ARTS.
Music at the Mission, Music@Market Two pianists—Aileen Chanco and Raja Rahman—get together with two percussionists—David Herbert and Lames Lee Wyatt—for a program called "Four Hands in Concert ... From A(madeus) to Z(eppelin)." The works scheduled include Mozart's Variations in G, Bartok's Sonata for Two Pianos and Percussion, Rachmaninoff's Suite no. 2 and, most intriguingly, Ralph Farris' new work, Led Astray, based on the composer's fondness for Led Zeppelin. Friday at 8pm; St. Joseph Cathedral Basilica, 80 S. Market St., San Jose; and Saturday at 8pm; Old Mission San Jose, 43300 Mission Blvd., Fremont; $20-$25; www.musicsouthbay.org.
Redwood Symphony For its family concert, the symphony wants kids to get onstage and see the instruments and absorb a lesson in how to conduct. The selections are Mussorgsky's Pictures at an Exhibition, Honnegger's Pacific 231 and Kleinsinger's Tubby the Tuba. Sunday at 2pm; Bayside Performing Arts Center, 2025 Kehoe Ave., San Mateo; $10-$20; 650.366.6872.
Philharmonia Baroque The period-instrument experts do what they do best, a full-length oratorio by Handel. This time it's Belshazzar, based on the cautionary tale of the fall of Babylon and the liberation of the Jewish nation. Saturday at 7:30pm; First United Methodist Church, 625 Hamilton Ave., Palo Alto; $29-$67; 415.252.1288.
Peter Fletcher Classical guitarist Peter Fletcher visits SJSU with a program of works by Mozart, Bach, Couperin and others. Most importantly among those others is Erik Satie—Fletcher's latest recording on Centaur Records is devoted to guitar transcriptions of the avant-garde piano excursions of the French composer. Saturday at 2:30pm, Dr. Martin Luther King Jr. Library, 150 E. San Fernando St., San Jose; free; 408.808.2397.
Art of Song As part of its Music at Noon concert series, Santa Clara University presents a brisk 60 minutes of opera and musical theater songs performed by students in the master class taught by Debra Labert. Tuesday at noon; Recital Hall, Santa Clara University, 500 El Camino Real, Santa Clara; free; 408.554.4015.
San Francisco Chamber Orchestra Asking risky questions (especially for politicians like Mitt "Pass the Ammo" Romney) about how much your soul is worth, the San Francisco Chamber Orchestra offers "The Devil Made Me Do It!" The evening gets its theme from Stravinsky's The Soldier's Tale, based on a folk story about a soldier who wagers all on a book that can help him see into the future. The second half of the concert features Mark Foehringer's ballet Duettos. Sunday at 3pm; Foothill College Theater, 12345 S. El Monte Road, Los Altos; free; 415.248.1640.
San Francisco Symphony For its foray to the South Bay, the symphony, led by guest conductor Charles Dutoit, will present Frank Martin's Petite Symphonie Concertante and Strauss' Le Bourgeois Gentilhomme. Young Chinese pianist Yuja Wang solos on Beethoven's Piano Concerto no. 2. Dutoit, for a quarter-century the leader of the Montreal Symphony Orchestra, is slated to take over the Philadelphia Orchestra starting next year. Thursday at 8pm; Flint Center, 21250 Stevens Creek Blvd., Cupertino; $25-$57; 415.864.6000.
Michael S. Gant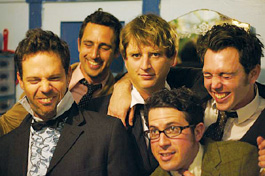 High on life>: Among other things
BAKED GOODS tend to smell funny for a reason on 4/20, so if someone offers you a brownie at KSCU's Bake Sale rock shows, produced by promoter extraordinaire Eric Fanali, take a whiff before you wolf it down. But what better place to celebrate 4/20 than an arcade hosting a rock show? Headlining Friday night are the Huxtables from Santa Cruz. Nerdcore hip-hop may be just coming of age, but geek rock has been around for a while, and the Huxtables were way ahead of the class. The band has been writing clever and infectious pop-punk songs about Dungeons & Dragons, C.H.U.D.s and Star Wars since what, the late '80s? Also performing on Friday are My New Life, Mall Security, Stunt Monkey, Aymen of Dexter Danger, Monster Pete & The Chiefs and DJ Faco & The Fratellies. On Saturday night, Push to Talk reinvents New Wave through the prism of epic indie rock, imbuing the drama pop of bands like Tears for Fears with a rocking, organic feel and modern sentimentality reminiscent of the Arcade Fire, but without all the hype attached. Shinobu, on the other hand, sing a song called "Regular Love Triangle" that riffs on New Order even as it makes fun of new wave love songs. The class clowns of indie rock, Shinobu also sing songs about (and as if they're) drilling holes in heads. Expect an agreeable hodgepodge of slopped-up pop rock, indie pop, poppy punk and Pop-Pop in the attic, horny and alone. Pteradon and Alex Security also perform.
Mike Connor
KSCU's Bake Sale happens on Friday and Saturday (April 20-21) at 7pm at Nickel City Arcade, 1711 Branham Ave., Suite A-1, San Jose. Tickets are $7, and the shows are all ages. (408.448.3311)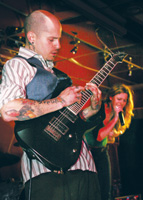 Art Irwin
On Tap: So this is what life after death looks like.
There's a misconception that the music scene in San Jose is dead, gone, kaput, finito. Well, Jade of Days—who, after a two-month hiatus, return to live action on Friday, April 20 at the Avalon Nightclub—have something to say about that, responding to the nay-sayers with vital live performances.
"[There] are some seriously talented bands here," says Jade of Days vocalist Dana Kelley. "I wish there was more of a fan base for the scene itself."
Kelley and her band mates—guitarist Paul Borges, bassist Nelson Medeiros and drummer Junior Medeiros—have steadily increased their fan base (and with it the profile of the San Jose live music scene) with two killer albums and nearly three straight years of performing. They're progressively dynamic, melodic and rocking—imagine a perfect musical love child between Tool, Fiona Apple, A Perfect Circle and Stevie Nicks. Jade of Days might just be one of the bands that gets the San Jo music scene back on the tracks.
"We have a lot of great, great music coming out," says Nelson Medeiros, "and this summer we are going to push as hard as we can to get our name out."
The short break helped to put Jade of Days in the right mindset for that push. "We [took] the time off to tighten up as a band," explains Borges. "We had so much fun recording our last album [2006's Gracas A Deus], we're gonna try and bring that fun to the stage."
Not that many tweaks were needed to Jade of Day's tight musicianship and compelling stage presence, both of which were in full effect at two recent "under the local radar" sets. Jade of Days rocked the hell out of the Catalyst back in late March and was voted into the semi-finals of the worldwide Emergenza Music Festival, held in San Francisco, on March 3 (the semifinals take place June 3 at 12 Galaxies in SF); their official return to the local scene is for Bay Area Backstage, presented by local internet live music video purveyor MyPhatTV.com. The show—which is being streamed live on the internet—includes local punks 5606, along with the Lifted Crew, Phoenix Rising, Spiral Arms, Spacement with others, plus a live art exhibition.
Ryan Osterbeck
Jade of Days, 5606, Phoenix Rising, The Lifted Crew and others play on Friday (April 20) at Avalon Nightclub, 777 Lawrence Expwy., Santa Clara. Presented by Bay Area Backstage and MyPhatTV.com. Tickets are $10. (408.241.0777)
Send a letter to the editor about this story.