May 2-8, 2007
home | the papers | metro silicon valley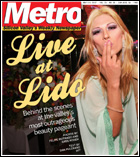 Live at Lido
Behind the scenes at the valley's most outrageous beauty pageant.

Blogged down
The blogosphere is forced to face up to uncomfortable issues of cyberbullying and misogyny after the harassment of Kathy Sierra.
The Fly: 05.02.07
Cinco de Mayo: Party with your pants on.

Silicon Alleys
Nightlife should not be solely just for kids and bohemian types. It should be for everybody.
Technology news
Tim Ferriss carries the cult of Getting Things Done to the extreme.
Sports news
Los Gatos' Amazing Race.
Style
Dial a clue.

Movie review: 'Spider-Man 3'
Hubris, hubris. Spidey gets a big head and ruins a perfectly good trilogy.
Movie review: 'Next'
Nicolas Cage stars as a lost X-Man.
Film festival preview: 50th Annual San Francisco International Film Festival
Four features show the up- (and down-) side of the continent, with a detour to Canada.
Film festival preview: ISreel 2007
Festival opens with complex family drama 'Things Behind the Sun.'
This week's revivals
Don't want no cat people 'round here: The 'Cat People' movies at the Stanford.

MORE MOVIE REVIEWS

MOVIE TIMES

Porter Wagoner
Mr. Grand Ole Opry, the godfather of gospel—revered and reviled.
Music Picks
Minus the Bear, Elvis Costello & the Imposters and Blues Week.

MORE MUSIC AND NIGHTLIFE

MUSIC AND CLUBS LISTINGS

MUSIC AND NIGHTLIFE CALENDAR PICKS

Restaurant review: Rasa Malaysian
Malaysian is the new Thai. Eat accordingly.
Silicon Veggie
Veggie House Of Bamboo.
5 Things to Love
Good Indian restaurants.

BOOK A RESTAURANT RESERVATION

FIND A RESTAURANT REVIEW

Cycle of life and art
At Art for Wellness in Palo Alto, Judy Gittelsohn uses creativity to draw out ar-risk and challenged youth.
Stage: 'The Gingerbread Lady'
Neil Simon's play takes the measure of a woman beyond the verge.
Stage: 'Bodas de Sangre'
A bride and groom face an uphill battle.
Stage: 'Jekyll & Hyde'
Palo Alto Players puts the Robert Louis Stevenson classic to music.
Dance: 'Middle Kingdom—Ancient China'
The Chinese past comes alive in dance at Ballet San Jose.
Free Comic Book Day
What comics mean to Richard von Busack.
Kids events
Take a bow-wow.

Letters to the Editor
May 2-8, 2007.