May 9-15, 2007
home | the papers | metro silicon valley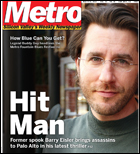 Book excerpt: 'Requiem for an Assassin'
Former spook Barry Eisler brings assassins to Palo Alto in his latest thriller.

Future shock
How a revolutionary Bay Area-based survey of young people used high tech to capture a surprising snapshot of the up-and-coming generation.
The Fly: 05.09.07
May Day! May Day!

Silicon Alleys
Loss of innocence.
Technology news
Myth of the Universal Library.
Sports news
Champions on Ice.

Katharine Hepburn
The Stanford Theatre explores the pols of Hepburn's screen persona in two-month festival.
Movie review: 'Away From Her'
Actress Sarah Polley's directorial debut puts character over melodrama.
This week's revivals
Illadelph richlife: 'The Philadelphia Story' at the Stanford.

MORE MOVIE REVIEWS

MOVIE TIMES

Buddy Guy
The man who taught Jimi Hendrix and Eric Clapton how to play the blues, headlines this year's Metro Fountain Blues Festival.
Music Picks
Black Rebel Motorcycle Club, Porcupine Tree and classical music highlights.

MORE MUSIC AND NIGHTLIFE

MUSIC AND CLUBS LISTINGS

MUSIC AND NIGHTLIFE CALENDAR PICKS

Restaurant review: Slice
Serious pizza with a sprinkling of wit.
Live Feed
College Chow 101.
5 Things to Love
Multiethnic restaurants.

BOOK A RESTAURANT RESERVATION

FIND A RESTAURANT REVIEW

'Gerald Walburg: Looking, Thinking, Making'
Sculptural experiments of Walburg show the power of surface and structure at SJSU's Thompson Gallery.
Stage: 'Dirty Rotten Scoundrels'
Scam artists troll the French Riviera.
Book review: 'Red Eye, Black Eye'
Book authored by K. Thor Jensen.
Book review: 'Rough Trade: Labels Unlimited'
Book authored by Rob Young.
Book review: 'When the Press Fails: Political Power and the News Media From Iraq to Katrina'
Book authored by W. Lance Bennett, Regina G. Lawrence and Steven Livingston.
Kids events
'Cats.'

Letters to the Editor
May 9-15, 2007.