May 30-June 5, 2007
home | metro silicon valley index | silicon valley restaurants | preview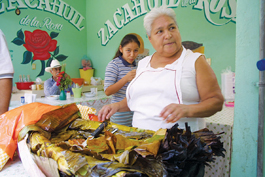 Size matters: There are tamales, and then there are really big tamales, like the 'zacahuil,' which comes from the state of Hidalgo, especially the Huateca region, where this picture of a local expert in the town-square market was taken.
Feast Food
WE ARE ALWAYS on the lookout for press releases that leave the ordinary in the dust, and the news that this year's edition of the Story Road Tamale Festival was going to include an enormous, 6-foot-long tamale known as a zacahuil (say it, "zaca-wheel") immediately caught our attention. For details about all the culinary treats that fill a zacahuil, as well as more about the festival, see Stett Holbrook's Live Feed column.
As big as the zacahuil at the festival promises to be, it is dwarfed by a recent creation by the same three chefs who are overseeing San Jose's version. The chefs hail from the Institute of Gastronomy in Hidalgo: Olvera Luvinoff, Leticia Loera Romo and Jesus Espinosa Mejia. Last fall, this intrepid trio assembled a zacahuil 55 feet long; it has been submitted to the Guinness folks to see if qualifies as the biggest ever.
P.S: According to Teresa Faz of the Redevelopment Agency and the Story Road Business Association, our zacahuil will be portioned out to the usual dignitaries and then served on a first-come basis to the public, so be prepared to get in line early.
The Story Road Tamale Festival, featuring food, dance and music by Pete Escovedo and the Nu Day Band, takes place Saturday (June 2), 10am–6pm, at Emma Prusch Farm Park, Story and King roads in San Jose. Admission is free. (Call 800.5.TAMALE or see www.storyroad.org for details.)
Send a letter to the editor about this story.