September 20-26, 2006
home | metro silicon valley index | columns | silicon alleys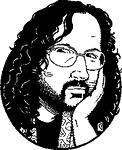 Silicon Alleys
The Experiment, Part 2
By Gary Singh
LAST WEEK we carried out an experiment in psychogeography, mapping the cultural landscape by randomly gallivanting through an array of enlightening affairs over a period of four days, everything from local politics to surf music. Consider these next words the final half of that experiment.
To begin, you don't have to give a rat's ass about punk rock to appreciate the efforts of a legendary Oxnard band called Dr. Know, who played at the Blank Club during my gallivant. They go back to 1981 and the singer, Brandon Cruz, is probably sick and freakin' tired of reading in print that he was the kid who played Eddie on the TV show The Courtship of Eddie's Father, which is true. Anyway, he's a lot older these days and the band tore up the stage. It was glorious hate-fueled hardcore punk by some of the elder statesmen of the genre. And they obviously remain dedicated to the spirit of it all, especially when they played "Die Hippy Die," a tune I totally identify with as I've spent my life fending off rubes who think that just because I have long hair means that I want to put flowers in my butt and dance naked in my own turds at Woodstock. Not the case, I assure you. At the end of the show, Nicki Sicki, the throat man for another seminal hardcore outfit circa 1982, Verbal Abuse, jumped in and did a cameo performance for a Dr. Know classic, "Fist Fun," the lyrics of which aren't printable even in this column.
The next day, former United States vice-presidential candidate John Edwards rolled into San Jose and spoke at the United Healthcare Worker's conference and I was there. He gave a rousing speech and his Southern boyish charm was on overdrive. It was like seeing Bill Clinton in 1992 when he came to San Jose State. In fact, I still have the badge from that event. The speech covered the gamut: poverty, the middle class, health care, workers' rights and how America should lead the world instead of dominating the world. You came off with an impression that maybe, possibly, finally, there could be, perhaps, a shred of hope for the Democratic party. Without the hippies, of course.
But who needs politics when SJSU's football team beats Stanford on the same day? Immediately after the Edwards speech, I bailed for Spartan Stadium and freeloaded a ticket from a few friends in the parking lot, since I couldn't find someone to supply a press credential at the last minute. It was the first SJSU game I had attended since I worked concessions at Spartan in 1991. And speaking of concessions, things were radically different from my five-season reign of covering the San Jose Earthquakes Major League Soccer Franchise, which ended last year. I never imagined myself defending Spartan Shops, but the new concessions operation at Spartan pales in comparison. When Spartan Shops ran the show, you'd see 15 brands of bottled beer to choose from. Maybe soccer fans are more worldly types, so they enjoy something besides Miller and Fat Tire, which is all I saw at this game. Qualitywise, it was like going from the pros back down to the minors again. A thrilling, dramatic victory for SJSU, but lousy concessions nevertheless.
So how to finish this rapid trip through varied ambiences? I'll tell you. That same night, Death Angel played at the Blank Club. It needs some quick explaining if you don't know the history. Those dudes were one of the best thrash metal crews in San Francisco in the mid-to-late-'80s, but they broke up right as they were on the verge of becoming household names. Like Dr. Know, I first saw them two decades ago. They've only been back at it for a few years and they had never played in San Jose until this gig. It was like a high school reunion for many of us, and they thoroughly leveled the Blank Club, resulting in one of the best shows in the history of that establishment.
So there you have it: Hardcore punk, health care, politics, college football and thrash metal. What more could you want over a period of just a few days?
Contact Gary Singh or send a letter to the editor about this story.