November 15-21, 2006
home | metro silicon valley index | silicon valley restaurants | review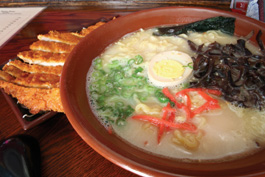 Photograph by Felipe Buitrago
Miso hungry: Pork cutlet ramen at Red Miso in Cupertino.
Red Heat
Ramen Rama and Red Miso combine in Cupertino
By Stett Holbrook
I'VE BEEN on something of a ramen kick lately. Maybe it's the end of daylight savings and the chill in the air, but big bowls of hot, brothy noodles have been tasting pretty good lately. But then again, ramen always tastes pretty good to me.
Silicon Valley has a number of good ramen restaurants. San Jose's Ramen Halu and Do-Henkotsu top my list. Ever on the lookout for a good bowl of noodles, I wandered into Ramen Rama in Cupertino the other day.
Actually, I'd eaten here before when I was writing a round-up of South Bay noodles houses last year. (Menu, June 22). As I remember, the ramen was good, but not great. In addition to hunger, what drew me back was curiosity. The last time I was here the restaurant was in the process of opening a second restaurant next door.
The new place is Red Miso. The restaurant began specializing in small-plate, izakaya-style dishes as well as classic Japanese entrees like chicken teriyaki and pork cutlets with curry. Because Red Miso and Ramen Rama share the same kitchen, customers from one restaurant ordered food from the one side and vice versa. In time, the two restaurants became one and both restaurants now have the same menu. In reality, it's one restaurant with two different names and separate entrances. Odd, I know. Why don't they just call it Red Rama or something?
Each restaurant is a simple place dominated by a long, low bar and a dozen or so wooden tables and chairs. I like the framed, cat-themed jigsaw puzzles by artist Makato Muramatsu hanging on the wall on the Ramen Rama side.
Both restaurants are clean, spare places that befit the low-priced menu.
The more diverse combined menu makes the two-for-one restaurant a winner. While Ramen Rama is now more than a ramen house, there's a lot more ramen to choose from. And I think the ramen has improved since my last visit.
My hands-down favorite is the clam ramen ($8.99). Served with an almost opaque, milky broth with big, briny clams still clinging to their shells, the soup has a light but appealingly complex flavor that's a blend of salty and sweet with a slight mineral tang from the shellfish. It's topped with dried nori and gossamer sheets of deep green wakame seaweed. The big tangle of noodles is springy and pleasantly chewy.
I also really liked the vegetarian ramen ($7.99). Vegetarian ramen is something of a rarity and I was dubious about the broth minus the loving touch of long-simmered pork and chicken bones, but it was great. The clear broth was surprisingly flavorful and bright and enlivened by a generous dose of fresh ginger. The soup itself was packed with oyster and shiitake mushrooms, corn kernels, Chinese cabbage, green onions and other vegetables.
Char siu (sliced pork loin) ramen ($6.99) is a more classic choice. The soup is available in a variety of broths (original, miso, soy sauce and spicy). I went for the original broth, a cloudy, porky brew that's assertive and rich without being overly salty. The ramen is served with artfully arranged slices of green onion, red-tinted ginger, nori, black fungus and half a boiled egg. It's a complete meal in a bowl.
Unlike many ramen restaurants, Red Miso/Ramen Rama allows diners to pick and choose toppings and broths. It may not please purists, but I like the build-your-own-bowl approach. On one visit, I combined grilled chicken with the spicy broth. The broth itself is available in three levels of spiciness—"mild," "volcanic" and "suicidal." I'm all for spicy food, but I found the mid-level volcanic broth too much. Instead of focusing on the flavor of my soup, all I noticed was my burning lips.
The variety of ramen available here is unique (I counted more than 20 different combinations), but what makes the restaurant even more appealing is the variety of appetizers. (I tried some of the entrees like the grilled beef ribs ($8.99), grilled salmon teriyaki ($9.99) and fried prawns ($7.99), but they're nothing special.)
Ox tongue ($4) probably won't pull in a lot of people who don't already enjoy this rich, tender cut of meat, but it's quite good here and could make a few converts. It's sliced into beefy slabs and lacquered with a thick soy sauce. For tamer stuff, the bacon chicken ($4) is a perfect match for a bottle of beer. It's just two skewers of bacon-wrapped chicken, but I've yet to encounter a dish made with bacon that didn't taste good.
My favorite appetizer of all was the abalone mushroom ($4). The ivory-colored fungus is sautéed with butter, garlic and ponzu sauce and tastes a lot like a fat sea scallop, rich and slippery.
So bring on the rain and cold weather. Red Ramen Miso Rama has got all the ramen I need and plenty of small snacks to go with it.
---
Ramen Rama/Red Miso
Address: 19772 Stevens Creek Blvd., Cupertino.
Phone: 408.996.8830.
Hours: 11:30am-9:30pm daily.
Cuisine: Japanese.
Price Range: $6-$12.
Send a letter to the editor about this story.