November 15-21, 2006
home | metro silicon valley index | movies | obit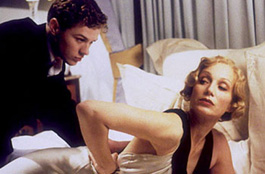 Valet to a Doll: 'Gosford Park' valet Ryan Phillippe ministers to the needs of Kristin Scott Thomas.
Remembering Altman
By Richard von Busack
The French film critic Andre Bazin celebrated the importance of deep-focus imagery, pioneered by artists as different as Gregg Toland and Walt Disney. Bazin claimed that in deep-focus, everything in the frame was of equal importance. Finding a film that emphasized the glowing face of some exalted actor, deep focus transformed cinema into something in which the stars themselves into just one thing to notice during watching a movie.
How, then, to sum up the filmmaking of Robert Altman? This intrepid handler of the ensemble film—the host of four decades of onscreen parties—insisted on every actor's purpose and intelligence. There were no small parts in his films. Altman's ensemble casting was his great skill and his dominant influence on the world of movies. Other films (take Crash or Babel or Bobby) and other filmmakers (take Alan Rudolph or P.T. Anderson) will never escape the adjective "Altmanesque."
Looking back at Altman's legacy, there are seven key films, any one of which would have made a lesser filmmaker's reputation: M*A*S*H, Nashville, Thieves Like Us, McCabe and Mrs. Miller, The Player, Short Cuts, and Gosford Park. Without leaning on spirituality or far-fetched, mawkish coincidence, Altman insisted on a big picture buried under chaos.
Altman died Monday at 81. After seeing his last movie, A Prairie Home Companion—one of his worst—I felt confident about panning it. Surely, Altman would come back with something fine after a poor movie or two.
The Company, his penultimate movie, had several lovely sections in it. Altman had bounced back before, and he could do it again. That roster of his best films? All were surrounded by a year, or several, of fair and sometimes poor films.
Occasionally, these would include gems that weren't recognized; 1990's Dr. T & the Women's was roundly panned for a few weak spots, despite its exuberance and Richard Gere and Helen Hunt's best acting ever. O.C. and Stiggs, one of the shrewdest teen comedies of the 1980s, concerns a bizarre pair of young suburban Arizona wastrels, redeemed by their love of juju music star King Sunny Ade.
Altman's rethinking of a Philip Marlowe adventure, The Long Goodbye, was a flop in its time but came back to be admired and imitated. And Beyond Therapy stampedes over some of Christopher Durang's best lines, but it still makes appropriate mock of the overanalyzed.
An ardent music lover, Altman took the hubbub of voices in five turbulent decades—five decades in which Americans especially loved to hear the sound of their own voices—and turned the racket into a jazz symphony. The reassessment of his work begins now. There's far more to be discovered than there is to be downgraded.
Richard von Busack on Altman's last seven films
Kansas City
The Gingerbread Man
Cookie's Fortune
Dr. T & the Women
Gosford Park
The Company
A Prairie Home Companion
Send a letter to the editor about this story.